This issue marks the second anniversary of Oilwoman Magazine! It's hard to believe, but it was two years ago – in the midst of a worldwide pandemic – that publisher, Emmanuel Sullivan, made the bold decision to start Oilwoman, the companion publication to Oilman Magazine. The sneak preview, which was released in September 2020, featured a cover interview with Christina Sistrunk, then-CEO of Aera Energy, who is a prime example of a successful woman who has made it to the top of a male-dominated industry.
Since then, U.S. Energy Media has published 12 full issues (including this one), featuring women who represent the broad spectrum of energy from fossil fuels to utilities to renewables, roles from CEOs to entrepreneurs, and stories about everything from women on boards of directors to dual career couples. One of the things I'm most proud of is how inclusive the magazine is and how we have been able to showcase the diversity of women who power this industry.
As we progress further into the energy transition, we must also continue to transition to an industry that embraces the best and the brightest female minds and incorporates feminine energy into the mix as we pursue the path to equity. Just as we include all forms of energy going forward, we must be inclusive of the wisdom, knowledge and expertise a diverse workforce brings to the industry – and that's where we find our power.
Our featured cover interviewee, Janeen Judah, continues to be involved and give back after 40-plus years in the industry. As she sums it up succinctly, it's all about partnerships.
Thanks to all of you for partnering in our success and we look forward to celebrating our next anniversary with you!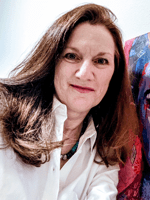 Rebecca Ponton has been a journalist for 25+ years and is also a petroleum landman. Her book, Breaking the GAS Ceiling: Women in the Offshore Oil and Gas Industry (Modern History Press), was released in May 2019. For more info, go to www.breakingthegasceiling.com.
3 Ways Technology is Going to Shape the Oil and Gas Industry
Free to Download Today
Oil and gas operations are commonly found in remote locations far from company headquarters. Now, it's possible to monitor pump operations, collate and analyze seismic data, and track employees around the world from almost anywhere. Whether employees are in the office or in the field, the internet and related applications enable a greater multidirectional flow of information – and control – than ever before.