TORONTO, Canada – SkyX, a leading provider of aerial data solutions for infrastructure asset companies globally has announced the launch of SkyVision 2.0, an enhanced version of the company's original SkyVision system. SkyVision 2.0 is the only aerial data software designed specifically to help Oil and Gas companies maintain integrity of aging pipelines and detect theft.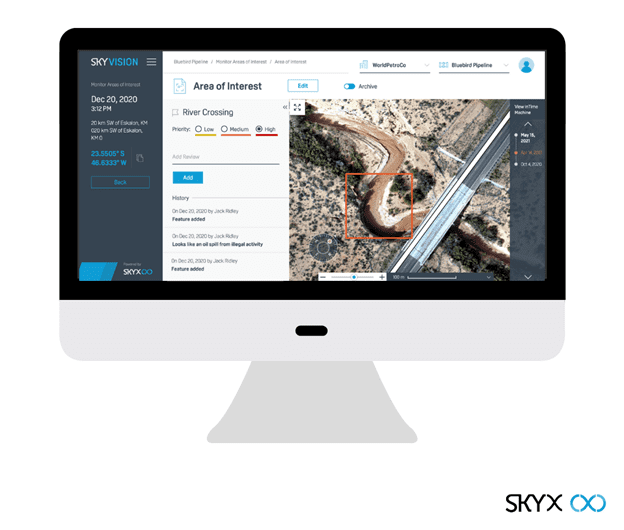 As part of SkyX's complete aerial monitoring solution which includes ongoing aerial data collection using Unmanned Aerial Vehicles (UAVs), SkyVision 2.0 provides Oil and Gas companies with a secure, enterprise-level system to view, prioritize, track and take action on areas of interest along a pipeline that other inspection methods can't detect, like leaks, cracks, vegetation encroachment, unauthorized activity, and more. Data and insights from SkyVision can be integrated into the company's own GIS system and used in combination with monitoring data from various sources to provide a holistic view of the entire pipeline infrastructure.
Benefits of SkyVision 2.0:
Monitor assets that span large areas of terrain in a systematic way
View high-resolution images of areas of interest and adverse conditions along a pipeline
Capture, process, and store large quantities of high-resolution aerial images (10X the resolution of satellite images)
Detect anomalies and changes over time along a pipeline using computer vision technology
Zero in on areas identified as potential concerns and use high-quality images to detect changes over time
Proactively identify and address issues along a pipeline before they become significant problems
Ensure aerial data is always secure using Enterprise-grade multi-tenant SaaS architecture
Integrate insights from SkyVision into GIS systems
"Oil and Gas companies today need to be collecting high-quality aerial images on an ongoing basis to audit and analyze their pipelines and identify areas of interest that can be monitored over time. These realities, combined with our vision of becoming the leading aerial data solution for infrastructure asset companies, prompted us to make a substantial investment in reimagining our new SkyVision 2.0 software," says Didi Horn, SkyX's founder and CEO.
Learn more about SkyVision 2.0 here.
About SkyX
SkyX has been revolutionizing the way aerial data is acquired, analyzed and actioned since 2016. Their mission is to arm infrastructure asset companies across the globe with unique, actionable, long range aerial data on an ongoing basis. With this intelligence, these companies are empowered to take a proactive approach to asset integrity and ultimately ensure the health and safety of people and the planet. Headquartered in Toronto, Canada, SkyX has a broad global presence with customers in North America, South America and Africa. For more information about SkyX, visit skyx.com.
3 Ways Technology is Going to Shape the Oil and Gas Industry
Free to Download Today
Oil and gas operations are commonly found in remote locations far from company headquarters. Now, it's possible to monitor pump operations, collate and analyze seismic data, and track employees around the world from almost anywhere. Whether employees are in the office or in the field, the internet and related applications enable a greater multidirectional flow of information – and control – than ever before.