It was a shock to the University of British Columbia (UBC) Engineering Undergraduate Society that the first-year class of 1974 had 14 women. Up to then, first year was 100 percent male or tainted by one or two females, with their graduation highly speculative. In the quagmire of the upcoming international women's year 1975, the senior students had their minds made up before we walked into the classrooms that we must be feminists. Handmade banners ripped from a roll of white paper graced the halls messaging, "Feminists – go home!" or "Down with feminists!"
The F-Word
The f-word, i.e., feminist, was never mentioned in passing among us women engineering students. It had such a negative connotation that fear struck a chord in me. That would make me a castrating man hater, which I don't think I was. I took all the obligatory high school home economics classes, was highly proficient at cooking, baking and sewing. I was always hyper-vigilant about the way I presented myself. I was told that I was not just to think of myself, but for the other women who followed behind me. I usually wore slacks to class. Once a week, and never on the same day, I'd up the ante. I'd deliberately wear my red ruched top with a knee-length, brown Fortrel knit A-line skirt to class. The guys did notice me dressing up, but chivalry was not to be expected. I kind of crossed the line when I entered engineering.
#MeToo – Men Who Behave Badly Rarely Make History
I applied for a summer engineering job at a prominent civil engineering firm close to New Westminster, B.C. Mr. Smith was a tall, imposing, gray-haired man in his mid 50s, who hadn't been to the gym in some time. Within seconds, I knew Mr. Smith was livid with me. His first question was, "How much do you weigh?" [followed by], "Don't you think you're rather small to be an engineer?"
He leaned back in his chair and put his feet on the desk. I was flabbergasted and sat there, my mouth on mute. Mr. Smith continued his rant, "Listen, we can't hire you. We can't send a girl to the field."
I did the unthinkable; my tears started flowing at the most inopportune moment. Damn it! This is why men don't want women in engineering. Mr. Smith continued his female bashing. His ego was crushed. He wanted to make it clear that I was a piece of [garbage] and had no right to waste his time further. He had already made up his mind the moment he saw me enter the room.
Returning to the Dog
It would be exactly 20 years after my first layoff from Husky that I would return to work there in 2006. Things were definitely different. Affirmative action and women's equality prevailed, starting with the office vernacular. The F-word was heard frequently from the mouths of the office babes, especially the one in procurement who occupied the window office across from me. The photos of 1970s topless busty broads had fallen off the face of the planet.
Some married male engineers with small children at home shunned field work. Working men with stay-at-home wives were almost extinct. It was fashionable for women engineers of childbearing age to make babies with no negative repercussions. They kept their seniority and even worked part-time.
I didn't even mind that they put me in an inside windowless office. I was back in the saddle, working for an oil company in project management. I was getting stuff done.
Condensed and excerpted with permission from the author. Lady with the Iron Ring: An Engineer's Memoir of Hope, Luck and Success (FriesenPress; July 2019). www.fb.me/LadywiththeIronRing.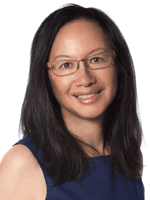 Nattalia Lea's grandfather emigrated to Canada from China in 1897. Lea became the first woman to graduate from the University of British Columbia with a bio-resources engineering degree in 1978, in an era when less than 0.5 percent of Canadian professional engineers were women. Her memoir captures the essence of being a female, visible minority engineer and how this working-class woman broke into the white, male engineering profession – with no mentors or role models. Photo courtesy of Jana Miko.
3 Ways Technology is Going to Shape the Oil and Gas Industry
Free to Download Today
Oil and gas operations are commonly found in remote locations far from company headquarters. Now, it's possible to monitor pump operations, collate and analyze seismic data, and track employees around the world from almost anywhere. Whether employees are in the office or in the field, the internet and related applications enable a greater multidirectional flow of information – and control – than ever before.