Female mentors traditionally have been in short supply in male-dominated industries like oil and gas, but as the number of women in the industry increases, so does the number of women who can offer insight and guidance. Here are some mentoring best practices from women in the C-suite who have been the dealmakers of their own careers.
Rebecca Ponton: What should someone look for in a mentor (qualities of a good mentor)?
Marsha Hendler: If your goal is to lend a hand to someone else, then you must carefully listen to their concerns, fears, ideas and achievements. Equally important: Is the advice you are receiving [as a mentee] designed for you, or is it what [that person] would do if they were you?
Åshild Hanne Larsen: Someone who invests time and effort in building a relationship of trust and openly shares experiences, successes and failures to contribute to your development, but is also curious what you bring to the table, making it a learning journey for both parties.
Rhonda Morris: Identify someone who can give you unfiltered and honest feedback in areas where you know you have gaps.
Jannicke Nilsson: There needs to be a good connection and chemistry since this is a two-way dialogue. Both need to be prepared and take a keen interest. A key aspect is the ability to listen and equally challenge and support, whilst giving open feedback, sharing experiences, knowledge and skill sets.
Ashton Verrengia: My belief is that you need your own "board of mentors." Not one mentor can teach all aspects of your growth. Break apart your life into sections. Build a board of mentors with people that have willingness to share their knowledge and expertise and give constructive feedback to build you up.
Paula Waggoner-Aguilar: Start with someone who has done what you want to do or is good at what you want to be good at. Spend time learning about the mentor on the front end to "gut check" whether they have your best interests in mind, not just their personal agenda.
RP: What is the best mentoring advice you received?
MH: Just do the work. The results and the reward will come.
AHL: Say yes to opportunities you do not necessarily think you are fully qualified for. Trust what others are seeing in you and use every opportunity to grow and learn.
RM: "It doesn't matter how smart you are or how great an idea you have; if you are not able to sell the benefit of your idea, nothing else matters." Approach new concepts from the perspective of the recipient.
JN: Investing in people is always valuable, including understanding what motivates them and yourself. Key in on what you need to work on to be able to take out the most of one's potential. There are limits to what one individual can achieve alone, but as a leader you can harness the whole team's capacity.
AV: "Success is going from one failure to another without any loss of enthusiasm." Business is a 24/7 sport and you won't win every game or match. You can't let a loss hold you back from your next win.
PWA: Save money. Live below your means. Life has a nasty habit of throwing curveballs when we least expect it – so does the energy business. Diversify your business. Develop some type of economic hedge.
RP: Not all advice is good and we need people – especially young women – to feel empowered to make decisions for themselves even if they go against conventional wisdom. What is the worst mentoring advice you received?
MH: "A woman should speak less and listen more." As women, we have a perspective that is much different from men's and it is important that we share our ideas with the team. It takes a loud, committed voice to start a revolution.
AHL: "Be patient and work hard and good things [will] eventually happen." In my experience, taking charge of your career and personal development and actively asking for advice and exposure to challenges works much better!
RM: One of my first supervisors told me that I needed to work on building good relationships with people. Odd because, over time in my career, I have frequently been told that is one of my key strengths. It is important to understand the root cause of feedback and follow your personal compass and confidence to question it.
JN: To think and act more like a man and copy others' behavior.
AV: Twice I hired someone based on a mentor's recommendation and was told to trust them to handle a project. Both times it almost cost me my business. Lesson: Do your own due diligence.
PWA: "There are not many female CFOs in the energy business. Honey, I think you should be happy with being a controller." "Why do you need to start another firm? Why don't you just go to work for the folks down the street?" As I look back, I realize what I could not articulate at the time was my vision of building a small giant focused on select niches.
RP: What advice do you wish someone had given you earlier in your career and that you would offer to someone else now?
MH: Failure is temporary, but fear can kill you. Failure is simply a directional sign that tells you to move in a different direction, not to abandon the idea. A setback only gets you ready for your next comeback. To find success, you must want it more than you fear it.
AHL: Don't spend time and energy trying to be something or someone you are not [in order] to fit expectations. Instead, identify your strengths and understand what really drives you and work from there. It is so much more energizing and rewarding!
RM: The [electronic] gadgets and devices are not going away, and it becomes difficult to really connect and listen to people, so it is important to keep testing for understanding and alignment to make sure you are truly listening.
JN: Believe in yourself and trust yourself. Be open-minded and curious, always look for improvements for you and your team to bring out more of your own potential and the team's.
AV: Network, network, network. Often, who you know can be what you know. Networking is the unwritten rule of success.
PWA: Being new to something actually gave me a competitive advantage. It allowed me to approach a new business, industry, service or problem with a blank [slate]. Free of restrictions, I could focus on innovating.
Reprinted by permission. This article originally appeared in the July 2020 issue of NAPE Magazine.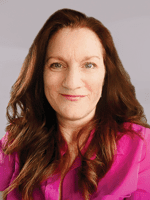 Rebecca Ponton has been a journalist for 25+ years and is also a petroleum landman. Her book, Breaking the GAS Ceiling: Women in the Offshore Oil and Gas Industry (Modern History Press), was released in May 2019. For more info, go to www.breakingthegasceiling.com.
3 Ways Technology is Going to Shape the Oil and Gas Industry
Free to Download Today
Oil and gas operations are commonly found in remote locations far from company headquarters. Now, it's possible to monitor pump operations, collate and analyze seismic data, and track employees around the world from almost anywhere. Whether employees are in the office or in the field, the internet and related applications enable a greater multidirectional flow of information – and control – than ever before.