Standing more than 600 feet above the water line, 27 miles off the coast of Virginia Beach, Virginia, are two wind turbines, the first in Dominion Energy's Coastal Virginia Offshore Wind (CVOW) project, currently the largest offshore wind project under development in the United States.
These first two turbines, the pilot project, began generating power in October 2020, and each produces six megawatts. Together, that's enough to power up to 3,000 homes. Construction will begin in 2024 on the 176 turbines that make up the estimated $9.8 billion project. In 2026, when all the turbines are online, the wind farm will generate 2.6 gigawatts of wind power for the grid, enough energy for up to 660,000 homes with no carbon emissions.
Katharine M. Bond joined Dominion Energy as an intern in 1999 and has transitioned from working in finance and risk management to leading community outreach and engagement for renewable energy projects, including CVOW, as vice president for public policy and state affairs.
"We've been working on offshore wind for more than a decade," Bond says. "Some of the permits involved for the pilot project took two and three years to fully obtain, partly because it was the first time a project of this kind [had gone] through the federal process in the United States."
"As a company, we had a similar approach to deploying solar on a large scale. We started small, learned what worked and what didn't, before taking on bigger projects."
This pilot wind farm is only the second offshore wind project in the United States, the first installed in federal waters, and the only wind farm owned and operated by a U.S. utility. Last year, Dominion Energy announced plans to invest $37 billion in solar and offshore wind through 2035.
"I'm very proud to work for Dominion Energy on a team that is working on this project," Bond says. "The project includes an incredibly knowledgeable, thoughtful, diverse team of women and men working around the clock to bring this project online to serve our customers with clean, sustainable energy in the most efficient way possible."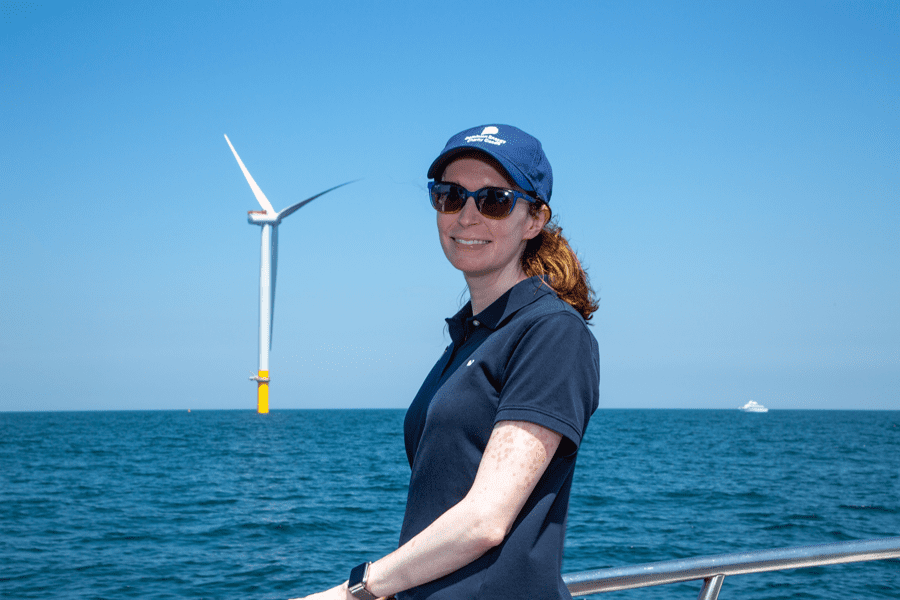 Dominion Energy Inc. also is contracting to build the first U.S. flagged (Jones Act compliant) offshore wind turbine installation vessel, the Charybdis, which will first be leased to Ørsted and Eversource projects in New York and New England and then to the Dominion Energy Virginia project, says Kevin Carroll, Coastal Virginia Offshore Wind operations and maintenance manager. The Jones Act requires goods shipped between U.S. ports to be transported on ships that are U.S. flagged, and are built, owned and operated by United States citizens or permanent residents.
In the absence of a U.S. flagged ship, turbine components cannot be brought directly to the United States from Europe where they are made, Bond points out. So, components for the first two turbines were shipped to Canada, assembled there, and then brought to the offshore site because there was no U.S. flagged vessel, Bond says.
"The Charybdis is a game-changer for the U.S. offshore wind industry. The solar industry is much more mature than offshore wind and we are committed to making the United States a hospitable place for this industry to develop and grow. With that growth, come U.S. based jobs and opportunities to employ people in this clean energy space for decades to come."
Speaking of growth, Bond has found Dominion Energy a supportive environment in which to develop her career.
"I joined Dominion Energy not long after I graduated from college [and] stayed while working on my graduate degree," she says. "I was working at Dominion Energy when I got engaged, got married and when each of my four children was born. My family has grown up as part of Dominion Energy. It's a unique and welcoming environment not just for working women, but [for] working parents."
Looking ahead, Bond sees more opportunities for similar projects as well as projects based on technology that does not yet exist.
"Technological advances have really catapulted this technology and some of the projects they made in Europe have provided lessons for us in the United States. There is science-based evidence that climate change is real and that we as humans have an awful lot to do with it. That also means we have an opportunity to address it and that's exactly what we're trying to do with projects like this offshore wind project. We will need additional technological innovation to achieve a lower carbon future across energy sectors. I have four kids; I can only hope some of them might be willing to tackle some of these challenges. I look forward to what their generations bring to the table."
---
Hampton Roads Alliance Wants to Create Regional Wind Hub In Eastern Virginia
The Hampton Roads Alliance is hoping to leverage Dominion Energy's offshore wind farm to create an East Coast hub in Coastal Virginia to serve the offshore wind energy sector, an emerging $100 billion industry.
In May 2021, the Biden administration approved its first offshore wind farm, a $2.8 billion project between Martha's Vineyard and Block Island. Another project is planned closer by in Kitty Hawk, N.C., and about 20 others are in some stage of development from North Carolina to New England, says Matt Smith, director, offshore wind development for the Hampton Roads Alliance.
"A lot of people took the federal approval as a good sign to make investments in the United States. We have a generational opportunity to establish Hampton Roads as the hub of the industry, address serious issues on climate change and also attract a significant number of jobs. We see this project as the jumping off point to serve the larger East Coast wind industry from Hampton Roads. The supply chain doesn't exist yet on the East Coast; every state is trying to attract portions of the supply chain."
States north of Virginia have an advantage in project density; more wind farms are being built in the New York-New Jersey-New England area, Smith says.
"There's a lot of competition up and down the coast, especially from New York and New Jersey. The supply chain is based in Europe now and we're growing the industry from scratch."
But Coastal Virginia offers other key advantages in terms of ports and a large, skilled maritime workforce.
Out of 19 ports from North Carolina to Massachusetts ranked in a study by BVG Associates for the state of North Carolina, two Virginia ports – Portsmouth Marine Terminal and Norfolk Southern Lamberts Point – were tied for first place with the South Brooklyn Marine Terminal with scores of 60 out of 70 possible. Ports were ranked based on facility readiness, facility availability, site acreage, cost to redevelop, quayside infrastructure, air draft restriction and channel depth.
"We have a world class port structure that can't be matched anywhere else," says Smith.
Portions of Queen's article on the Hampton Roads Alliance were first published in CoVABiz and have been reprinted with permission by the author.
Photos courtesy of Dominion Energy.
Karen Haywood Queen covers manufacturing technology, energy, personal finance, cybersecurity and health. Her work has been published in a variety of publications including Smart Manufacturing, Better Homes and Gardens, CreditCards.com and Costco Connection. She lives in Williamsburg, Virginia, with her rocket scientist husband.
3 Ways Technology is Going to Shape the Oil and Gas Industry
Free to Download Today
Oil and gas operations are commonly found in remote locations far from company headquarters. Now, it's possible to monitor pump operations, collate and analyze seismic data, and track employees around the world from almost anywhere. Whether employees are in the office or in the field, the internet and related applications enable a greater multidirectional flow of information – and control – than ever before.