Speaking truth to power requires the courage of your convictions and, in Nooshin Behroyan's case, she is speaking truth to power companies. Six and a half years ago, having successfully executed a number of engineering projects and advanced to a management role, she realized that many oil and gas operators were not tracking their methane footprint, whether it was through an approved project or the result of fugitive emissions, such as a leak. She proposed a plan to California utility executives, asking them to calculate exactly what their annual losses would be on any kind of project or any type of incident.
Behroyan is succinct: "We're dealing with a finite element. We don't have these sources of energy forever so we might as well start being more efficient." After being told to put it on the pitch deck, she presented her plan and requested approximately $40 million in program funding. "They approved me for $36 million and that's how PAXON was incorporated," she says smiling. (Fun fact: PAXON is named after Behroyan's favorite brand of chocolates, a treat she grew up eating as a child in Iran.)
Pursuing A Vision
A 32-year old single mother of two when she founded PAXON Energy & Infrastructure Services, it wasn't enough that she was a well-recognized engineer. She knew that in order to secure contracts, she would need to attract companies that were seeking to spend a certain percentage of their budgets with women and minority owned businesses. She spent that first year procuring the certifications she needed and implementing safety procedures and training protocols.
While it may sound like PAXON was an overnight success, six months into that first project, Behroyan lost the contract. A major company convinced the client that Behroyan was only one person and that PAXON wasn't big enough to handle the job, in comparison with its staff of engineers and environmentalists.
"They had no idea what the vision was and where I was going with it. Within a month and a half to two months of losing the project, I reverse engineered it," Behroyan says matter-of-factly. "I realized that if we were to report how much methane each operator was releasing into the atmosphere, they could have come under compliance or a regulation. In working with a few leading engineers of PAXON, we pursued technologies that actually recovered those methane emissions at the job site."
Triple Bottom Line
"We call it "methane recovery" because the main component of natural gas is methane." As Behroyan explains, the pipeline is taken out of service. Rather than releasing – or flaring – the gas, there is a starting point where the equipment is hooked up to the pipeline and begins receiving and condensing the gas, which is then compressed and recompressed into the system at a point farther down the pipeline. The whole process happens on the job site, takes about the same amount of time if it were to be vented, and is as cost effective. Of critical importance is the fact that it eliminates exposure at the job site, as well as the risk of ignition happening in the community, as natural gas pipelines are buried underground everywhere – including in residential and commercial areas. (In the U.S., 811 is the national "call before you dig" number to inform consumers where utility lines are buried.)
"Because it's condensed and recompressed into the system, the material – the fuel – may be considered renewable energy by some," says Behroyan. This means it qualifies for a carbon credit on the client's side and PAXON receives the tax credit. "It's called a research and development (R&D) credit because you completely change the procedural way of doing things," she explains. "It's one of those instances where it's a triple bottom line: The environment benefits, there's a social benefit because you're no longer exposing people at the job site or within the community, and it's very profitable."
Given current world events – Russia cutting off gas supplies to Europe and the ongoing war in Ukraine – Behroyan asks, "Why would you waste the product when we have a huge shortage?" Reiterating, "We are operating in a very wasteful fashion when it comes to a finite element," she believes that the shortage of energy in Europe, and possibly elsewhere, could be resolved if just a percentage of the oil and gas that is burned across the world were recovered.
The Golden State
Despite the recent natural disasters befalling California (PAXON's Disaster Recovery has provided field support to assist in fighting the state's wildfires), Behroyan sees a silver lining in her company being based in there. "I feel incredibly lucky to be living in California because it's a pioneer when it comes to energy. Maybe because we're not as open to the oil and gas extraction that is happening in other states; as a result, we have to come up with other renewable resources or other approaches."
Behroyan, who has a Master of Science in Civil and Environmental Engineering from the University of California, Davis ('12), and is a graduate of UCLA's Executive Management Development for Entrepreneurs (EMDE) program, considers herself an environmental engineer at heart and, as such, thinks the energy industry offers endless opportunities to improve the world around us.
"It's about being willing and having the vision and ability, and a team that's very diligent in executing new methods, and educating the industry about those changes," one of which is what she calls "true zero emission work."
"That's what we do on our recompression projects: We utilize various technologies in the market coupled with implementing procedural changes to recover natural gas emissions at 98 percent quality gas – and that is only our R&D department. That puts us in the business of recovering the waste and returning it to the system where the client can optimize, then resell it, and it is considered renewable. When we think about ESG goals, we don't just aim for net zero. We really look at it from the job site and address it from that point. It's great to be an environmental engineer because this is an industry that is not so prone to change and all the ESG policies, along with the energy companies' commitments, are creating this green movement."
The Driving Factor
Behroyan's father was a developer in the construction industry in Iran and often took his children with him to job sites, where he worked on mixed-use high rises. Her mother was a professional artist and painter. Initially, Behroyan says she took the "middle path," which was architecture. "I am fascinated with the built environment and I actually joke that I went from building pretty stuff above ground to the stuff underground that most people don't think about."
Her concern over the way the industry handles emissions goes back at least a decade to the time when she was working on her master's thesis which focused on injection wells, and eventually led to doing work and research with the California Department of Oil and Gas. Immediately after graduation, she got a consulting job working at Pacific Gas and Electric (PG&E) just three years after the 2010 San Bruno pipeline rupture.
"They were looking to add a female to their group and I was that female," Behroyan says. "I was just fascinated by the whole industry and why we do things a certain way for many decades and why would we not do them differently given the technological advancements. I was driven by so much curiosity; I think that's what it is over the long term."
A Diverse Workforce: Women, Refugees and Veterans
As an immigrant from Iran – Behroyan came to the U.S. to attend UC Berkeley and later UC Davis – and a member of a more than one minority group, it's not surprising that Behroyan would make it a priority to help other newcomers to this country, and one of the ways she does that is through workforce development.
"I know the road is really hard and there's a lot of pushback, so it takes us women advocating for women," says Behroyan, who is the board president for the National Association of Women Business Owners (NAWBO) for the San Francisco Bay area. "Workforce development is something that's really close and dear to my heart. When you have folks that the job really means something to, like the Afghan refugees we interviewed from Miry's List (a nonprofit that helps refugee families), when you help one of them get a job, you are sending their kids and grandchildren to college. You're basically developing talent ahead of that given generation."
Another area PAXON concentrates on is hiring female field inspectors. "Finding women for field work is not an easy thing," Behroyan says, "so my management team actually does a great job of searching for and mentoring the women, and then helping them through their certification process and training. We have a 10 percent women's initiative for hiring women inspectors."
In looking at workforce development, the company also seeks to hire male and female military veterans. "They have skill sets that they have been taught and developed over the years and there is value to that," Behroyan believes. "The oil and gas industry is not one of those industries you go to college and learn about; it's all about field training. Veterans already have unparalleled discipline and this industry relies on absolute accountability, safety and responsiveness."
Behroyan sees PAXON as a company that is trying to pioneer an industry and, from the perspective of a female entrepreneur, says, "When you look at a company being successful, I think as women there are two things: One is we have to do twice as much to only get half as far. The second is that, in the pursuit of your goals and dreams, you have to be not just resilient, you have to be relentless. That takes a certain personality," Behroyan acknowledges, "so my hope is to hire and develop as many women and women engineers as possible. The beauty of the oil and gas industry is that once you're in it, you're in it for decades to come."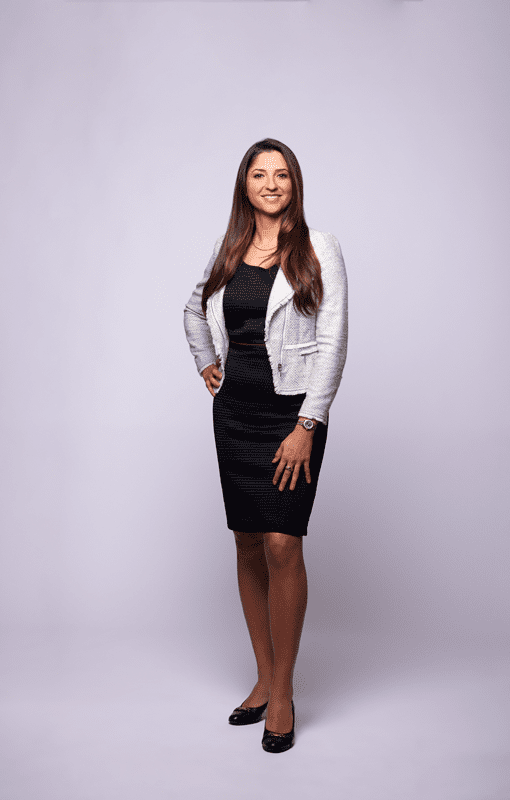 Forward Movement
Behroyan looks at longevity in her workforce, her role as CEO, and the future of the energy industry, although she is not so much interested in changing the latter as she is on procedural and process changes.
In reflecting on what PAXON has done with methane emission recovery in the last five or six years, Behroyan says it's the procedural changes that make all the difference. "We went from venting into the atmosphere to not venting, and recovering at 98 or 99 percent. That's where I'm focused: Taking smaller steps and being focused on the progress on a general basis that would follow. I think of it as a movement."
PAXON is gaining recognition as one of the leaders at the forefront of that movement. The company recently won a five-year contract for all of Kinder Morgan's integrity management work, and the overall assessment of its pipelines starting this year. With over 82,000 miles of pipeline and 140 terminals, Kinder Morgan is one of North America's largest energy infrastructure companies.
"We're thrilled not just to have them as a client," Behroyan says, "but this gives us an opportunity to source next-level technologies to the industry and pair that with best practices, one of which is methane emissions recovery."
"Methane is 80 times more powerful in its warming ability than carbon dioxide in its first decade into the atmosphere, so maybe we are too focused on the wrong type of carbon," Behroyan asserts. "PAXON's work is not prevention; it's elimination. I am not anti-fossil fuels. What I root for is keeping the hydrocarbon fuel in the vessel that it's meant to stay in."
Headline photo courtesy of Nancy Rothstein – www.nancyrothstein.com.
Rebecca Ponton has been a journalist for 25+ years and is also a petroleum landman. Her book, Breaking the GAS Ceiling: Women in the Offshore Oil and Gas Industry (Modern History Press), was released in May 2019. For more info, go to www.breakingthegasceiling.com.
3 Ways Technology is Going to Shape the Oil and Gas Industry
Free to Download Today
Oil and gas operations are commonly found in remote locations far from company headquarters. Now, it's possible to monitor pump operations, collate and analyze seismic data, and track employees around the world from almost anywhere. Whether employees are in the office or in the field, the internet and related applications enable a greater multidirectional flow of information – and control – than ever before.