The five co-authors of The Energy Within Us share their experiences as Black women in different sectors across the spectrum of the energy industry and share their visions for the future.
Joyce Hayes Giles – Corporate board member. Former senior VP of Public Affairs, Chair of the Foundation Board and Chief Ethics Officer at DTE Energy. Detroit, MI
Carolyn Green – President/CEO at Professional Environmental Engineers, Inc. St. Louis, MO
Rose McKinney-James – Managing Principal McKinney-James & Associates. Chair of the U.S. Energy Foundation. Las Vegas, NV
Hilda Pinnix-Ragland – Corporate board member. Fortune 500 senior business executive. Formerly with Duke Energy Corp. Cary, NC
Telisa Toliver – General manager, Renewable Power at Chevron Pipeline and Power. Board chair of AABE. Houston, TX
Rebecca Ponton: As a woman and, specifically, as a Black woman, what is the biggest challenge you have faced in your career?
Joyce Hayes Giles: One of the biggest challenges was having my voice/ideas "heard" by my male colleagues. Being the only female, small in physical stature with a soft voice, the guys would talk over me and exert the typical male dominance. I would share my thoughts/ideas but get no response as they continued to talk among themselves. When one of them would put forth the same idea I had articulated, there was immediate buy in and support. I began using physical and verbal cues. I authoritatively projected my voice and held my hand out in a "wait a minute" gesture while saying, "I'm NOT finished," and stating how pleased I was that they liked the idea I had put on the table moments earlier. These tactics worked. Of course, I watched my emotions and tone to ensure I wasn't seen as the stereotypical "angry Black woman."
Carolyn Green: My biggest frustration has been people assuming that I am the beneficiary of "affirmative action" until proven innocent.
Rose McKinney-James: Finding a sense of belonging! Walking into each room as the different one, the Black one, the only woman, and finding a degree of comfort to actively engage was a significant challenge. I'm so fortunate to have had role models in my life to help me navigate with a degree of confidence. Over time, the reality of my journey became a part of my daily life.
Hilda Pinnix-Ragland: As my energy career continued to present opportunities for promotion/advancement, the initial move from a traditional accounting/financial career ladder to operations was met with uncertainty. After all, it was an area of comfort. Once the first move occurred, I quickly developed the confidence and courage required to lead operations and believe in my abilities to learn. In fact, when my promotion to district operations manager as the first woman and African American was announced, a deep sense of accomplishment resonated. I was taught to never give up.
Telisa Toliver: Early in my career, the challenge was to dispel the unwritten rules [in order] to even be considered for future leadership positions in terms of gender, education and ethnicity. Being a Black women executive in the oil and gas sector defied the art of the possible. The challenge was knowing that perfection was the only route to achievement and then you still needed an ally, a sponsor and a bit of luck. Mid-career and later are about being in the "club" and connected to the right people at the right time. That is a little easier for those who are in the majority and have common experiences and backgrounds.
RP: Over the course of time, how have you seen attitudes change toward women in industry and particularly toward Black women?
JHG: I believe progress is being made but not quickly enough. Barriers are broken as more women enter the upper ranks of management and show effective leadership. The culture is changing, and men are more open to opportunities as they have wives and daughters expecting and demanding equal opportunities. Corporations, including the energy industry, need effective talent. Boards and the community are demanding accountability. Additionally, as women attain more leadership roles, they are determined to bring others along. That being said, Black women at the very top and on boards are still a novelty. I am hopeful that the current climate in our nation will bring about more progress.
CG: I've seen more and more highly technical women in the industry, including Black women. However, the Black women still tend to be more buried within the organization, irrespective of their credentials and accomplishments, than their male and non-diverse female counterparts.
RMJ: Slowly, I see a broader recognition of the significant contributions made by women. It's really a function of math. As our numbers grow, we have a greater presence making us hard to ignore. The fact that we are typically better communicators, intelligent and well prepared makes us both a force and a critical factor in all key decision making.
HPR: We have continued to evolve as women and African Americans with ups and downs. So much is directly related to the overall culture of an organization. The CEO and her/his team set the tone. I strongly believe 2020 opened up years of wounds and inequalities. At the same time, I am more optimistic about the future because many Americans are ready for significant change. Recently, California, Illinois and NASDAQ introduced legislation/policies for required inclusion of minority members on boards of directors. Finally, it's well over 300 years since African Americans were enslaved. History lessons are essential to understand years of inequalities.
TT: There absolutely has been progress in the industry, but we must do better. Some corporations and leaders are more progressive than others. I fully support and promote the advancement of women at all levels. Changing the hearts and minds of people is hard to measure, so I try to focus on the results. Black women have not progressed at the same pace as others no matter what segment of the industry is referenced. The rationale for the outcomes is reasonably crafted. Changing those outcomes requires deliberate intent.
RP: Historically, the energy industry (regardless which sector – oil and gas, utilities, etc.) has not been inclusive of women or minorities. When did you feel like you had broken those barriers and "made it"?
JHG: After many years in management level positions (supervisor, manager, director), and increasingly more responsibilities, I felt I had truly broken barriers when my CEO announced publicly at a conference I was attending (with a group of industry peers from across the country) that my Fortune 500 company's board had voted unanimously to appoint me to a VP/officer position of the company. The decision was made at the same time one of the company's "up and coming" white males was appointed to a similar level VP/officer position.
CG: I never felt that I had "made it," although there were times when I felt affirmed by my manager or my peers within the industry. Those times felt more individual rather than evidence of having reached a pinnacle, as it were.
RMJ: Serving as a utility commissioner provided an interesting perspective. When you have the power to influence economic and professional outcomes your impact is enhanced. Rising through the ranks to become a cabinet member and then CEO gave me the confidence to feel that I had achieved and broken through a pivotal barrier.
HPR: My selection as the first African American woman officer for Carolina Power and Light Co. was truly a historical day for me and for my colleagues. The promotion was in a "good ole boy" role as vice president of economic development. The glass/iron ceiling was broken!
TT: "Making it" is in the eye of the beholder and there is still work to do in terms of women in profit and loss (P & L) roles in the C-Suite. My career has been progressive and extremely rewarding. The energy industry is an incredible and exciting place to work with tremendous opportunity. I have stopped wondering where I would be without the headwinds I've faced and prefer to focus on real solutions to improving the diversity in this industry. I still have higher barriers to break!
RP: What is your best advice to young women, especially BIPOC, who want to join the energy industry?
JHG: My best advice is that there isn't a better time than now to bring their authentic selves and talent to the industry. Diversity is being recognized and is a key value proposition. These traditional industries now know that diversity of race, gender, thought, etc., impacts the bottom line. The world is changing, our country is changing, and industries/corporations must do the same! If not, they can't compete for talent and their business will suffer accordingly.
CG: If you want to make a real, tangible contribution to the future, work in the energy industry because nothing improves quality of life as much or as quickly as access to reliable, affordable energy. And because of energy's link to climate change, you'll be influencing the environment, too. It won't be easy, but it will be fulfilling.
RJM: I encourage every woman to pursue her passion and purpose. It's important to find a path to do so without giving in to external pushback. That path should include seeking allies, mentors and embracing your difference as a tool toward achieving your goals.
HPR: Diversify your career skills to understand all aspects of the business: financial, operations, customer service, regulatory and political. Listen actively to learn from experiences, continue to educate yourself on industry advancements and, by all means, master "navigation skills" up and down the organization. Finally, stop and smell the roses on your journey.
TT: The beauty of the oil and gas and the energy industry, in general, is that it is expansive and there is a multitude of functional disciplines to pursue. First, think about what you are passionate about and understand what segments of the industry align with that passion. I would then pursue internships and join affinity groups that are feeder pools for the industry – groups like AABE, NSBE, SHPE, NACME, etc. Don't be intimidated by the fact that you are in the minority.  Building relationships is key. Find someone you respect, regardless of their demographic, that can help you to navigate within the company you join. And, lastly, be confident in the value you bring to the table. 
RP: As we face this time of transition, what does the future of energy look like to you? 
JHG: The future of the energy industry will offer limitless opportunities. I believe it will be more service oriented and customer focused. With the younger generation being focused on the environment, renewable energy will take a front row seat. Technology will also drive major change as it will in every industry. I see exciting times ahead!
CG: Moving to a carbon-free future is likely to turn the industry on its head. I think innovation and nimbleness will trump size and bureaucracy.
RMJ: As an active and long-term advocate for climate, clean energy and sustainability, I see a future that will focus on those issues. I also see a future that looks to collaborate with all aspects of the energy continuum to find paths to lean into innovation, consumer choice and equity. It's critical that we pivot to an open and candid conversation on the path forward, understanding that nothing will be accomplished overnight and certainly not without an authentic and thoughtful debate.
HPR: Women, and especially African Americans, will continue to propel themselves forward through the energy sector as mid-level managers, entrepreneurs, C-suites and boards of directors members. The future is brighter than ever.
TT: I see the future of energy as an "and" world that embraces the clean energy transition, recognizing that our global population continues to grow. We will need all forms of energy to meet that growth. Climate change requires that we deliver that energy in a more sustainable way. Collaboration between all industry participants, governments and consumers will be required as the energy transition and our global demographics evolve.
This industry fuels our basic existence and way of life with heat, electricity, transportation, fuel and other forms of energy. Our current environment creates tremendous opportunities to address the energy needs of those who currently don't have access, to include communities of color in the clean energy economy, and to unleash the talent and creativity needed to solve the critical issues of today.
Headline photo – Rose McKinney-James and co-authors with TVA executives (L to R): TVA exec, McKinney-James, Carolyn Green, TVA exec, Hilda Pinnix-Ragland and Joyce Hayes Giles. (Co-author Telisa Toliver not pictured.)
---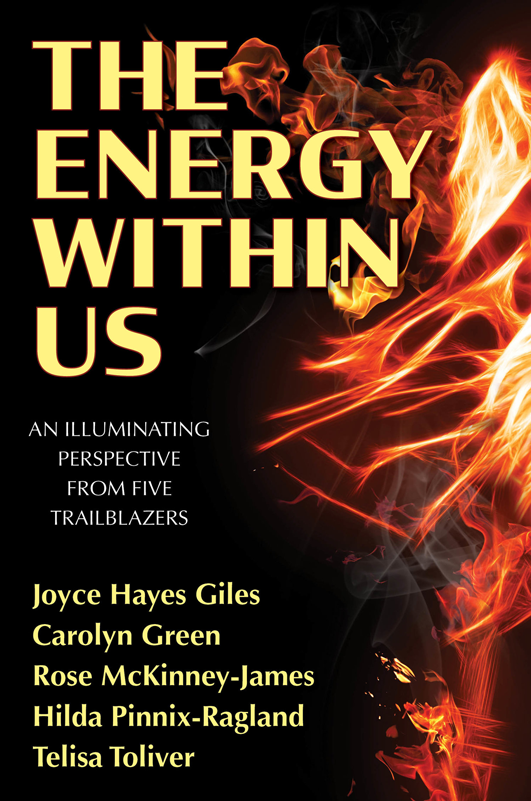 With this book, we are issuing a call to action. While we are celebrating the careers of five women in the energy industry, we can no longer afford the scarcity of African American women leaders and executives in the energy industry.
The U.S. energy sector is experiencing significant growth and creating opportunities for investment and employment. Participation in this growth is vital for African American communities. The door must be open for increased employment throughout the energy value chain; access to senior leadership positions; growth in African American-owned businesses; and increased representation on corporate boards.
With the sheer number of career opportunities projected over the next 30 years, this book is written as a call to action for deliberate and intentional efforts [to] be made to increase the progression of women in minorities at all levels and in all sectors of the energy value chain. Corporations, educational institutions and professional organizations must collaborate to ensure an equal playing field to demonstrate competency and to compete for career advancement no handouts, just an equal playing field. To ensure readiness, we must invest our time and our money to support STEM education through all stages of academic and professional careers. We must also communicate that career opportunities and energy cover a myriad of professional and blue-collar sectors. We must provide opportunities to increase the number of women and black tone businesses in the energy sector. And lastly, we must all recognize the tangible benefits of visible role models and mentors to contribute to professional success.
Re-printed by permission from the authors. The Energy Within Us: An Illuminating Perspective from Five Trailblazers by Joyce Hayes Giles, Carolyn Green, Rose McKinney-James, Hilda Pinnix-Ragland and Telisa Toliver (Two Sisters Writing and Publishing LLC; May 2019).