"It's a very different world out there, which we know nothing about onshore."
"I've been very fortunate throughout the years to get avenues and opportunities to go into these offshore installations and places, where the public [is] not allowed. It is a privilege which I find absolutely . . ." Sue Jane Taylor trails off and then despite the eloquence of her [published writing] says, "Words are difficult for me because I'm a visual artist, but I try to disclose it in my work."
Her fascination with life offshore and the men and women who inhabit that world has never waned. "Being on a platform is so inspirational; it's the power of nature. It's people working in these extreme and remote environments and how they react to them. It's a psychologist's dream; it's a fascinating observance of human nature."
"Artists have always had this fascination for this symbolic, the concept of the source. There's the source of the black gold and it's out there in these remote platform installations," she says, creating an aura of mystique and exoticism not often associated with the petroleum industry.
In 2006, she was contacted once again by Jacquelynn Craw, this time for a different type of offshore commission. Talisman Energy had become involved in the Beatrice Project, an offshore wind farm prototype project, in the Beatrice oil field. At its nearest point, approximately 13.5 kilometers off the coast in the North of Scotland, it's the oil field closest to the shore in the U.K. sector, and can be seen from land.
Calling it a "truly European project," Taylor traveled to Denmark and Germany, where the components were being built and assembled, and observed the men and women at work manufacturing the blades in Lunderskov, Denmark , and also Husum, a maritime town in northeast Germany, where the generator for the 5M turbine – at that time, the biggest in the world – was being manufactured.
"It was just fascinating being involved in that project because it was basically oil technology being transferred and used for renewable energy."
Excerpted with permission from the author. Breaking the Gas Ceiling: Women in the Offshore Oil & Gas Industry by Rebecca Ponton (Modern History Press; May 2019).
For more on Sue Jane Taylor's work, visit https://suejanetaylor.co.uk. 
Headline photo: Beatrice Works Suite No. 7 – Assembly offshore, Moray, Firth. 2012, colour etching, chin collé and hand tinted watercolour, 420mm x 300mm. © Sue Jane Taylor. Photographer: Fin Macrae.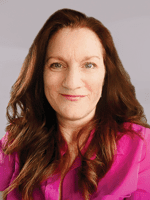 Rebecca Ponton has been a journalist for 25+ years and is also a petroleum landman. Her book, Breaking the GAS Ceiling: Women in the Offshore Oil and Gas Industry (Modern History Press), was released in May 2019. For more info, go to www.breakingthegasceiling.com.
3 Ways Technology is Going to Shape the Oil and Gas Industry
Free to Download Today
Oil and gas operations are commonly found in remote locations far from company headquarters. Now, it's possible to monitor pump operations, collate and analyze seismic data, and track employees around the world from almost anywhere. Whether employees are in the office or in the field, the internet and related applications enable a greater multidirectional flow of information – and control – than ever before.