Mexico, the United States' neighbor to the south, has been undergoing its own energy transition over the past few years with its current president, Andrés Manuel López Obrador (known as AMLO) reversing many of the energy policies of his predecessor, Enrique Peña Nieto, who during his term in office (2012-18) signed into law Mexico's constitutional energy reform, allowing private and foreign investment in the sector. Upon taking office in December 2018, AMLO appointed eight men and eight women to his cabinet, including Secretary of Energy Rocío Nahle, a petrochemical engineer, who spent much of her career at the national oil company, Petróleos Mexicanos (PEMEX), where she currently chairs of the board of directors.
Angela Levy: What is the current state of the Mexican oil industry, particularly as we begin to emerge from the worldwide pandemic?
Angélica Ruíz, bp country president, Mexico, SVP LATAM: We are currently in a stage of economic recovery which increases the expected energy demand, and the country has significant resources to meet it. bp is prepared to participate in this process from Mexico, as it has done for several years.
Currently, bp's activities in the country include more than 500 gas stations, a leading position in the synthetic lubricants market and in natural gas trading, liquefied natural gas, natural gas liquids and crude oil, as well as other refined products, including petrochemicals. These activities may contribute to meeting energy security and demand.
Lourdes Melgar, research affiliate at MIT, non-resident fellow at the Baker Institute: President Andrés Manuel López Obrador welcomed the pandemic as an opportunity to accelerate the "Fourth Transformation of Mexico." His administration has enacted legislation to speed up the return to state monopolies, favoring Petróleos Mexicanos (known as PEMEX) and Comisión Federal de Electricidad (CFE), undermining regulators and blocking private participants throughout the supply chain. The industry dwells in legal uncertainty, as it reasserts the benefits of the energy reform with discoveries. Meanwhile, PEMEX registered incidents at its refineries and in the upstream and was downgraded as it took on more challenges. Oil production fell year-over-year (YOY) 2.8 percent, reaching a low of 1.605 mmbd in July 2020, climbing back to 1.681 mmbd in July 2021.
AL: What are the biggest challenges facing the Mexican oil industry in this new scenario and what are its greatest strengths, its signs of resilience and adaptability?
AR: The energy industry in Mexico will have to resume operations quickly, but at the same time it will have to adjust to new public health regulations. This represents administrative challenges, but also a great opportunity, since social isolation helped us to test innovative, technology-based work approaches.
Another challenge will be long- and medium-term planning. Different vaccination rates among countries and variants of COVID-19 may cause new economic closures and a delay of the global economic recovery, which would have an impact on energy demand.
LM: In a complex scenario, Mexico's government has opted for ideology over a technical, pragmatic approach to the oil industry. As PEMEX grabs back spaces and must supply demand at low prices, the financial and managerial strains on the national oil company (NOC) rise. Energy security will become a concern as bottlenecks materialize in the mid and downstream. Violations to the Constitution and to the United States–Mexico–Canada Agreement (USMCA) will fuel lawsuits and set diplomatic tensions. Despite politics, Mexico's geology and investment opportunities remain appealing to companies ready to uphold their presence in the country, while weathering the outcome of negotiations or the end of the current administration.
AL: Where is Mexico in the energy transition and what does the future look like with respect to global carbon neutrality or zero carbon emissions?
AR: Mexico has great potential in this area, since it has access to fuels like natural gas, which will play a critical role in the energy transition; as well as multiple renewable energy resources such as solar, wind and geothermal, which may contribute to the reduction of carbon emissions.
In 2020, bp announced its ambition to become a net zero company by 2050 or sooner and to help the world get there. Our new strategy will see us pivot from being an international oil company focused on producing resources to an integrated energy company focused on delivering solutions for customers. The three areas of focus are:
Increased investment in low carbon electricity and energy.
Redefining convenience and mobility – putting customers at the heart of what bp does.
Resilient and focused hydrocarbons – continue to high-grade the portfolio, resulting in significantly lower and more competitive production and refining throughput.
LM: As the world embraces carbon neutrality, Mexico has taken a sharp U-turn. Oil production and refining are keystones of energy policy. The government enacted legislation to block renewable energies and favor fossil fuels. From leading the energy transition, the power sector has become an enabler of PEMEX refining, burning heavy fuel-oil in CFE plants. Methane emissions and gas-flaring are on the rise. Mexico will not comply with its nationally determined contributions (NDCs). President López Obrador sees capping oil production at two mmbd and reducing products imports as adequate contributions. Despite privileged conditions to reduce emissions, Mexico will fall short of expectations, running the risk of facing commercial retaliation.
Lourdes Melgar (pictured left) is a research affiliate at MIT's Center for Collective Intelligence and a non-resident fellow at the Center of Energy Studies at the Baker Institute. Melgar is the former Mexico deputy secretary for hydrocarbons (2014-16) and undersecretary for electricity (2012-14).
Angélica Ruíz (pictured right) started her oil and gas career at Mexicana de Servicios Subacuaticos (MEXSSUB), later working for Petrofac and then the Danish wind energy company, Vestas. She joined bp as country president, Mexico, in March 2018 and was promoted to senior vice-president in mid-2020, adding the LATAM region to her current responsibilities.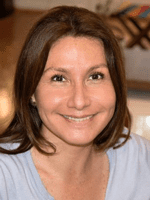 Angela Levy was born in Colombia and became a U.S. citizen in 2012. She is now a dual citizen of the two countries. She holds two master's degrees, an MBA and another in accounting. Levy worked as a production engineer in Colombia before moving to the U.S., where she worked in the finance and accounting group at Halliburton for a decade. She later worked with special needs children for five years. Levy now spends her time traveling the western U.S. 
3 Ways Technology is Going to Shape the Oil and Gas Industry
Free to Download Today
Oil and gas operations are commonly found in remote locations far from company headquarters. Now, it's possible to monitor pump operations, collate and analyze seismic data, and track employees around the world from almost anywhere. Whether employees are in the office or in the field, the internet and related applications enable a greater multidirectional flow of information – and control – than ever before.