For decades, Venezuela was the oil market in South America. With its vast reserves of over 300 billion barrels of proved crude oil (the largest of any country in the world, including Saudi Arabia), it overshadowed its neighbor, Brazil, whose proved reserves of less than 13 billion barrels are a fraction of that. Many of the major western oil and gas companies had a presence in the country, and it was one of the regular international postings for expatriates employed in the energy industry. Its production far outpaced Brazil's with other South American countries trailing even further behind.
Over the years, a series of increasingly radical political leaders has isolated the country, creating political and economic instability, as well as social unrest. As a result, the country's oil production has dropped to fifth place in the region, which, along with other factors, has led to it being referred to as a "failed state." It also enabled Brazil to surpass Venezuela in 2016 as the top oil-producing country in South America, with production now close to 3.8 million barrels of oil and liquids per day.
Leading countries in proved crude oil reserves in Latin America and the Caribbean in 2021 (in billion barrels)
Ana Zambelli, who holds a Bachelor of Science in Mechanical Engineering and a Master of Science in Petroleum Engineering and has done post-graduate work in digital business at the Massachusetts Institute of Technology (MIT), started her career with Schlumberger as a field engineer and, 12 years later, was named president of the Brazil division. After four years in that role, she went on to work for Transocean and later Maersk Drilling as its chief commercial officer (CCO). A former member of the board of directors of Brazil's national oil company (NOC), Petróleo Brasileiro S.A. (known as Petrobras), Zambelli is now managing director at Brookshire Private Equity in Brazil.
Rebecca Ponton: What is the current situation with Brazil's oil and gas industry?
Ana Zambelli: After reaching the bottom of the global crisis in 2014/15, the oil and gas markets have been recovering slowly around the world, achieving an oil price around US$70. In Brazil, the worldwide oil crisis was amplified by the crises in Petrobras, due to the financial scandal known as Car Wash. Since then, Petrobras has done a major turnaround in its governance and has closed an agreement with all federal regulators in both the Brazilian and U.S. markets. Petrobras is in the process of divesting non-core assets, selling fields in shallow water, land operations and also some of its refineries, [while] keeping pre-salt and deepwater assets in E&P. It has been able to focus on the main E&P projects and has [made] great progress. Currently, the Brazil market shows a strong Petrobras while it continues opening the market for new players in both upstream and downstream.
RP: Would you say it is rebounding and recovering from the effects of the worldwide pandemic?
AZ: The pandemic affected all businesses around the world, and all commodities prices were affected; therefore, oil and gas were not different. Today we already see that oil prices have climbed back to pre-COVID levels, so [there is] a clear rebound and recovery, in my viewpoint.
RP: Brazil, a non-OPEC country, surpassed Venezuela, an OPEC member, as the top oil-producing country in SA a few years ago. Brazilian President Bolsonaro has said he wants Brazil to become an OPEC member; however, Petrobras CEO Roberto Castello Branco has spoken out against joining OPEC, saying he is "against cartels" and that "Brazil can do better." (Petroleo Brasileiro SA also has been against the idea.) Is there any indication that Brazil will join OPEC?
AZ: Brazil has the ambition to be in the top five energy export[ing countries] by 2030 and, therefore, continuously increasing its production level is critical. In addition, Brazil has a huge area to continue exploiting, especially for oil. In my view, despite the political discussion on OPEC, Brazil has no interest in limiting its production at this stage.
RP: How do other SA countries avoid the situation Venezuela finds itself in – on the verge of collapse, despite being rich in resources?
AZ: For several decades there have been discussions about the oil being a curse for countries. Over the last decade, I believe this myth finally has been de-mystified. Oil and gas have been extremely relevant for world development and to ensure a better quality of life for millions of people. Now, being realistic, oil and gas as resources alone cannot make a country succeed. Oil and gas, like any other resource, can be a blessing or a curse for any country. It depends on how these resources are being used for the country's continuous development. Even though I am not an economist by background, I can comfortably say that oil and gas as resources alone cannot make any country succeed or fail; they just represent one variable in this complex equation called economy.
RP: How involved are women in the oil and gas industry in Brazil from the field to the boardroom?
AZ: Despite the effort voiced by most of the companies in the oil and gas sector in Brazil, the progress from the field to the boardroom is still timid. Several initiatives have been seen inside and outside of the market, so I highlight two [that were] done in 2019: B3 (Brazil Exchanges Stocks) have joined the global stock market on the mobilization for gender equality and the IBP (Brazilian Petroleum Institute) launched a multi-company female leadership mentoring program.
Recently, the focus on females on boards has raised numbers from 8.2 percent in 2017 to 11.5 percent in 2020, according to the Brazil Board Index by Stuart Spenser. It is good to see this progress; however, we must be careful that women are not being used as tokens for these boards. It is imperative to have the numbers improving from bottom to top and have females that rise throughout the organization, achieving executive level [positions] in the industry. In the future, that will ensure that we have a strong pool for boards. The presence of females in executive and board roles is not only an inspiration for the ones at the beginning levels, but [will offer] certainty that gender diversity is no longer a barrier to be overcome.
RP: Where is Brazil in the energy transition?
Historically, Brazil has [had] a very clean energy matrix. While the world [gets] about 15 percent of its energy from renewable sources, Brazil has over 40 percent in clean energy sources driven heavily by hydropower. Due to the favorable weather conditions, solar and wind have grown exponentially in Brazil over the last few years; however, I believe the consolidation of this transition will still take at least a couple of decades. Another big differentiation between Brazil and other countries is the [heavy] usage of ethanol – another cleaner source of energy versus fossil fuels – for transportation. Aside from the fact that Brazil has a balanced energy matrix, in my view, the energy transition will be consolidated once the balance between three components is achieved: affordability, availability and environmental impact, despite the country.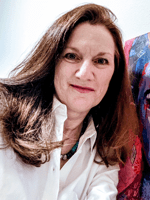 Rebecca Ponton has been a journalist for 25+ years and is also a petroleum landman. Her book, Breaking the GAS Ceiling: Women in the Offshore Oil and Gas Industry (Modern History Press), was released in May 2019. For more info, go to www.breakingthegasceiling.com.
3 Ways Technology is Going to Shape the Oil and Gas Industry
Free to Download Today
Oil and gas operations are commonly found in remote locations far from company headquarters. Now, it's possible to monitor pump operations, collate and analyze seismic data, and track employees around the world from almost anywhere. Whether employees are in the office or in the field, the internet and related applications enable a greater multidirectional flow of information – and control – than ever before.