Rebecca Ponton: What was the defining moment when you were so fed up with the lack of proper-fitting workwear that you decided to create your own? What was the main feature you were looking for personally in workwear?
Kate Day, Brand Director: Kyle and I had a landscaping company, and we could not find pants that fit us properly, looked good, felt comfortable and could handle our work. The women's workwear we encountered was a lesser version of menswear. The canvas was always too thin. And often the pant leg was too wide. We borrowed our husbands' work pants because at least the fabric was tough, but the fit was awful and unflattering.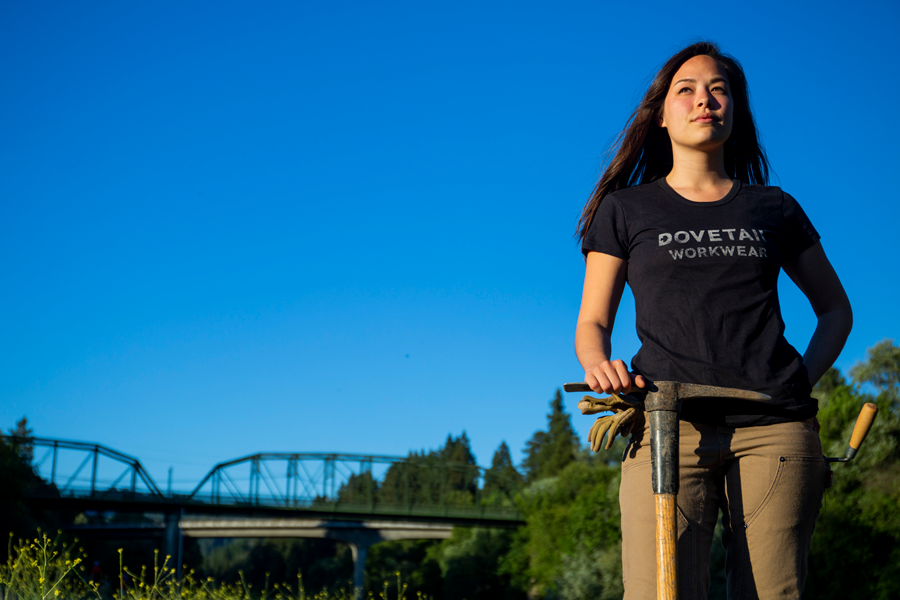 Kyle Begley, Marketing Director: We're in Oregon and spent a lot of time in the mud and rain doing manual labor. Once we started looking for workwear we were blown away by the lack of options. You'd see racks and racks of men's utility apparel and a small, sad offering for women. When we dreamed up our first work pant, we wanted real, functioning pockets (and plenty of them) – pockets designed to fit women's hands. We wanted fabrics that were sturdy but also would bend and move with our bodies. And we wanted our work pant to look good. Those same goals in fit, function and durability apply to every collection we have brought out since.
Sara DeLuca, Product Development Director: I was a landscape client of Kate and Kyle's when they came to me, looking to make the work pant they needed on the job and couldn't find in the store. I'd spent my career in the apparel industry, but at the time (about five years ago), I was consulting and focusing on my kids. When they asked me to help them develop a work pant for women, I told them they'd better be really serious. Because I've always wanted to make utility apparel for women. I've seen this industry shortchanging women for too long: it's called the "pink it and shrink it" approach in the workwear industry – where everything is designed for men and women's workwear is an afterthought. Kate and Kyle's challenge was the one I'd been waiting for. I dropped everything and we've never looked back.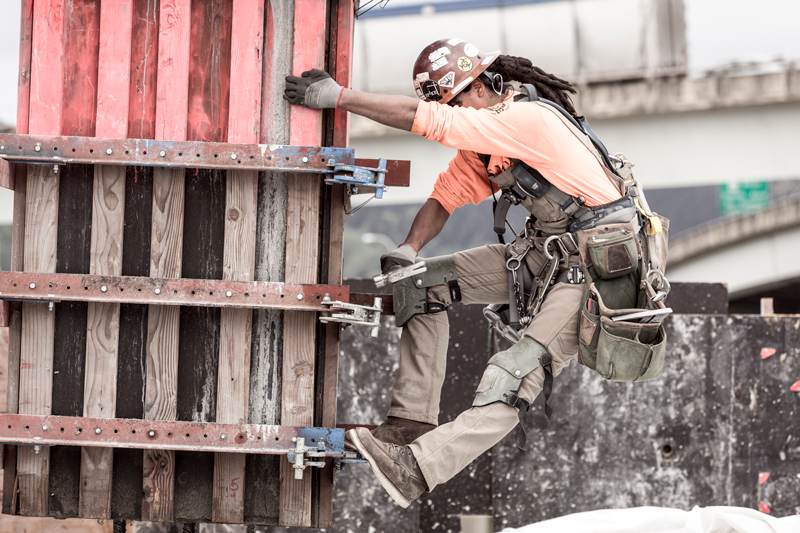 RP: What is your favorite piece of Dovetail Workwear and what's special about it?
Sara: That's like asking me to choose my favorite child. Maybe I'll just talk about my personal favorite piece of Dovetail that I own. I have an original prototype Maven Slim that I wear more than anything else in my wardrobe. The thread colors are wrong, the rivets don't match, and they've been patched a few times, but they've worn in so beautifully.
Kate: I'm going to give a shout out to our Britt Utility pant. It's such a powerhouse and every time we bring it out in a new fabric, it just hits the spot for our hardcore working women out in the field, be they tradeswomen or women in natural resources. The Britt Utility has tons of pockets and a tool loop like all of our pants, but we've also doubled down on reinforcements: it's got a crotch gusset, which increases range of motion when you're bending or climbing. It's got articulated knees for extra comfort (with room for knee pads). It also has reinforced back cuffs, so your hems don't fray. This pant is basically a two-legged toolbox.
Kyle: I can only speak to what I love right now. Because like Sara, it's just too hard to pick. I'm thrilled with our newest pant, the Christa DIY. It's just an amazing combination of comfort and durability. It's got this easy pull-on pant vibe, but it's made of hardcore tough material that's also soft AND each pant saves eight plastic bottles from landfill. It also wicks away sweat really well. And it looks damn good on! Our PR Maven wore hers for nine days straight without washing it. She probably doesn't want us to say that, but I just did.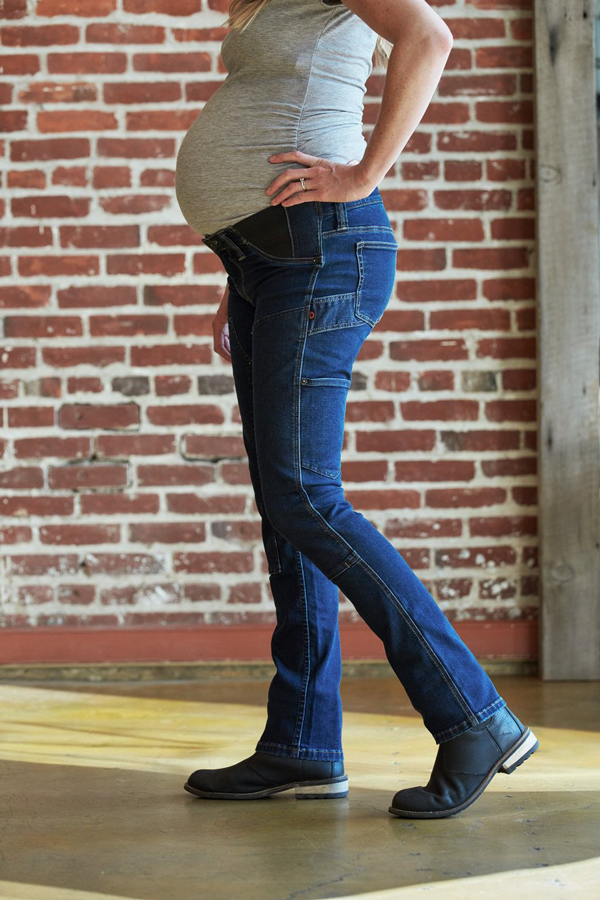 RP: Dovetail has created maternity workwear, partnered with Artistic Milliners, and incorporated green technology into its clothing. Maybe each of you could expand upon one of these initiatives or others that set Dovetail apart and make it unique in the women's workwear industry.
Kate: Our maternity work pant was a true labor of love. Pun intended. The three of us met as moms through our children's school, and then Kyle and I started our landscaping business. All through those early days, we talked about developing a maternity pant. The big workwear companies have been around for more than 100 years, they never thought to include pregnant women in their apparel. It didn't exist in American workwear until we invented it and we're not even five years old. It took a few years for us to get this work pant right. We're extremely proud of Maven Maternity, which recently won a prestigious design award. We're still pinching ourselves.
Kyle: I think what sets Dovetail apart is our attention to relationships. We work with a lot of organizations and individual professional women to build products from the inside out. We listen, and we rigorously wear test the prototypes extensively across a broad range of women: women who farm, fish, climb, build, drill…if it's hard work you're doing, we want to talk to you and get pants on you and have you tell us what works and what doesn't. We're so grateful for the chance to collaborate with women in this way. They feed our creativity and inspire us to do better. We love what we do because of who we do it with.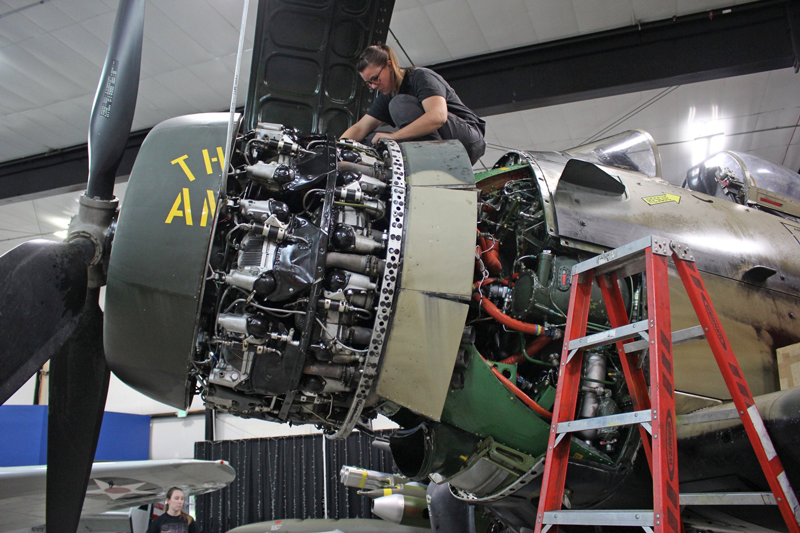 Sara: Yes, we are a sisterhood through and through. We were strongly mission-based right out of the gate, and I think that makes us different. This threads through how we make our products too. We work with people who care about their people and the planet. We're not interested in greenwashing anyone. We're small and scrappy and that means pragmatic, too. We can't do everything we'd like to do. But we have great partners that have allowed us to invent novel products, responsibly. We've made custom fabrics that are indestructible but also soft, comfy, stretchy, and eco-friendly. We've also introduced a new kind of thermal workwear that keeps you warm without bulky liners. And a black pant that will never fade. As the Product Design Director, I love to build high-performance apparel that no one has seen in the workwear space – and do it for women, for a change.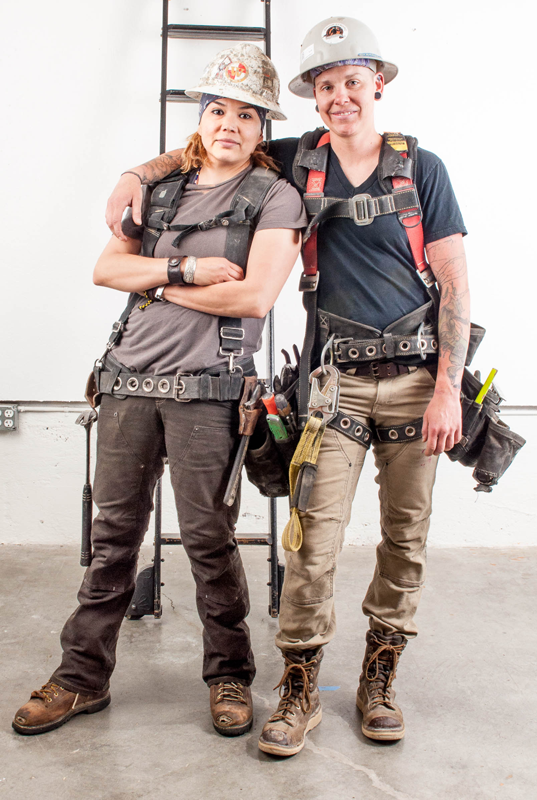 RP: What is the best feedback you have heard about Dovetail Workwear (a personal story from a tester or buyer/customer)?
Kate: A comment that stays with me came from Sue Doro, editor of Pride and a Paycheck, and a retired career machinist. We sent her some shirts, as we were honored to be in her magazine, and she wrote back that she felt like her shirts loved her back! The comfort factor reminded her of all that had been missing from her workwear during long cold winters in Wisconsin, back when she was working day in and out to feed her five kids as a single mom. To show someone like Sue the love and respect she deserves meant a lot to me. A shirt can be more than a shirt, you know?
Kyle: I get my feedback fix daily over my coffee, when I read through our customer reviews. Here's one that came in recently:
"These are the pants I've been searching for my whole life. I'm a contractor and I go from the office to the job site, and I'm in and out of vehicles all day. So, I find myself wearing leggings or jeans all the time. But as we all know, girl pockets are the devil's work, and I can't even carry my phone let alone tools or notes or…These are super comfortable like yoga pants, but they look more polished while still being rugged and functional. AND THE POCKETS ARE AMAZING! I'm also a pilot and I can't wait to wear these for summer flying. The stretch and comfort [are] so nice and will be awesome in my small plane."
Sara: The best feedback I've received lately chastised us for making jeans for "pancake booties." We always strive to be inclusive, and our sizing goes up to 24 in core styles, but this is a different request. Her feedback and similar comments from others have pushed us to start developing a new pant that is built for women with more power and curve in the thigh and booty. I keep this note nearby and am so grateful for this customer's forthright critique. We always need to do better for more bodies – and more booties.
Dovetail would like to offer Oilwoman Magazine readers
20% off their purchase at DovetailWorkwear.com
Use the code OILWOMAN20
One-time use only. Offer expires August 31, 2021
---
Headline photo – Left to right: Sara DeLuca, Product Development Director; Kyle Begley, Marketing Director; Kate Day, Brand Director; and Andrea Obana, Head of Customer Service. All photos courtesy of Dovetail Workwear.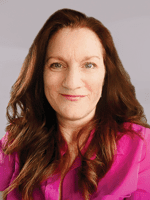 Rebecca Ponton has been a journalist for 25+ years and is also a petroleum landman. Her book, Breaking the GAS Ceiling: Women in the Offshore Oil and Gas Industry (Modern History Press), was released in May 2019. For more info, go to www.breakingthegasceiling.com.
3 Ways Technology is Going to Shape the Oil and Gas Industry
Free to Download Today
Oil and gas operations are commonly found in remote locations far from company headquarters. Now, it's possible to monitor pump operations, collate and analyze seismic data, and track employees around the world from almost anywhere. Whether employees are in the office or in the field, the internet and related applications enable a greater multidirectional flow of information – and control – than ever before.