On a drilling rig in the North Sea, Rosie Hutchins stood in the derrick, a tower-like framework that supports the hoisting equipment that raises and lowers drill pipe. Hutchins was strapped into a harness on a platform in the derrick called the monkey board, a small area used for the roughnecks to stand to trip pipe. As a newly appointed roughneck, Hutchins was tasked with placing stands of pipe to be made up and go down the hole.
Seventy-five feet below Hutchins on the rig floor, the drill crew waited for her to complete her task. She remembers thinking at the time that she did not want to let her crew down or – worse –drop the ninety-five foot stand of pipe across the derrick.
A native of Cork, Ireland, Hutchins pursued a bachelor's degree at the University of Plymouth to study physical geography and geology, and graduated with honors. Her first job offshore was as a mud logger, a junior geological position at a service company. After a few hitches offshore, Hutchins wanted to pivot her career in a different direction: She wanted to work on the rig floor.
Two years later, Hutchins landed a role with a major drilling contractor. She worked in an entry level position, called a roustabout, to pursue her dream of working up to a job on the rig floor.
From the moment she stepped foot on a drilling rig, Hutchins found a satisfying job that challenged her daily. She shares, "Of course every job has its ups and downs and this job is anything but easy; however, it is varied and interesting, sometimes challenging and often rewarding."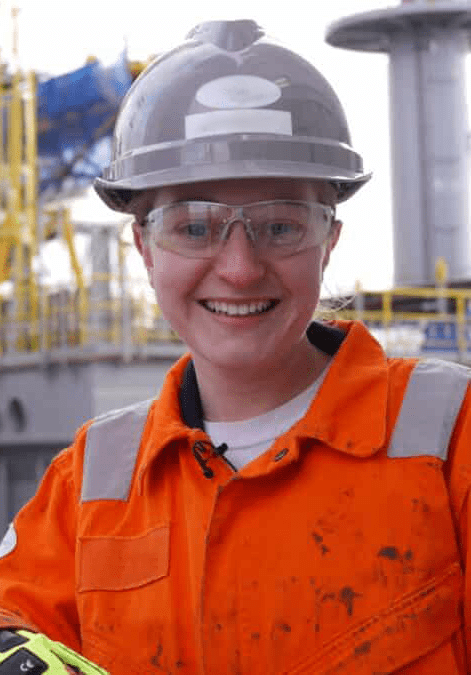 She also credits her crew for making it a welcoming environment. "When you are on a good crew, as I am lucky enough to have been, there is an immense sense of camaraderie," says Hutchins with pride.
Back on the monkey board with a pipe in hand, Hutchins felt terrified, yet ready to achieve her task. She threw the stand into its place and felt an overwhelming sense of achievement; this new roughneck had aced her task.
Working as a roughneck and accomplishing jobs, such as tripping pipe on the monkey board, Hutchins gained a new level of confidence to maintain a long-term career offshore. In total, she has worked nine years offshore, making her way to the position of assistant driller with the company.
As an assistant driller, Hutchins currently has a wide range of responsibilities. These range from supervising the daily drilling activities, operating rig floor equipment and performing down-hole or well control calculations, to organizing the people and equipment needed for upcoming operations.
Very few women work offshore and, of those, not many have held the role of assistant driller in the offshore energy industry. It was reported in 2017 that just 1,681 women traveled offshore in the North Sea, representing over three percent of the workforce. However, Hutchins has hope that this is changing. Throughout her career, she has seen an increasing number of women working offshore. "I have noticed a steady increase in the number of women offshore generally over the last 10 years and particularly in roles which would have previously been perceived as more male dominated."
Hutchins believes that more women can pursue jobs offshore and does not want a woman to shy away from the challenge. She wants any woman considering the industry to know, "It is a rewarding and brilliant place to work and no one should feel like they aren't able to pursue it!"
Reprinted with permission from the author. This article originally appeared in the November 11, 2019, issue of Women Offshore.
Headline photo courtesy of Marc Morrison – www.marcmorrison.com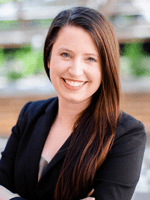 Ally Cedeno is the founder and president of the Women Offshore Foundation, a 2008 graduate of the U.S. Merchant Marine Academy, and a 2020 graduate of Rice University's Jones Graduate School of Business with a Master of Business Administration (MBA). She is licensed as a chief mate of unlimited tonnage vessels and has worked as a senior dynamic positioning operator. Cedeno's experience on the water spans both the maritime and offshore energy industries over the last 13 years. At Transocean, she aspires to be in vessel management and is training as an assistant driller on a 7th-generation, ultra-deepwater drillship built in South Korea in 2016. Cedeno spent much of her career at sea as one of the only women in operations on the vessels she worked on, yet she is determined to change that with the Women Offshore Foundation, an online organization and resource center for a diverse workforce on the water. The organization's mission is to propel women into meaningful careers through access to a worldwide community and professional development resources, while raising awareness among industry leaders and decision makers about issues affecting women on the water. www.womenoffshore.org
3 Ways Technology is Going to Shape the Oil and Gas Industry
Free to Download Today
Oil and gas operations are commonly found in remote locations far from company headquarters. Now, it's possible to monitor pump operations, collate and analyze seismic data, and track employees around the world from almost anywhere. Whether employees are in the office or in the field, the internet and related applications enable a greater multidirectional flow of information – and control – than ever before.