When she first started diving commercially [in 1996], one of the supervisors at the company she was diving for told her she was too pretty to be there and suggested she go back to Boston and marry a rich doctor. Marni told him he and her mother could sit down and talk but, until then, "I'm still here." He asked her how much money she thought she was going to make, and she responded, "A hundred grand." He told her it would never happen.
"Every year, I just wanted to send him my W-2!" Marni says gleefully.
While she never got to dive with any other women sat divers during her career, Marni did get to work for a woman after she left Global Industries in 2008 and went to work for Julie Rodriguez, then president and CEO of Epic Divers and Marine, which had become a subsidiary of Tetra Technologies, Inc., in 2006.
"It was pretty cool for me to go to work for a dive company that was run and operated by a woman. She's no joke; she is handling her business. She's very successful in her industry." (So successful, in fact, that when Epic sold its assets to Tetra in 2006, it was a $50 million cash transaction.)
Just as her bell partner, Kevin Erickson, generously shared the tricks of the trade with her all those years ago, Marni, in her position on the Ocean Corp. Advisory Board, now offers her hard-fought wisdom and insight to young female divers – something she is uniquely qualified to do.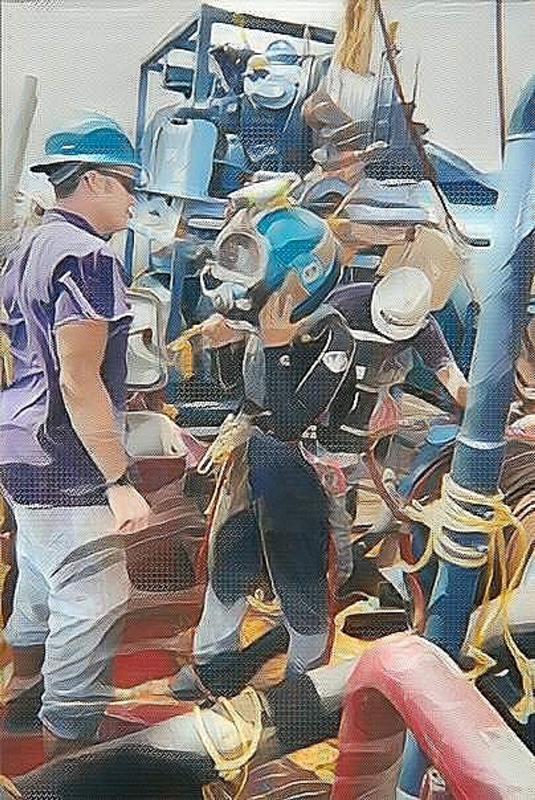 "They have their share of females," she says, referring to the four or so women in each graduating class. "I'm always happy to speak with them. I let them know what they're getting into. I tell the girls, 'You're going into a male dominated industry; there's no question about that. You're not going to go out there and change the mentality; you're not going to go out there and change the structure [of the work environment].'"
She advises the female divers to ignore guys who may be less than welcoming – "especially if you work circles around them – phew," but she also cautions against others who have low expectations of women.
"You can't pay any attention when you make a dive and you get down to the bottom and all you do is tie off a piece of rope and, when you come back up, the company rep says, 'Hey, great dive; you did a great job.' You feel good about yourself, but you didn't do anything differently than the guy before you or the guy after you. I always tell a girl, 'They don't expect that much of you; it should be an insult.' You should be like, 'Of course I did a good job; it was tying off a rope. What do you expect?'"
Having had her accomplishments "casually discredited" at times, Marni says the biggest compliment is when a man tells her that he wants his daughter to meet her and talk to her about her diving career. She hopes to be able to "watch those girls grow up and see one of them go offshore and conquer it."
Condensed and excerpted with permission from the author. Breaking the GAS Ceiling: Women in the Offshore Oil & Gas Industry by Rebecca Ponton (Modern History Press; May 2019). www.breakingthegasceiling.com