As executive vice president of the oilfield services business at Baker Hughes, Maria Claudia Borras may be facing the biggest challenge of her career.
Her company, among the first in the oil and gas industry to commit to significantly reducing carbon emissions produced by finding, processing and using hydrocarbons, is also among the premier brands in the oilfield service industry. The balance she needs to strike is a tricky one: Enabling her traditional oil and gas customers to deliver more than half of the world's energy mix for the next couple of decades, while simultaneously transitioning to safer, more efficient and less carbon-intensive energy sources. Through this period of demand for more energy, less carbon, Borras must lead the 26,000 employees of the $10.1 billion business through a time that's challenging, inspiring – and possibly transforming.
Thirty years after earning a degree in petroleum engineering from the Universidad de América, Bogotá, Colombia, Borras' professional story indicates she's ready for the test.
She began her career in 1991 as a production engineer for Esso in Bogotá and joined Baker Hughes in 2003. Except for a few years with GE Oil & Gas before the two companies merged in 2017, Borras has been with the company ever since, leading operations, marketing and management teams through the industry's ups and downs. In addition to her current role at Baker Hughes, she brings her recognized business and oilfield acumen to the boards of directors of Tyson Foods and ADNOC Drilling.
Right now, though, Borras is keenly focused on successfully balancing her core business in oil and gas with what Baker Hughes calls the "waves
of change" that comprise the "energy reinvention." The goal is two-fold: Continuing to help her customers meet their current goals as they also strive to meet net zero targets and making sure that Oilfield Services itself is meeting its own net zero targets. Underpinning everything, she says, is a dual challenge. "We must increase access to energy for the world and at the same time, decrease carbon emissions."
She knows that meeting those goals won't be easy. 
Evolution Before Revolution in Emissions
Borras calls the reduction and eventual elimination of carbon emissions "the greatest challenge that we are facing in the world." In her view, any discussion on this topic has to be prefaced by acknowledging a few fundamentals. Chief among them is the recognition that, "Without a major acceleration of technological development in our industry, we are not going to meet the net zero target."
The key to success, she says, is using technology to make oilfield operations more efficient and predictable, so that execution is right the first time and assets perform at peak productivity.
One way the business is improving the efficiency and predictability of its own operations is by reimagining its approach to digital and data. The oil industry is certainly no stranger to big data, having managed vast amounts of it to model reservoirs and make engineering calculations. But because the oil industry has been siloed for most of its history, it was only natural for digital development to occur in the same fashion. Last year, recognizing that the results of siloed development have been less than stellar, Borras restructured the Oilfield Services digital organization, creating a single, global, multi-disciplinary team of domain experts, software engineers and data scientists.
"We knew digital had a lot of promise, but we also knew that it wasn't achieving its full potential, either for our customers or for ourselves," she says. "The change we're driving today is about better, more predictable outcomes – helping our customers make quicker decisions and optimizing capital allocation, for example. We're enabling these outcomes with a focused, disciplined digital team that integrates our vast experience in field operations and technical software."
The bet, she says, is that customers will want to work with partners who are able to provide reliable and accurate digital experiences in data management, advanced analytics, automation, remote operations and change management.
So far, that bet has paid off. In 2019, for example, just 50 percent of the wells drilled by Baker Hughes were drilled remotely; today, that percentage is an astounding 90 percent, delivering safer, faster and more efficient operations through the process.
This holistic, modern approach to digital has also led to a successful deployment of Oilfield Services' remote digital technology across Saudi Aramco's entire drilling fleet, encompassing more than 200 sites. "This remote operations deployment, the largest in Baker Hughes' history, is a strong example of how we are investing for growth with customers…who are driving digital transformation at a rapid pace," says Borras.
Another digital experience that is transforming operations is automation. Since instituting closed-loop directional drilling automation in China, Baker Hughes has improved the average rate of penetration by 35 percent. The company also delivered similar performance improvements when applying advanced automated reservoir navigation services in the North Sea.
Directional drilling isn't the only application benefitting from automation. An automated pipe-tripping advisor has been used to safely run more than seven million feet of pipe in and out of wells to eliminate an average of 10 percent invisible lost time from these operations.
In addition to these efficiency gains, automation deployments in areas such as drilling fluids and well production are allowing subject matter experts to eliminate many redundant tasks related to monitoring performance and to focus instead on optimizing performance. These automation deployments also make many operations more predictable by minimizing the risk of human error in many critical tasks.
Borras says the focus must be on building digital and technology capabilities that support transformation, but also position the business to explore new energy markets, such as hydrogen, geothermal, and carbon capture utilization and storage (CCUS).
Latin America Offers Opportunities During the Energy Transition
An interesting proving ground for these new energy markets is Latin America – a place where Borras grew up and one she knows a lot about. "Latin America is one of those places that gives you the opportunity to consider risks and tackle them by bringing great talent and technology together," she says.
She's quick to point out the diversity of each country, the abundance of natural resources, and the overall potential for the energy sector. "Every country is looking for its space in the energy transition. Of course, renewable energy is probably more relevant in certain Latin American countries than others, so we approach each country differently – and we have amazing talent to deploy across the region as it's needed."
Citing countries like Brazil and Mexico, Borras calls Latin America a very complex market, necessitating more innovative solutions. "This is a region that also gives us the opportunity to deploy new technologies," she says, noting a recent milestone with the company's latest advanced rotary steering system in Brazil.
But technology is only part of the solution; equally important is the talent behind it.
The Workforce of the Future
As Borras considers the changing face of her business, one of the transformations she's proudest of is the growing numbers of minorities in the industry and within Baker Hughes. Today, for example, women account for almost 20 percent of the 56,000-strong Baker Hughes workforce and represent 20 twenty percent of its senior leaders.
"We have made a conscious effort to make sure that, as we hire people, women are well represented in the candidate pool," Borras says. "But beyond simply hiring women, we know that we have to develop them. We have to give them opportunities to show their talents, take on challenges, deliver results. That's how they have the best chance for a rewarding career, whether it's reaching executive ranks or contributing on an individual basis."
She says the company spends time understanding what its female employees want to do with their careers, determining what skill sets they need to develop in order to achieve those goals, and what type of support they want from the company. She notes the importance of building internal and external networks.
"Baker Hughes is 100 percent committed to providing opportunities for women," she asserts, "but we also expect to see these women commit to their own growth. The conversation cannot be one-way." She says that this mindful, two-way approach leads to good conversations and the discovery of effective ways to coach women to reach their goals.
"I think our story as a company is attractive for women right now," she says. "First, we offer an opportunity to work on meaningful technical challenges that make a difference in the world. Second, there's an appealing business side for those who are interested in positioning a company for growth, developing commercial models and applying skills in new markets. There are just so many opportunities and paths to take."
If a recent New York Times article is accurate, Borras must also contend with a diminishing crop of talented petroleum engineers – both women and men. She recalls a time a few decades ago when the industry faced a shortage of petroleum engineers and turned to mechanical, industrial and other types of engineers to meet the demand.
She acknowledges that the overall number of petroleum engineers will likely decline as the energy transition takes hold, but feels strongly that the discipline itself provides unique value that can be deployed in new markets. "Students trained in petroleum engineering often have a global perspective, as well as the ability to manage risk and handle complex projects. They are trained to run a business, which is unlike most other technical disciplines. These skills are the same ones we will need in the future to work in other energy sectors related to oil and gas, such as geothermal, subsurface gas storage, carbon sequestration and water wells."
"In those domains, it's still going to be critical to understand the reservoir," Borras points out. "And no one understands reservoirs better than petroleum engineers."
Crisis Management Through Communication
Given recent events, it may seem that no training – engineering or otherwise – could have prepared us for a pandemic and its devastating effects. In Borras' world, the pandemic was exacerbated by the worst downturn in the history of the oilfield.
"The early months of the pandemic were a very intense period. The virus, coupled with the dramatic drop in demand and negative oil prices, produced a black swan event," she says. "Yet the experience was invaluable. We didn't know what we were capable of until we were facing this crisis. It forced us to react quickly; we had to make decisions on the spot and trust that they were the right ones. I think this situation gave us an unprecedented opportunity to drive speed, to drive communication, to drive teamwork and to execute quickly."
Looking back at the complexity of the circumstances in 2020, she is in awe of what the company was able to accomplish collectively. "We have experienced downturns before, but this was something the team had never even thought of! Compared to our actions in other downturns, the results we got this time were probably some of our best."
Her biggest takeaway from the crisis – that you can never over-communicate – continues to serve her well as she navigates a new era for her business.
And that new era is coming fast.
"The world is at the beginning of an energy transition that will change our business forever – for the better," Borras says. "No doubt, it's going to be challenging. But on many levels, it's going to be inspiring and transformative. As long as we remember that our goal is to bring energy from any source to the planet, I'm optimistic about the future."
For more on how Baker Hughes is approaching the energy transition, see The Coming Transition: a blueprint for navigating the next 30 years in the energy industry.
---
A new skill or talent I learned during COVID-19 was…I am always working on being more patient!
A goal I set for myself during COVID-19 was…to communicate, communicate, communicate.
Currently, the books I'm reading are…about jewelry concepts and technology. It might sound boring, but not to me!

   

Programs or shows I never miss watching…I always try to catch the world news.
The first place I plan to go when it's safe to travel is…I am looking forward to reconnecting with my team around the world, starting in the Middle East.
What I miss most about my home country is…I am fortunate that I can visit Colombia quite frequently. 
If I had not joined the oil and gas industry, I might have…pursued architecture. I like design and complex projects. 
Something about me that would surprise people is…I relax by creating jewelry.
The person [living or historical figure] I would most like to meet and have a conversation with is…Leonardo da Vinci. He was both an artist and an engineer.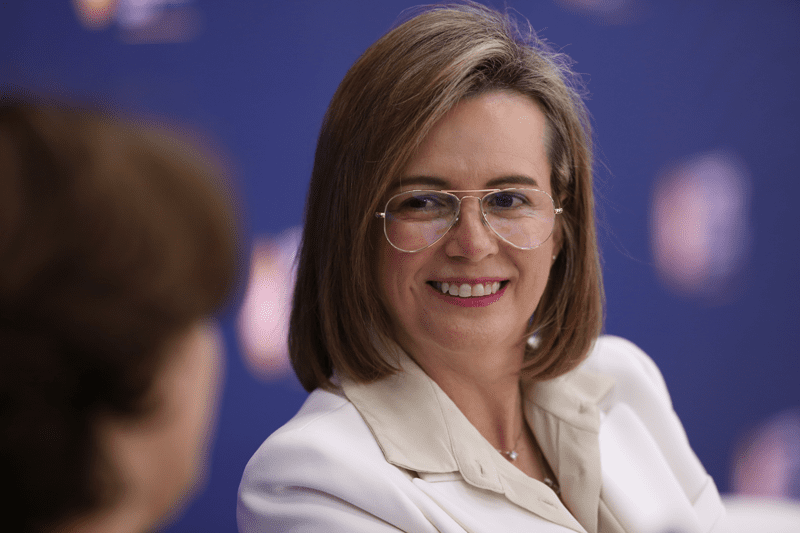 Rebecca Ponton has been a journalist for 25+ years and is also a petroleum landman. Her book, Breaking the GAS Ceiling: Women in the Offshore Oil and Gas Industry (Modern History Press), was released in May 2019. For more info, go to www.breakingthegasceiling.com.
3 Ways Technology is Going to Shape the Oil and Gas Industry
Free to Download Today
Oil and gas operations are commonly found in remote locations far from company headquarters. Now, it's possible to monitor pump operations, collate and analyze seismic data, and track employees around the world from almost anywhere. Whether employees are in the office or in the field, the internet and related applications enable a greater multidirectional flow of information – and control – than ever before.