Refineries are often synonymous with oil and gas, but there is another type of refinery out there. Natural gas pipelines are not always feasible in certain areas, and liquefying natural gas is a method of moving natural gas from producing regions to and from the United States and other countries. LNG export facilities receive natural gas by pipeline and liquefy the gas for transport on ocean-going LNG ships or tankers. The natural gas is cooled to -260 degrees Fahrenheit (the temperature at which natural gas becomes a liquid), through what are called "trains," in what is a fascinating process, to say the least.
There are several LNG facilities along the Gulf Coast of Louisiana. Ships come and go in and out of the port daily, sometimes two at a time, importing and exporting this vital product across international waters. Cameron LNG is headquartered in Houston, Texas, while its liquefaction facility is located in Hackberry, Louisiana.
Cameron LNG breaks down the process of the "train," so the method can be better understood. According to Cameron LNG, the train performs four main processes:
Pretreatment
Remove dust and slug (water and condensate) along with hydrogen sulfide (H2S) and mercury (Hg). These pollutants can cause corrosion and freezing problems, especially in aluminum heat exchangers.
Acid Gas Removal and Dehydration
Carbon dioxide (CO2) is absorbed and removed from natural gas with an amine absorber (acid gas removal or AGR) and removes water using an adsorbent. The removal of these impure substances prevents ice from forming during the subsequent liquefaction process.
Remove Heavy Hydrocarbons
Heavy hydrocarbons (C5+) are removed by fractionation before liquefaction. Natural gas is pre-cooled to about -31°F (-35°C) by propane.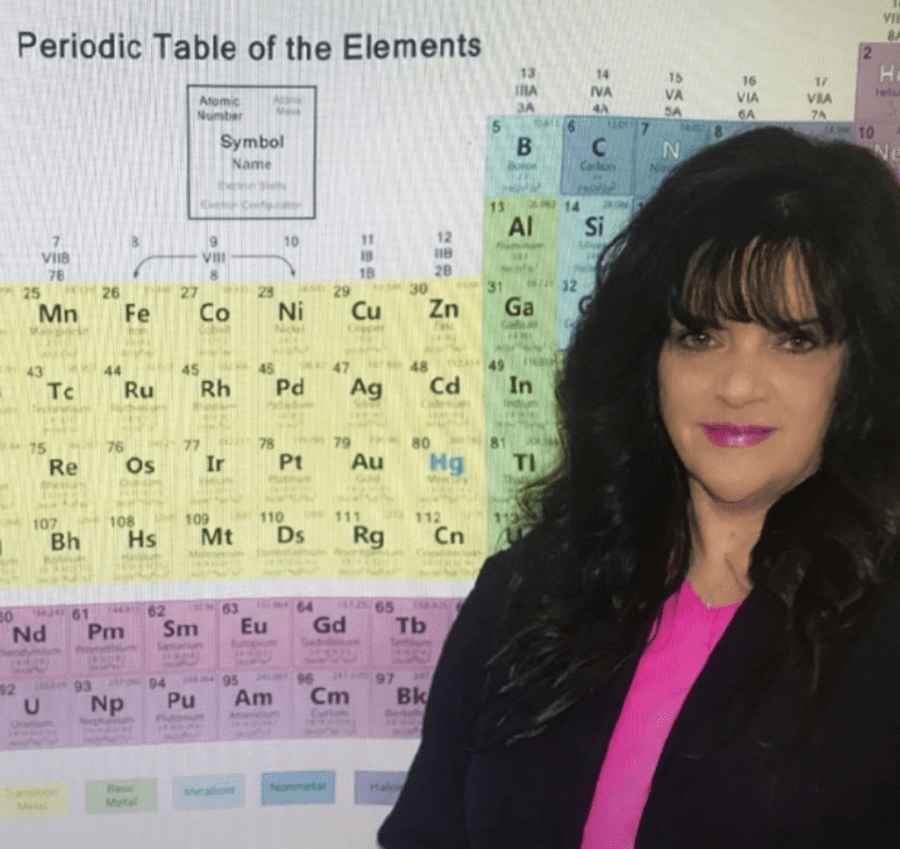 Separation and Liquefaction
Pre-cooled mixed refrigerant (MR) moving through a high-pressure separator separates into a vapor and liquid. Each stream is cooled further, fully liquefied and sub-cooled in separate tube circuits in the main cryogenic heat exchanger (MCHE).
The two sub-cooled MR streams are let down in pressure, further reducing their temperatures. As the mixed refrigerant vaporizes and flows downward on the shell side of the MCHE, it provides refrigeration for liquefying and sub-cooling the natural gas.
The pre-cooled natural gas moves through a separate tube circuit in the MCHE, causing it to liquefy and sub-cool to between -238°F (-150°C) to -260°F (-162°C).
The LNG end flash at the outlet of the MCHE, and in the receiving LNG storage tank, generates flash gas and boil-off gas to make up the fuel gas needed mainly by the propane and MR gas turbine driven compression cycles.
Once all four of these components have been fulfilled, the train cycle is complete.
Tina Davis DuQuesnay, a southwest Louisiana resident, went to work for Cameron LNG in 2016 during the construction phase of the liquefaction project. She is one of 52 women that works at Cameron LNG; eleven of those women occupy a supervisory or leadership role.
"Cameron LNG has allowed me to continually develop and enhance my professional skills," says DuQuesnay, laboratory manager, and a chemist. "Our facility is a world-class liquefaction terminal. My job is to oversee all testing and quality control measures to ensure adherence of the products, whether incoming raw materials, process samples or final product for LNG ship loading."
DuQuesnay says she is grateful to have Cameron LNG in her community. "We have local roots, but we are making a huge impact globally, and that is very rewarding."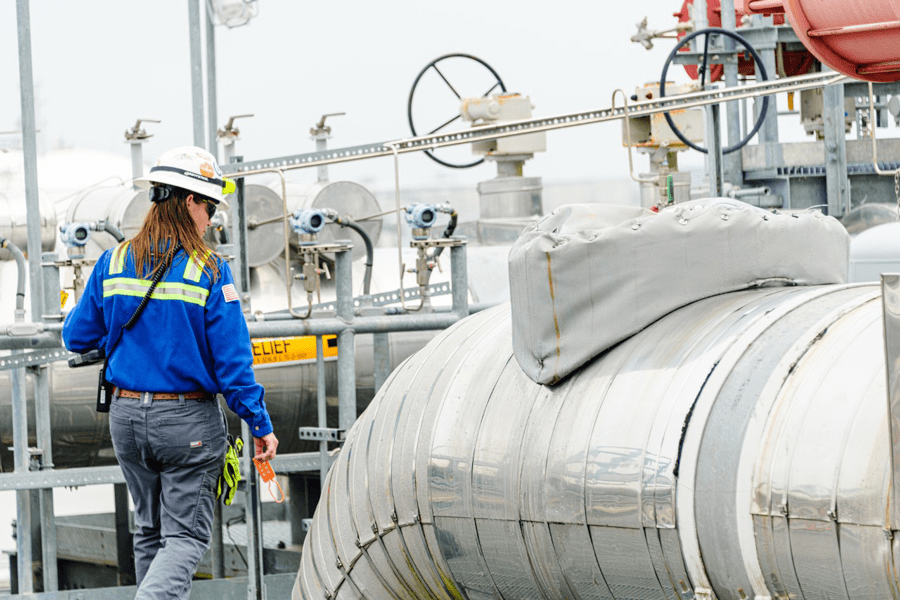 Cameron LNG considers its employees to be key stakeholders and its most valued asset. "Ensuring a work environment that embodies the seven tenets of the company's Culture Wheel is the way we attract and retain the best talent, while motivating and developing a high-performing, diverse workforce. Ours is a work environment built on a foundation of integrity at all levels and in all actions, with our behaviors in line with the tenets of the Culture Wheel," says a company spokesperson.
The future of LNG is bright. The safety record of transporting LNG is exemplary. Additionally, it is an odorless, non-toxic, non-corrosive liquid and leaves no residue after it evaporates. LNG will not ignite until it becomes a vapor and, even then, the vapor will not ignite until it mixes with air and becomes extremely diluted. LNG is safely transported by sea because every precaution is taken to mitigate the possibility of a release. If that were to happen, vaporizing LNG is not soluble in water and any liquid released on land or in the ocean would quickly evaporate. There is zero possibility for land or water contamination – truly an incredible product and one that should appeal to environmentalists.
Given the location of the LNG facilities, preservation of the ecosystems and wildlife of the surrounding areas are considered with the highest regard. Cameron LNG worked with the community to find ways to help the wetlands thrive, create more habitats for native species, improve fisheries and provide better birding. In collaboration with Ducks Unlimited, Cameron LNG also restored an additional 900 acres of eroded marshland in a neighboring lake. Terraces of vegetation added to Black Lake helped reduce wave action, created waterfowl habitats, and improved water clarity.
According to the U.S. Energy Information Administration (EIA), the United States was a net exporter of LNG in 2017 through 2020, meaning exports were greater than imports. This is largely due to increases in U.S. natural gas production, declines in natural gas imports by pipeline as well as LNG, and increases in LNG export terminal capacity. LNG exports are expected to increase in coming years as new capacity comes online.
Liquified natural gas is headed in the direction of a promising future. With diligence and integrity, Cameron LNG, and other facilities along the coast, have succeeded in producing and shipping liquified natural gas across the globe. Their operations are run safely and efficiently, without compromising the relationship and landscape of the communities around them.
Headline photo: Cameron LNG liquefaction terminal in Hackberry, Louisiana.
Photos courtesy of Cameron LNG.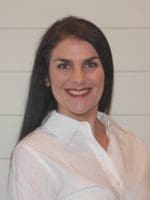 Sarah Skinner is a graduate of Louisiana State University with a degree in English. She has been a technical writer and editor in the oil and gas industry for over ten years in Houston and in Louisiana. She currently works as a technical writer for a pre-cast concrete construction company in Louisiana that builds blast-proof buildings for petrochemical plants. 
3 Ways Technology is Going to Shape the Oil and Gas Industry
Free to Download Today
Oil and gas operations are commonly found in remote locations far from company headquarters. Now, it's possible to monitor pump operations, collate and analyze seismic data, and track employees around the world from almost anywhere. Whether employees are in the office or in the field, the internet and related applications enable a greater multidirectional flow of information – and control – than ever before.