We have a lot to celebrate this month! Not only is November Hispanic Heritage Month in the U.S. – and we have profiled some incredible Hispanic women in industry from all over the world in this issue – but it is also the one-year anniversary of the debut of our sneak preview of Oilwoman Magazine. It is hard to believe it has been a whole year since our publisher, Emanuel Sullivan, made the bold decision to create the only magazine that focuses solely on women in the energy industry, in the middle of a worldwide pandemic. We applaud him for being an ally and advocate for women and other minorities in industry and appreciate him giving us a platform to tell these stories. We also thank the women in this issue for sharing their journeys so that we can learn from and be inspired by them. Role models and mentors – even if they're virtual – are vital to our professional success in an industry where we don't always see and hear someone like us.
According to UN Women, environment/natural resources/energy is among the top five portfolios held by women throughout the world. Among the women energy ministers in Latin American countries are Evelyna Wever-Croes, of Aruba, who is also prime minister, Joy Grant of Belize, Andrea Meza of Costa Rica and Rocío Nahle of Mexico. Having women in these high-level roles can only serve to strengthen the industry with diverse voices, ideas and solutions, as we move forward with the energy transition. As Maria Claudia Borras, EVP Oilfield Services at Baker Hughes, says in our cover interview, women have to be given "opportunities to show their talents, take on challenges, deliver results. That's how they have the best chance for a rewarding career, whether it's reaching executive ranks or contributing on an individual basis."
We all have something to offer!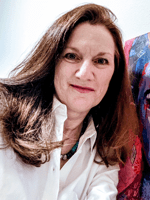 Rebecca Ponton has been a journalist for 25+ years and is also a petroleum landman. Her book, Breaking the GAS Ceiling: Women in the Offshore Oil and Gas Industry (Modern History Press), was released in May 2019. For more info, go to www.breakingthegasceiling.com.
3 Ways Technology is Going to Shape the Oil and Gas Industry
Free to Download Today
Oil and gas operations are commonly found in remote locations far from company headquarters. Now, it's possible to monitor pump operations, collate and analyze seismic data, and track employees around the world from almost anywhere. Whether employees are in the office or in the field, the internet and related applications enable a greater multidirectional flow of information – and control – than ever before.