Happy anniversary to OILWOMAN Magazine! This issue represents three years of bringing you stories of the women who have broken barriers, who have challenged the status quo, and who have brought their own unique and diverse perspectives to all facets of the energy sector, in order to create an industry that evolves to meet the changing demands of our world's energy needs.
In a throwback to independent explorers and producers of the early years of industry, we close out the year with a cover feature interview with Anne Street, the CEO of Echo Production in North Texas. Seventy-five years later, Street continues the legacy of heading an independent exploration and production company started by her grandfather and passed down to her father. Always forward-thinking, she is expanding the company's operations to other areas of the industry, including Echo's CleanOnGreen initiative, with an increased focus on sustainability.
We know from studying history that women have been a part of the industry from the very beginning, although they may have been hidden from view. In a serendipitous turn of events (or should we say, "turn of phrase"), both OILWOMAN's DEI columnist, Lee Jourdan, and Kara Branch, founder and CEO of the nonprofit, Black Girls Do Engineer (BGDE) mentioned the role the movie Hidden Figures played in their lives.
Jourdan shared the fascinating personal detail that his mother worked as a "human computer," like the women in the film. She, along with his grandmother, were examples of strong, Black women, and Jourdan went on to become an ally and advocate for women and other minorities throughout his career and on into retirement; it's part of who he is. Branch made the very important statement that has become the driving force behind her mission, "The [women in Hidden Figures] became my role models and, because of them, I learned that I belong in those rooms and was paving the way for others to come behind me."
In 2023, women certainly shouldn't be hidden figures in the energy industry – or any other – which is why OILWOMAN will continue shining a light on their achievements and contributions. We look forward to bringing you those stories in the new year.
Happy holidays!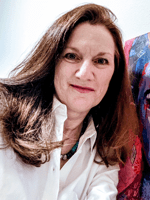 Rebecca Ponton has been a journalist for 25+ years and is also a petroleum landman. Her book, Breaking the GAS Ceiling: Women in the Offshore Oil and Gas Industry (Modern History Press), was released in May 2019. For more info, go to www.breakingthegasceiling.com.
3 Ways Technology is Going to Shape the Oil and Gas Industry
Free to Download Today
Oil and gas operations are commonly found in remote locations far from company headquarters. Now, it's possible to monitor pump operations, collate and analyze seismic data, and track employees around the world from almost anywhere. Whether employees are in the office or in the field, the internet and related applications enable a greater multidirectional flow of information – and control – than ever before.