Thanks to all our readers and advertisers for your support as we mark the one-year anniversary issue of Oilwoman Magazine! With this edition, we celebrate Native American Heritage Month in November and Native American women in the energy industry. As we all know, women are a minority in the energy industry, regardless of the sector. Native American women are one of the least represented micro minorities and yet they are doing so many important things within the industry. It is a privilege to be able to share a number of their stories in this issue.
Representation is critical and so it was an exciting and historic moment when former New Mexico Representative Deb Haaland, Pueblo of Laguna, was named Secretary of the Interior, becoming the first Native American to serve as a cabinet secretary. According to its website, the responsibilities of the U.S. Department of the Interior are to "protect and manage the Nation's natural resources and cultural heritage; provide scientific and other information about those resources; and honor its trust responsibilities or special commitments to American Indians, Alaska Natives and affiliated Island Communities."
The U.S. Department of Energy (DOE) Office of Indian Energy Policy and Programs is also being led by a woman. Prior to her appointment, Director Wahleah Johns, along with Suzanne Singer, both of the Navajo (Dine) Tribe, co-founded the nonprofit, Native Renewables, which builds renewable energy tribal capacity through the use of off-grid solar photovoltaic systems, while also addressing energy access.
Since taking office, President Joe Biden has issued two proclamations recognizing Indigenous people: The first was Missing and Murdered Indigenous Persons Awareness Day on May 5, 2021, which, according to the presidential proclamation, "reaffirmed the nation's commitment to solving all missing and murdered Indigenous persons cases." In this month's edition, both Margo Gray, Councilwoman, Osage Minerals Council, in our cover interview and Honorary Oilwoman David Sickey, discuss this tragic issue and what we can all do to help. President Biden also issued the first presidential proclamation declaring October 11, 2021, Indigenous People's Day to "celebrate the invaluable contributions and resilience of Indigenous peoples."
Thank you to the Native American Journalists Association (NAJA) for making its style guide available to the public. We have tried to adhere to it as closely as possible in this issue.
And, because this is our holiday issue, we want to leave you with a gift. Starting in the new year, we will be publishing a new quarterly magazine called Energies, which will focus on all forms of renewable energy, and the men and women who power those industries.
Happy holidays!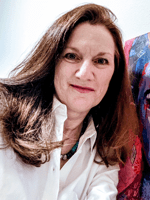 Rebecca Ponton has been a journalist for 25+ years and is also a petroleum landman. Her book, Breaking the GAS Ceiling: Women in the Offshore Oil and Gas Industry (Modern History Press), was released in May 2019. For more info, go to www.breakingthegasceiling.com.
3 Ways Technology is Going to Shape the Oil and Gas Industry
Free to Download Today
Oil and gas operations are commonly found in remote locations far from company headquarters. Now, it's possible to monitor pump operations, collate and analyze seismic data, and track employees around the world from almost anywhere. Whether employees are in the office or in the field, the internet and related applications enable a greater multidirectional flow of information – and control – than ever before.