In the September/October issue, we gave you a glimpse of things to come with a preview of OILWOMAN Magazine. Thanks to all of you who expressed your enthusiasm and support for our vision. With this issue, we are thrilled to be able to unveil the full companion publication to OILMAN Magazine. Please consider it our gift to you and we hope that this platform – the digital and print editions of the magazine, website, newsletter and social media channels – highlighting women and their achievements across the spectrum of energy will help end 2020 on a brighter note and enable us to approach the new year with a renewed sense of optimism. The stories in this issue, starting with our cover interview with Ann Davies, COO of Lightsource bp – who says, "There's no such thing as good energy and bad energy" – reflect the promise and potential surrounding the energy transition. The incorporation of all forms of energy can only serve to enhance our energy strategy and, as Davies, a physicist with a background in petroleum engineering, and the other women's stories illustrate, our skills are transferrable across the spectrum.
With this first full issue of OILWOMAN, we introduce several new columns, which will be regular features, enabling us to share the voices of more women who bring their unique insights to the energy industry. In Woman on Board, author and consultant Lucinda Jackson talks to former energy executive Lydia Beebe, who offers her strategies for helping you land a board seat and increase the number of women and other minorities on energy boards. Freelance writer Claudia Melatini profiles former utility executive, author and STEM educator Hilda Pinnix-Ragland, in She's Got the Power. Through her STEMulus Academy, Pinnix-Ragland is influencing the next generation of young women, who are potentially the energy workforce of tomorrow. And, in Alternative Energy, freelance writer Kris Herndon takes a look at offshore wind energy, predominantly on the East Coast, where Rhode Island is currently home to the only operational offshore wind farm in the U.S. (with other projects in various stages of completion) and a number of prominent women who are helping shape the future with this (relatively) new source of energy. Let's take that energy with us into 2021!
Happy holidays!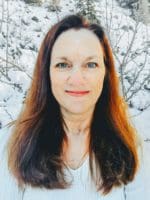 Rebecca Ponton has been a journalist for 25+ years and is also a petroleum landman. Her book, Breaking the GAS Ceiling: Women in the Offshore Oil and Gas Industry (Modern History Press), was released in May 2019. For more info, go to www.breakingthegasceiling.com.
3 Ways Technology is Going to Shape the Oil and Gas Industry
Free to Download Today
Oil and gas operations are commonly found in remote locations far from company headquarters. Now, it's possible to monitor pump operations, collate and analyze seismic data, and track employees around the world from almost anywhere. Whether employees are in the office or in the field, the internet and related applications enable a greater multidirectional flow of information – and control – than ever before.