I first corresponded with Yassmin Abdel-Magied in 2015 when I was working on my book, Breaking the GAS Ceiling: Women in the Offshore Oil and Gas Industry (Modern History Press; 2019). She was a 24 year old mechanical engineer working on offshore rigs in various locations around the world. She loved the work and told me she could envision working offshore "the rest of her life" – under certain circumstances. However, life intervened. Yassmin ended up leaving the oil and gas industry, but it never really left her. She wrote about it in her memoir, Yassmin's Story (Bantam Australia; March 2016), and again in her latest book, Talking About A Revolution (Random House Australia; October 2022). In this issue, we are doing things a little bit differently and letting Yassmin's writing do the talking for her in place of an interview. The excerpt is aptly titled "On the Rigs," and was written 10 years ago, as she documented her first experiences offshore. 
The women mentioned in the article "North Sea Pioneers" are some of the first female offshore oil and gas workers – nurses, engineers and geologists – who paved the way for Yassmin and other young women like her, to be able to go offshore decades later. I had the privilege of talking to Ann Cairns and Anne Grete Ellingsen for my book and am still amazed, not only at their courage but their eagerness and enthusiasm, in going offshore in those early days. As Ann Cairns said, "It was cutting edge."
Now, some 45 years or so later, we are applying that same technology, along with new innovations, to develop alternative forms of energy. I have no doubt that we will soon be writing about the women who pioneered the offshore wind energy industry and what it was like in the "early days," which at least in the U.S., where Block Island Wind Farm became the first commercial offshore wind farm in 2016, are happening right now. History is in the making!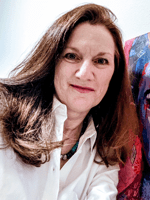 Rebecca Ponton has been a journalist for 25+ years and is also a petroleum landman. Her book, Breaking the GAS Ceiling: Women in the Offshore Oil and Gas Industry (Modern History Press), was released in May 2019. For more info, go to www.breakingthegasceiling.com.
3 Ways Technology is Going to Shape the Oil and Gas Industry
Free to Download Today
Oil and gas operations are commonly found in remote locations far from company headquarters. Now, it's possible to monitor pump operations, collate and analyze seismic data, and track employees around the world from almost anywhere. Whether employees are in the office or in the field, the internet and related applications enable a greater multidirectional flow of information – and control – than ever before.