As the EIC of OILWOMAN Magazine, it is my honor and privilege to get to talk to some of the most incredible women in industry, and I always consider it the mark of a good interview if I have more material than I can possibly use. That certainly was the case with our cover story in this issue, which celebrates Asian Heritage Month (May) and Asian/AAPI women in industry.
Throughout her 41-year career in the chemical industry,
Donna Cole has influenced many women and, in the last eight years, she has reached millions of women with the movies and plays produced through her media production company, Pantheon of Women.
Earlier this year, Kamala Harris was sworn in as the first female U.S. vice president, the first Black woman and the first South Asian woman to hold the office. Some of Harris's comments undoubtedly will resonate with Black, Asian and other women in the energy industry, including those celebrated in this issue, many of whom have been the first to break barriers in their fields.
"My mother would look at me and say, 'Kamala, you may be the first to do many things but make sure you're not the last,'" then vice president-elect Harris said during a lecture at Spelman College, recalling the motto that has guided her life. "That's why breaking those barriers is worth it. As much as anything else, it is to create that path for those who will come after us."
We may not have a world stage or a theater stage, but we all have a sphere of influence. We all can mentor – even unknowingly – through our words and deeds; you never know whose life you might touch.
As Donna Cole said during our interview, "We all have to start somewhere."
Let's start today!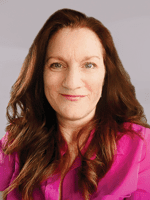 Rebecca Ponton has been a journalist for 25+ years and is also a petroleum landman. Her book, Breaking the GAS Ceiling: Women in the Offshore Oil and Gas Industry (Modern History Press), was released in May 2019. For more info, go to www.breakingthegasceiling.com.
3 Ways Technology is Going to Shape the Oil and Gas Industry
Free to Download Today
Oil and gas operations are commonly found in remote locations far from company headquarters. Now, it's possible to monitor pump operations, collate and analyze seismic data, and track employees around the world from almost anywhere. Whether employees are in the office or in the field, the internet and related applications enable a greater multidirectional flow of information – and control – than ever before.