March is a month of observances and celebrations focusing on women, which is our mission at Oilwoman. It is Women's History Month and, on March 8th, International Women's Day, the theme of which is #ChooseToChallenge, is celebrated around the world.
With this issue's focus on sustainability, we celebrate a very special feminine force – Mother Nature, who has certainly made her presence known lately in the form of the arctic blast that swept through much of the U.S. in mid-February. In Texas, we experienced the loss of power for several days, which gave us a renewed appreciation for reliable energy and brought home the fact that, in many places in the world, there is energy poverty, which, according to organizations like the World Energy Council, USAID and others, disproportionately affects the poor – in particular, girls and women. In many countries, they are the ones who do the majority of the cooking, cleaning and gathering of water (all of which use energy). This then creates "time poverty," depriving them of time that could be spent obtaining an education, earning money or enjoying leisure activities.
In our cover interview with Dr. Angela Wilkinson, Secretary General and CEO of the World Energy Council, she shares her insights from Abu Dhabi Sustainability Week and says, "I do think humanizing energy is a new narrative that we're bringing into the conversation, and it is a realistically hopeful narrative in that we've got to work to get it and not just dream about it."
Let's #ChooseToChallenge ourselves to come together as the world energy community.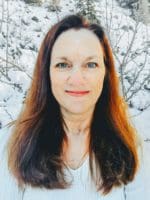 Rebecca Ponton has been a journalist for 25+ years and is also a petroleum landman. Her book, Breaking the GAS Ceiling: Women in the Offshore Oil and Gas Industry (Modern History Press), was released in May 2019. For more info, go to www.breakingthegasceiling.com.
3 Ways Technology is Going to Shape the Oil and Gas Industry
Free to Download Today
Oil and gas operations are commonly found in remote locations far from company headquarters. Now, it's possible to monitor pump operations, collate and analyze seismic data, and track employees around the world from almost anywhere. Whether employees are in the office or in the field, the internet and related applications enable a greater multidirectional flow of information – and control – than ever before.