Summer is officially here and Houston, the energy capital of the U.S., like many other places, is feeling the heat. Temperatures are in the mid 90s and expected to get higher, as August is the hottest month of the year. Along with the heat come higher electric and water bills. This drives home the need for more economical and efficient sources of energy on the consumer side, and the provision of safer, cleaner sources from industry's side as we incorporate all forms of energy to achieve the goal of net zero.
Hurricane season officially started in mid-May in the eastern Pacific, while the beginning of the Atlantic hurricane season started two weeks later. Anyone who has experienced a catastrophic weather event knows that you can end up without electricity and/or water for an extended period of time. In our featured cover interview, Sun Coast Resources founder and CEO, Kathy Lehne, talks about what it's like to respond in emergency situations to provide fuel to devastated areas. In 2017, during Hurricane Maria, a deadly Category 5 storm, Sun Coast dispatched nearly 100 trucks to the U.S. territory of Puerto Rico via military aircraft and vessels, providing fueling services for vehicles and generators throughout the island for nearly a year.
Once a hurricane originates in ocean waters, offshore platforms have to be evacuated, bringing personnel back to safety. In this issue, we debut a new feature by Ally Cedeno, founder of Women Offshore, which will profile women who work on the water. Knowing that 13 percent of the world still experiences energy poverty in some form, we acknowledge and celebrate those women – and leaders like Kathy Lehne – who take risks to ensure that we have reliable sources of fuel and energy.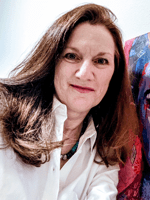 Rebecca Ponton has been a journalist for 25+ years and is also a petroleum landman. Her book, Breaking the GAS Ceiling: Women in the Offshore Oil and Gas Industry (Modern History Press), was released in May 2019. For more info, go to www.breakingthegasceiling.com.
3 Ways Technology is Going to Shape the Oil and Gas Industry
Free to Download Today
Oil and gas operations are commonly found in remote locations far from company headquarters. Now, it's possible to monitor pump operations, collate and analyze seismic data, and track employees around the world from almost anywhere. Whether employees are in the office or in the field, the internet and related applications enable a greater multidirectional flow of information – and control – than ever before.