Happy new year!
Those words have never sounded better or more full of possibility than they do in 2021.
OILWOMAN Magazine's mission with every issue is to celebrate women's achievements across the spectrum of energy and, with this first issue of the new year, in observance of Black History Month in the U.S. in February, we place a special emphasis on the contributions of Black women in energy. In what is pure coincidence, and now has jokingly become referred to as The Paula Issue, we profile three prominent women who have made their mark on the industry. In our cover story, Paula McCann Harris gives us an inside look at her 33-year career with Schlumberger, which took "this little girl" from Sunnyside, Texas, around the world; in She's Got the Power, we talk to Paula Gold-Williams, the nation's only Black female CEO in utilities and power; and completing the trifecta, Woman on Board features Paula Glover, the newly-elected president of the Alliance to Save Energy, discussing the future of that organization as we move forward with the energy transition.
These women comprise an important part of Black women's herstory in the energy industry. In 1993, Hazel O'Leary became the first Black and the first woman U.S. Secretary of Energy and, as of this writing, remains the only Black and the only woman to hold that role. (Ironically, O'Leary, who had come from the utilities and power sector was also the first Secretary of Energy to have a background in energy!) Until there is greater parity, and we can say "the first person" to be appointed or elected to a position, it is important to keep putting these "first women" at the forefront. Their stories help provide entrée for other women and keep these firsts from becoming the only.
Let's not limit our celebrations to one month of the year. Going forward (putting the adversity of 2020 behind us), let's start anew and celebrate the achievements of women – regardless of race or color – in the energy industry (and beyond) whenever and wherever we can to create a more unified world.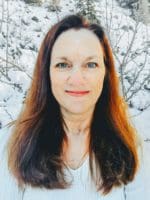 Rebecca Ponton has been a journalist for 25+ years and is also a petroleum landman. Her book, Breaking the GAS Ceiling: Women in the Offshore Oil and Gas Industry (Modern History Press), was released in May 2019. For more info, go to www.breakingthegasceiling.com.
3 Ways Technology is Going to Shape the Oil and Gas Industry
Free to Download Today
Oil and gas operations are commonly found in remote locations far from company headquarters. Now, it's possible to monitor pump operations, collate and analyze seismic data, and track employees around the world from almost anywhere. Whether employees are in the office or in the field, the internet and related applications enable a greater multidirectional flow of information – and control – than ever before.