Dan Dunn has made his living solely from his art since he was 19 years old. After many years as a caricaturist and illustrator, Dunn was inspired by the work of the late, great, original speed painter, Denny Dent. Dunn rehearsed for nine months before he had his first show – a stunning performance in Atlantic City that brought international attention to the classically trained painter.
Overwhelmed by the crowd's reaction to the unique show, Dunn's daughter posted a recording of the sensational footage on YouTube. It wasn't long before PaintJam went viral with millions of views on YouTube, and Dunn's speed painting performance gained widespread acclaim.
There was no looking back. Since beginning this amazing journey, Dunn has been painting and performing on stages and screens around the world, from the Ellen DeGeneres Show to Late Night with Jimmy Fallon to the Super Bowl pre-game show. He's shared the stage with superstars like Taylor Swift, Jay Leno and Queen Latifah, and helped raise millions of dollars for charity events around the world.
Rebecca Ponton: Your dad was in the oil and gas industry. What memories do you have of him telling you stories about his work or what he did on the job?
Dan Dunn: Yes, my father came from a small town in Missouri – he was a preacher's kid with seven other siblings. When he left home, he moved to Houston with the money in his pocket, walked downtown and saw the Humble building and thought, "This looks like it might be a nice place to work."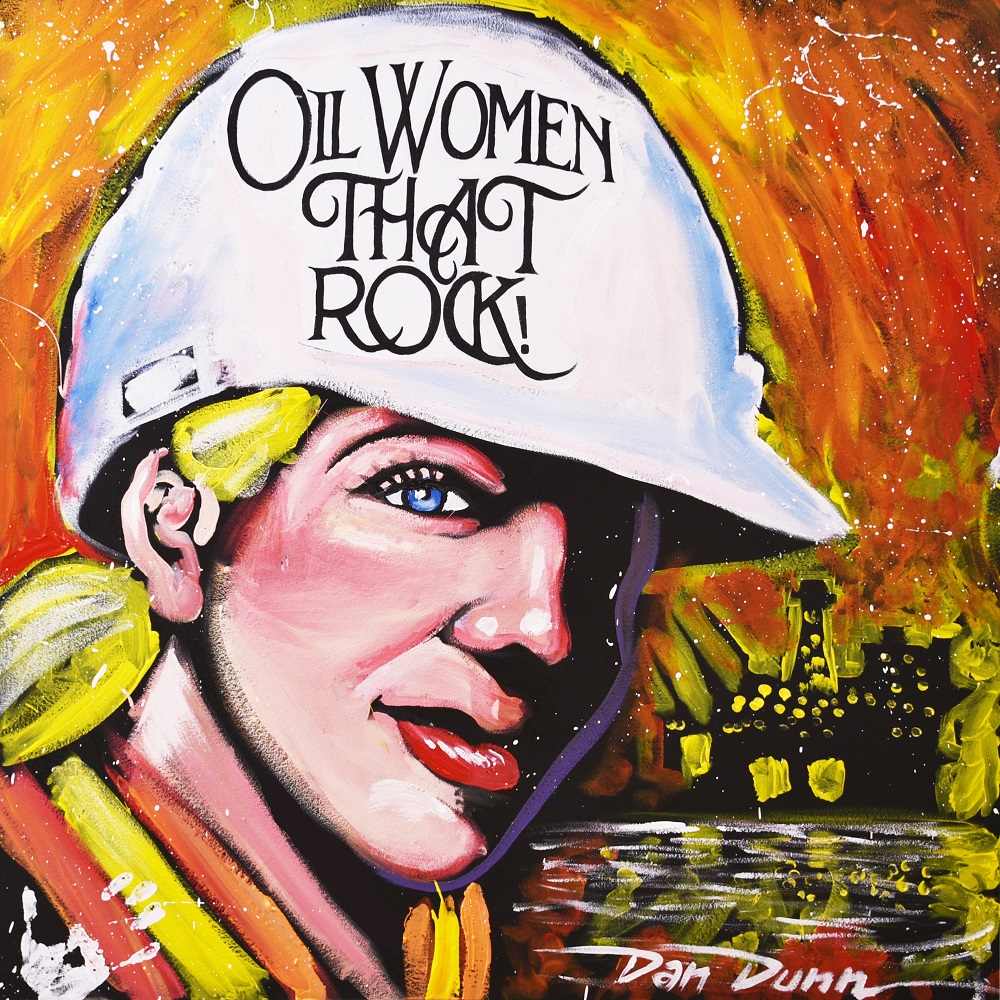 They weren't accepting applications at the time, but he was friendly and courteous to the receptionist, and he filled out an application just in case. As he was leaving, she told him they had an opening in the mail room, and from there he worked his way up to the personnel department. He was transferred to Los Angeles when Esso merged with Humble Oil, and after five years in Los Angeles he returned to Houston and ran a successful placement service for geologists and engineers.
RP: Painter Johannes Vermeer had his Girl with a Pearl Earring; you have your Girl in a Hard Hat. How did you get the idea for the painting? What led up to that and to your daughter being the model for it?
DD: The hard hat was based on other paintings featuring men in hard hats that I had created for corporate clients, like Repsol, Honeywell, NAPE, SPEE and others. When the OTC asked me to perform at the annual conference, they suggested a woman in the oil field. I was delighted. As a proud father of three beautiful and amazing daughters, I believe it's important to represent women across all industries. I modeled the subject after one of my daughters' photos, which made it all the more meaningful to me – and the crowd loved it!
RP: Earlier in the year, you were preparing for an event at the George Bush Library. Did that happen and can you share any details from it?
DD: I was preparing for [that] but, because of the current situation with the pandemic, it's been postponed for now. I'm hopeful that we'll have the opportunity to perform for that event when things settle down. I actually met [the late] President George Herbert Walker Bush in his Houston office several years ago, and painted him, his wife, Barbara, and Millie, their dog, for a charity event.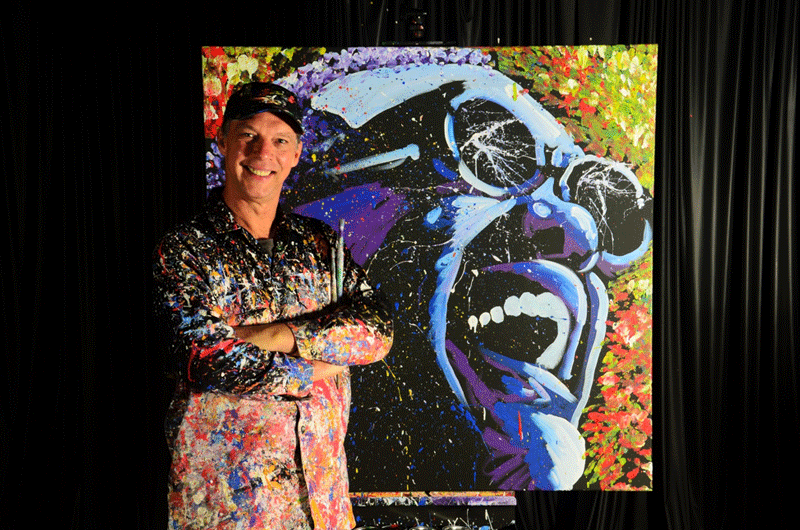 RP: What is the most memorable feedback you've received from one of your sessions or a reaction to one of your paintings?
DD: Oh wow, there have been so many shows over the last two decades. There are a few moments that stand out – Sir Richard Branson said he loved the show, and we helped raise over two million dollars for charity at that event. Carlos Slim Helú had a great reaction, and John Paul DeJoria said that my painting was the best portrait of him anyone had done. Jimmy Fallon, of course, was such a gentleman and appearing on his show was one of the turning points early in my career.
Performing for the Super Bowl pre-game show in 2009 was an amazing moment – the energy you get from a stadium audience is unreal. But I think my most memorable performances were the Houston Symphony shows. There is nothing like standing on stage in my hometown at Jones Hall and hearing an amazing symphony beside me as I paint. Over the top.
Photos courtesy of Dan Dunn's PaintJam.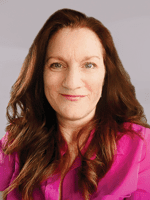 Rebecca Ponton has been a journalist for 25+ years and is also a petroleum landman. Her book, Breaking the GAS Ceiling: Women in the Offshore Oil and Gas Industry (Modern History Press), was released in May 2019. For more info, go to www.breakingthegasceiling.com.
3 Ways Technology is Going to Shape the Oil and Gas Industry
Free to Download Today
Oil and gas operations are commonly found in remote locations far from company headquarters. Now, it's possible to monitor pump operations, collate and analyze seismic data, and track employees around the world from almost anywhere. Whether employees are in the office or in the field, the internet and related applications enable a greater multidirectional flow of information – and control – than ever before.