"I love history. I'm a history buff – and talk about a historic industry," Anne Street says, referring to the oil and gas business. She doesn't need to look much further than her own family, and Echo Production, the independent oil company it founded in the small north Texas town of Graham. Steeped in history and rich in lore, its origins are rumored to date back to a poker game sometime in the 1930s when her grandfather, H.B. Street, won an oil and gas lease while playing cards.
Taking that one lease, H.B. Street – or "Daddy Pop," as Street called him – gained entry into the oil business, eventually setting up his twin sons to run the business. Street's father, Bill, was a decade younger than his brothers but, in 1948, his father suggested they start a venture together and S&S Oil Company was established.
In the early 1950s, Street's mother, Dorothy, and her father were set up on a blind date. Street's mother's landlord encouraged her to go on the date, telling her Bill was the most eligible bachelor in town – and he owned six oil wells! Bill was also told Dorothy was the most beautiful girl in town. The date was so successful, they later ended up getting married. As the years went by and H.B. got older, he eventually turned over the business to his youngest son.
Street says her father was not so much an "oil finder," but he was an astute businessman and he knew to find a good engineer, who would also be a good operator. He found that man in Tom Hunnewell, who was working at the old Magnolia Oil Company. In exchange for running the company, Bill promised Tom a stake in the business and together they formed a new company, Twin Montaña (meaning "mountain" in Spanish), in 1967. (In the meantime, S&S Oil had been renamed Twin Mountain.)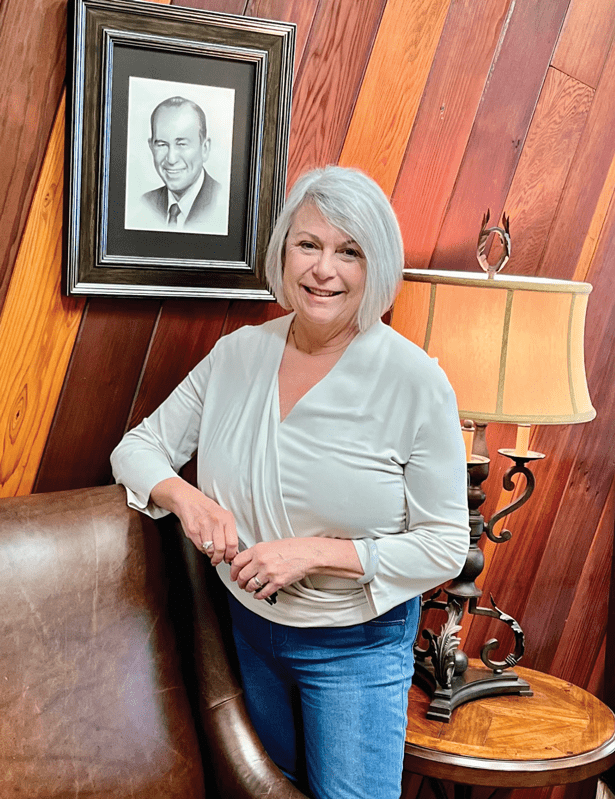 Street explains that just off of the downtown area in Graham they are two little hills, but people call them "the twin mountains." Her father's childhood home is at the base of one of those little mountains, which is why he changed S&S Oil to Twin Mountain and the new company with Tom Hunnewell was christened Twin Montaña.
Laughing, Street says, "Of course, everybody in Texas calls it Twin Montana, and it has nothing to do with Montana!"
Even though her father had hired Tom Hunnewell to run the day-to-day operations, he remained involved. If Hunnewell was otherwise occupied, Bill Street would tell Anne to grab her pillow and, calling herself "Daddy's little sidekick," off they would go into the oil field to sit a well and wait for it to come in. Street recalls sleeping in the back of the car many nights, waiting for something to happen on the wells.
That was before much of the technology that exists today and Street says, "The old guys were just wonderful. There was no mud logging truck. They would stick out a handful of mud and say, "Smell this," because they knew where they were in the drilling process. That's back when they put everything in the little bags and send it back to be analyzed." To a young girl, who adored her father, it seemed like great fun.
"I just enjoyed being wherever he was. We'd stay out all night on the well site, and then we'd end up back in town at the cafe having breakfast and he'd have coffee. The workers would pat me on the back. I really did grow up in the field."
Street took a lot of joy in being her father's sidekick, and looks back fondly on the time she spent in the field with him. Although it gave her an up-close look at what is involved in drilling a well, she never dreamed she would one day be running his companies. When asked how she got involved in the oil industry, she says, "Well, sort of backwards; it wasn't really the plan. I'm a theater nerd!" exclaims the Texas Wesleyan University graduate ('78).
Shortly after her graduation, Street's parents divorced and her mother received half of Echo Production (named for the street it's on) in the settlement. "She decided she needed to know what in the world was going on, so she could understand what she had." Her mother invited her to go to Louisiana, and the two went to Lafayette where they took a short course on petroleum engineering and operations.
"We had a really good time – and some really good food – but also learned a lot about the business. In fact, I still have my little textbook. So, that was my education in the oil and gas industry!"
Aside from her early forays into the field with her father, Street didn't come to the industry with an extensive background in oil and gas, but believes her strength is surrounding herself with the right people in the right "seats," doing what the job requires for the company to be successful. "I would say that is my strong suit and what I bring to the table and to the company."
After the passing of her father in 1990 and Tom Hunnewell in 2010, "Running of the company really fell to me," and she and the family have only occasionally thought about selling. "That's on the table periodically," she says, "but we decided to stay with it."
Having been at the helm of the small independent for a while now, Street recently decided to have a Strengths, Weaknesses, Opportunities, and Threats (SWOT) analysis conducted, which confirmed some things she already knew. Being in the small town of Graham, 90 miles west of Fort Worth, the location can be a challenge when it comes to hiring people. However, she has discovered, once the right people are found, they tend to stay with the company for many years.
"Of course, money is always an issue," she says. "If you're going to get involved in an acquisition, having the capital to [take] from operations and overhead to buy something can be a challenge." Requirements from lenders have changed over the years, but one of Echo's strengths is its management having good, solid working relationships with local banks.
"Then, of course, price volatility. I remember $3 oil and being happy with that. When it went to $18, we thought we were in high cotton. Outside sources, outside influences affect the price, so no matter what we're doing right, it can be all over the place."
Certain regulatory requirements can be frustrating for a small independent. "I have no problem with the ones that make sense, but some of them just don't," Street says, citing the time the company was required to put nets on the top of its tanks to prevent birds from falling in. More birds died by getting tangled in the nets and, ultimately, they were removed. "These are the sort of things that come out of other places that don't really know what's happening on the ground."
Street is not one to dwell on the negative and is quick to point out there are many positives in being a small, independent operator, and the main one is the fact that leadership has control. Without all the hoops major corporations have to jump through, a small company can be flexible. "That's the real blessing; we can be nimble, we can adjust. It's not as hard to steer the ship." She believes the potential for growth is there. "We just have to be smart."
Several years ago, the company created a mission statement that Street says they refer to often to remind them what they want to achieve. "We have to always be forward thinking and adjust to the times." Despite being what she calls "a little, bitty company," staying focused on the mission statement makes them stronger.
Echo has always concentrated on the old Fort Worth basin, where Street still sees plenty of opportunity, and says one of its strengths is managing older fields. Five years ago, in what was a bold decision for the independent, Echo purchased properties in Hardeman County, which is now its largest area of operations. Calling it one of the most exciting deals the company has been involved in, Street says, "When we acquired the Hardeman County properties, that took us to the next level. It really did change who we were at that time to who we became."
In conversation with Street, two recurring themes emerge: Staying ahead of the curve and being forward thinking, especially in the changing energy landscape. The Street family has long been appreciative in the role of water in the oil industry, going back to Street's grandfather, H.B., and his older twin sons, whom she says, "Were very interested in the early idea of waterflooding," a secondary recovery technique Echo has become adept at employing.
Traveling abroad to countries like the United Arab Emirates, where the use of desalination plants caught her attention, and Scotland, where Aberdeen is known as the offshore oil capital of Europe, renewed Street's interest in water, especially after Texas experienced yet another drought. "I'm always thinking, what's next? Thinking ahead, what are the opportunities? Clean water seems to me to be an opportunity."
After much discussion and brainstorming, Tompie Hall, Echo's senior company advisor, whom Street introduces at the start of the interview as "my biggest cheerleader and a very dear friend," has put together an initiative called Clean on Green and is working toward building a consortium. Two universities and several businesses have already expressed an interest in joining.
"May I interject something?" Hall asks. "There are 5.5 million acres of cotton production in Texas." He reiterates, "Five point five million acres." Most of that acreage has oil production on it. So, if we can clean produced water and use it to irrigate non-edible crops, agriculture, that is a huge untapped market, and that's the goal of our Clean on Green consortium."
It is obvious that they are both excited about the potential of the initiative. "It's not enough to sit still," Street says. Reaffirming her love of history and appreciation for the past, she says, "We're going to maintain our roots and grow from those roots. We are forward looking in everything we do."
As our conversation winds down and the afternoon draws to a close, Hall says, "That's one thing about Anne: She embraces change. A lot of leaders are resistant to it, but Anne knows, in order to have a future, you can't stay in the past."
First job – Administrative assistant for the secretary at Echo. (I worked all summer so she could take her two-week vacation. I had the office all to myself for two weeks!)
No. 1 sports team – Graham Steers
What are you reading now? Big Stone Gap by Adrianna Trigiani
Music on your playlist – '70s rock
Favorite movie or binge worthy show – Schitt's Creek
Favorite Broadway production – Wicked
Favorite part you've played in a theater production – Mrs. Potts in Beauty and the Beast
Hobbies – Travel, history and reading
Are you a pet person? Yes! I have four dogs (two bloodhounds, a shepherd mix, and a beagle mix).
The title of my memoir would be – Onward
What is the name of the steakhouse at Wildcatter Ranch and how do you take your steak? Wildcatter Steakhouse and I order my steaks medium.
Must see or must do in Graham – Attend the annual Christmas Parade and Holiday Stroll around the Square.
Volunteer work I'm passionate about – I  have served on the Board of Trustees at Texas Wesleyan University in Fort Worth for 30 years and, most recently, I have joined the board of Teen Life.
Three words to describe me – Sassy, volunteer, mom.
Something that might surprise people about me – I am producing a play based on the Alamo.
Role Model – My mother, Dorothy M. Street.
Mentor – My friend, Ronnie Rencher.
Best advice you've ever received – Make sure you can trust the people around you.
Worst advice I've ever received – Make sure everyone gets rewarded equally.
Advice you'd give to someone getting in the energy business  – Be ready for a rollercoaster!
What historical figure would you like to meet and why? Mary, mother of Jesus. What must her life have been like?
If you could do another job for a day, what would that be and why? Canine Officer because I admire the partnership between the handler and the canine, and I love working with dogs.
Reprinted with permission. The original version of this article appeared in the Summer 2023 issue of NAPE Magazine. It has been lightly edited.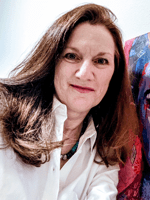 Rebecca Ponton has been a journalist for 25+ years and is also a petroleum landman. Her book, Breaking the GAS Ceiling: Women in the Offshore Oil and Gas Industry (Modern History Press), was released in May 2019. For more info, go to www.breakingthegasceiling.com.
3 Ways Technology is Going to Shape the Oil and Gas Industry
Free to Download Today
Oil and gas operations are commonly found in remote locations far from company headquarters. Now, it's possible to monitor pump operations, collate and analyze seismic data, and track employees around the world from almost anywhere. Whether employees are in the office or in the field, the internet and related applications enable a greater multidirectional flow of information – and control – than ever before.