Two years ago, ExxonMobil surprised everyone with a climate-compatible vote to change board member seats, a decision brought about by Engine No. 1.1 This was described as a harbinger and an important step in a revolutionary change.
After this decision, the oil refining sector, recognized for its significant environmental impact, is now more open to finding innovative solutions that are aligned with environmental, social and governance (ESG) principles.
Refineries looking to move forward in the evolving landscape have realized that they need to adopt cleaner technologies, collaborate with external stakeholders, invest in employee training, implement effective environmental management systems, and foster a culture of innovation. Adopting ESG principles and driving innovation will not only reduce environmental impacts, but also improve operational efficiency and position refineries as leaders in the transition to a more sustainable energy future. By embracing this paradigm shift, the oil refining industry will also contribute to global efforts to address climate change and achieve a greener, more responsible energy ecosystem.
Of course, how oil and gas companies view changing environmental expectations and respond to regulatory requirements will also be monitored. As commitments to reduce greenhouse gas emissions in this context have increased, the issue of operationally divested assets has become more prominent in the sustainable investment world.
For example, selling older, often more heavily polluting properties and facilities has made companies look good on paper, but these assets have not disappeared. At ExxonMobil and Chevron's general meetings this year, a request for an audited report on "how a reduction in the use of virgin plastics, rather than recycling them, would affect their financial position."
At Chevron, with the approval of the Securities and Exchange Commission (SEC), it was removed from the ballot, while at ExxonMobil, only 25 per cent of the shares approved it.2
While these developments are slowing progress, ongoing expectations around environmental, social and governance issues – particularly decarbonization – are putting pressure on the industry to take a second look.
This is because investing in research and development (R&D) to develop and implement advanced processes and equipment, technologies such as carbon capture, utilization and storage (CCUS), renewable energy integration and waste minimization techniques will contribute to both environmental sustainability and refinery efficiency.
With the development of the low-carbon fuel market, oil and gas companies will learn how to offset the carbon footprint of their products, either through trading or through carbon-reducing operations such as carbon capture and sequestration.
While for some, ESG is to blame for the current low investments in the sector, third-party surveys suggest that financing of oil and gas projects by the largest global banks will fall by less than 10 percent in 2021 from its level in 2018.3
It is noteworthy that investments by E&P companies, which are more heavily dependent on bank lending, jumped by almost 50 percent in 2022 versus the previous year, while integrated oil and gas companies have seen an increase of just over 20 percent.4 Nevertheless, going forward, banks' net zero commitments will play a much more meaningful role in determining the financing position of oil and gas companies.5
In addition, they are likely to capture new markets and opportunities that provide long-term competitive advantage.
However, most oil and gas companies lack a sense of urgency to innovate and utilize digital technology. A recent survey, the EY-Parthenon Digital Investment Index, confirms this.6 The survey, which involved 1,500 interviews with senior executives from large companies in more than 30 countries and eight industries, found that energy companies lag behind other industries in recognizing the importance of digital to their success and in scaling their digital investments.
At the same time, the industry's reputation and talent losses are putting additional pressure on companies to accelerate digital technology adoption and focus on expanding social reach through diversity and inclusion efforts.
To create new pools of value in a lower-carbon world, oil and gas companies need to transform themselves from pure commodity sellers to service providers with innovative products and business models. This means moving from a B2B approach to a customer-centric mindset.
This is because customers are increasingly demanding a low-carbon, climate-sensitive world. To a greater or lesser extent, this demand is recognized across all sectors. For example, according to a recent cross-industry survey of 525 supply chain leaders, eight out of 10 supply chain executives are increasing their efforts toward sustainable supply chain operations.7 In particular, as part of their broader focus on ESG issues, they are working toward efficient use of natural resources, decarbonization, ethical sourcing and fair trade.
As a result, oil and gas companies that better understand their customers, and are more open to innovation and an ESG values approach, will not only improve their experience, but also increase profits by unlocking new revenue streams.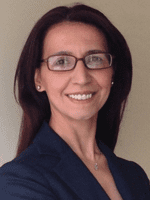 Ayşe Kaşıkçı is an independent consultant. She previously worked in the automotive sector for seven years and in the oil and gas sector for five years at leading private companies. She has multidisciplinary experience in investment planning/coordination and interdepartmental collaboration. In addition to her independent consultancy and continued research activities, Kaşıkçı's main focuses are electromobility, energy transition and ESG.
3 Ways Technology is Going to Shape the Oil and Gas Industry
Free to Download Today
Oil and gas operations are commonly found in remote locations far from company headquarters. Now, it's possible to monitor pump operations, collate and analyze seismic data, and track employees around the world from almost anywhere. Whether employees are in the office or in the field, the internet and related applications enable a greater multidirectional flow of information – and control – than ever before.