Encouragement changes lives. Erika Symmonds, vice president of Workforce Development and Service at GRID Alternatives, knows that for a fact.
GRID Alternatives, founded in 2001, is America's largest non-profit solar energy organization. With an annual operating budget of $68 million and offices across the United States, GRID Alternatives has designed and installed 16,926 solar systems in underserved communities from California to the Navajo Nation, Colorado to Washington, D.C. In addition to designing and building power generating systems, GRID Alternatives' mission includes growing the workforce to fill the increasing number of well-paid jobs in the clean energy sector.
Symmonds' job is to create and oversee solar energy training programs designed to engage, encourage and equip people for work in clean energy as the nation decarbonizes. Installation Basics Training (IBT) and other related courses are offered in numerous communities nationwide at no cost to trainees. In fact, most participants receive stipends or other support to make their participation possible. Classes last from four weeks to eleven months. Trainees earn up to ten Skills Certificates for things like array layout, module installation, conduit installation or electrical wiring. Coupled with hands-on experience, GRID's program helps graduates get permanent jobs in solar and related technologies.
Regional GRID Alternatives offices target local underserved populations for the courses, such as women entering construction, veterans and justice-system impacted individuals. GRID's Fresno, California, office even partners with a nearby county jail to deploy training within the facility. "Behind the Walls" has graduated 223 trainees in the last four years, giving these individuals a better chance for employment success upon release.
An advanced program, IBT 200, offers an extra five weeks of training to upskill workers in the latest energy technologies. IBT 200 includes 80-100 field hours, during which eight to 12 complete systems are installed. Graduates are ready to excel at jobs in the solar industry.
Beyond general training programs, GRID offers several educational programs in partnership with schools. GRID offices engage high school students in workshops, skills training and direct service opportunities. Short term, service learning experiences are offered to college students as well. 
"One big challenge is the wide variety of individuals we work with," Symmonds says. "We have young people who might need to earn their GED before embarking on a solar technician training program. We have college students and graduates who want to work in engineering, project design or policy. The sector is growing rapidly."
Symmonds knows from personal experience how education and encouragement changes lives. She grew up in East Flatbush, Brooklyn, the daughter of immigrants from Barbados. She treasured living in a community "surrounded by Caribbean culture" while her mother worked long hours to support the family. One day, "A guidance counselor at my middle school gathered a group of students and told us about a program called A Better Chance," Symmonds says. "I applied and was admitted to three private boarding schools in Massachusetts. I decided to go to Milton Academy."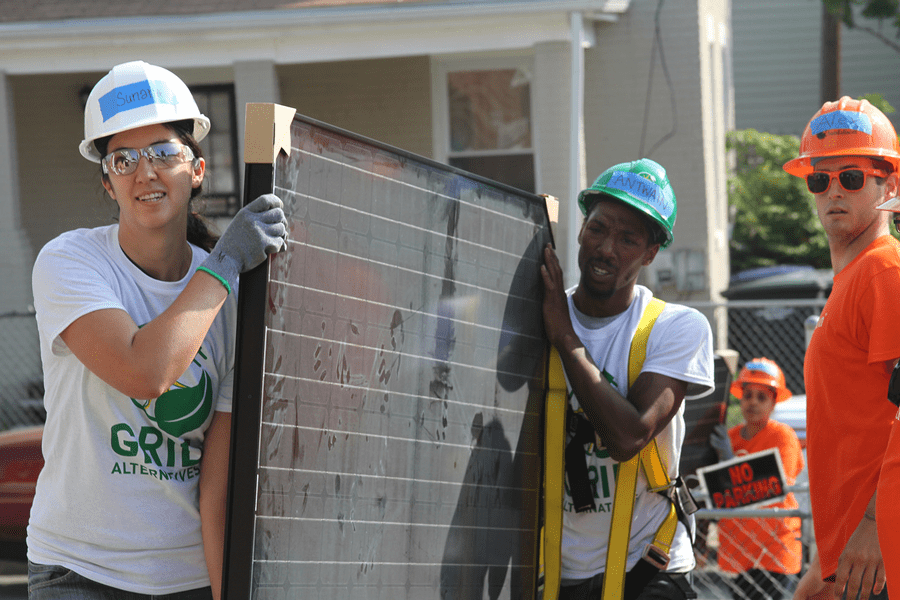 Following graduation from Milton Academy, Symmonds enrolled at Wellesley College. Along with her course load and her time commitment to two intercollegiate sports, Symmonds looked into volunteer opportunities. "I heard about Habitat for Humanity's Spring Break program and decided to join some friends building houses in Pennsylvania." Her experience was transformative; Symmonds returned to Habitat for Humanity twice more for Spring Break service and vowed to work within housing and community development one day.
During her first four years after graduation, Symmonds worked at two premier organizations: Outward Bound and AmeriCorps/Habitat for Humanity. "Both of these places bring out the best in people because they all involve service," she says. When Hurricane Katrina struck the Gulf Coast in 2005, she answered the call for help and worked as a construction site supervisor with YouthBuild in Gulfport, Mississippi.
Symmonds says, "Working in a location where a majority of the residents had been displaced was unlike anything I'd experienced." She observed how non-profits deploying volunteers were vital. She concluded that, "Service was a systemic solution to social disconnection. Service brings people together with mentors and with opportunities."
Thinking about the interconnections between the built environment, job training and community development, Symmonds resolved to work toward "cities where everyone can thrive." She went home to Brooklyn and co-founded Green City Force with two other individuals. For five years, Symmonds created and managed educational experiences for young adults aged 18 to 24 living in New York's public housing communities. Her organization helped participants gain the skills, certifications and work experience they needed to launch their careers in the green economy, particularly in energy efficiency and urban agriculture. Symmonds' expertise in pairing service with mentorship – professional encouragement – was critical to GCF's success in bringing upskilled workers into full employment.
Symmonds joined GRID Alternatives in 2015. Her mission, now national, remains connecting people with the education and experience they need to attract them to the green economy sector. In addition to overseeing the delivery of short term training, Symmonds' team supports 30-40 Fellows in a yearlong program spread across eight regional offices. "Internships and fellowships are important because they give people a chance to try new things," Symmonds says. "Matching Fellows with mentors and a network gives them the best opportunity for success."
Before 2020, GRID Alternatives offered a Solar Spring Break volunteer opportunity patterned after the Habitat for Humanity experience that Symmonds found so transformative. When the pandemic struck, the team quickly devised a four-day solar virtual conference to engage college students. While the participants missed out on hands-on solar experiences, "We made people who never thought about this business before realize there were all kinds of roles throughout the clean energy business that they could consider. Not everybody is going to be a technician. There are many roles like accounting, marketing or outreach." Symmonds hopes to bring back the in-person spring break experience as soon as possible.
Symmonds' biggest challenge is balancing the needs of the communities GRID Alternatives serves with staff priorities and budget realities. "We need to listen to the people we're partnering with. We can't be prescriptive," she says. "There are good reasons behind some of the mistrust some communities have with non-profits, businesses and government. Taking the time to hear people builds connections that allow us to bring in new technology."
Making her own staff feel valued, connected across four time zones and sufficiently resourced within the financial limits of a non-profit organization is another kind of challenge. "When I did direct day to day work within communities, it was easier to see the impact of my work. It's different being in a headquarters job," she says.
Symmonds is optimistic about the future and believes that GRID Alternatives' work on improving energy storage systems and "getting incentives right" – encouragement by yet another name – will make solar technology accessible to everyday people. To date, more than 32,000 people have benefited from her organization's skill development and mentorship programs. Symmonds sees a lot of good work ahead: "I still envision green cities where everyone can thrive."
Headline photo: Erika Symmonds, vice president of Workforce Development and Service at GRID Alternatives. Photos courtesy of GRID Alternatives.
3 Ways Technology is Going to Shape the Oil and Gas Industry
Free to Download Today
Oil and gas operations are commonly found in remote locations far from company headquarters. Now, it's possible to monitor pump operations, collate and analyze seismic data, and track employees around the world from almost anywhere. Whether employees are in the office or in the field, the internet and related applications enable a greater multidirectional flow of information – and control – than ever before.