For someone who had her head in the clouds for much of her college career – interning for NASA and SpaceX – Hahna Alexander now has her feet planted firmly on the ground.
What started as a senior design project in a mechanical engineering class at Carnegie Mellon University (CMU) evolved into the start-up, SolePower, Inc., focusing on wearable electronics – specifically, a smart boot – that provide lighting and power generation, and has since survived one failed incarnation and a new focus. Through it all, Alexander has persisted.
"From my perspective, the power generation was particularly interesting because my phone was always dead so, on a personal note, that was the initiation of my interest in the technology. My classmate and co-founder was also quite interested in the lighting capability for walking home alone off-campus."
Upon graduating from CMU ('12), Alexander stayed in Pittsburgh – "the Steel City" – perhaps the perfect incubator for a start-up dealing with tech and energy. Because the original idea was to solve standard safety and power issues that are universal to anyone using electronics on a daily basis, the company focused solely on the charging aspect for the first few years. However, a Kickstarter campaign revealed a crucial factor – consumers' expectations of how far they had to walk, and how many steps they had to take, to fully charge their electronics (phones in particular) did not match the reality.
Realizing there could be a larger application for their products, Alexander says, "That's when we stumbled into this industrial Internet of Things (IoT) space, basically trying to figure out where workers that carried electronics were underserved." That led them to concentrate on industries like construction, energy and the military, where work is often done outdoors in harsh or remote environments, making it "incredibly difficult to develop technologies" to serve those sectors.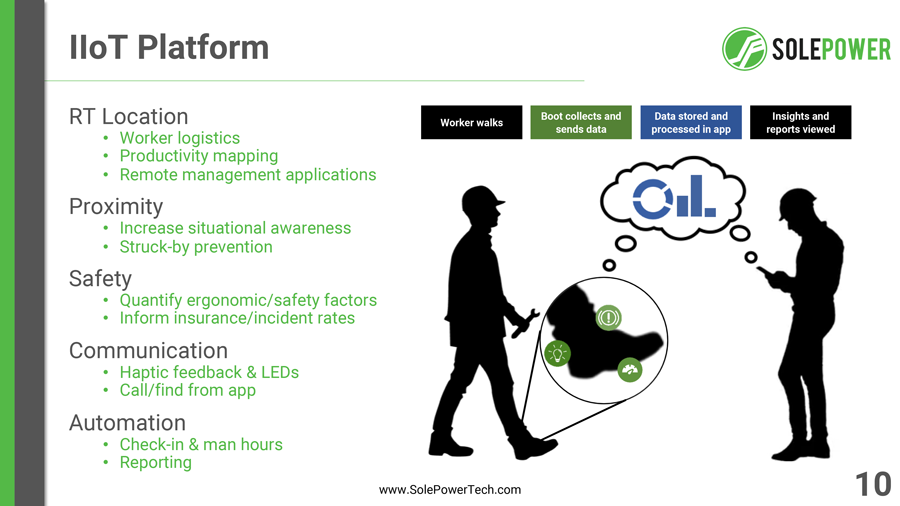 "We did a deep dive and found that there were a lot of remote management and safety challenges that could be solved by improved access to wearable electronics. Having to wear a smart watch or carry another phone was just one more thing that these workers didn't need to worry about, so building this type of technology into a footwear platform could have a pretty significant advantage."
As Alexander explains it, the technology is fairly straightforward and consists of three major components: the charger and the sensors (hardware) and the software, which collects data and sends it to the Cloud. "We don't look at individual people's movements; we look at overall trends that will lead to increased efficiency and increased safety using this data."
The product that SolePower is delivering – "hopefully [in 2021], pending pandemic challenges" – will be a smart boot, which has various types of technology that enable managers and workers to track productivity and safety trends on-site, using a variety of sensors and communication modules. Some of the examples Alexander cites are GPS and ultra-wideband; thermistors, which can determine whether a worker is at risk for hypothermia or heat stroke; and inertial measurement units (IMU), which can measure acceleration in different directions, and detect whether someone has fallen or been hit by an object. There are also pressure pads that provide a highly-accurate step count. Alexander says she and her team joke, "If all else fails, we're the best pedometer that's ever been built!"
Noting that fitness apps can tell a user how long they have exercised, how many calories they have burned, what their heart rate and oxygen levels are, Alexander says, "Compare that to somebody on an oil rig or a construction site or at the scene of a fire. We know almost nothing about these people going into dangerous situations and we have technology that can service that. What we're trying to do is build it into a familiar form factor where we don't have to complicate things for people that are already concerned about safety and have a million other things to think about in the field."
The military certainly would fall into that category and qualify as a prime use case. After receiving funding to develop its kinetic charging technology, SolePower completed two engineering contacts and delivered units to the Army's Combat Capabilities Development Command (CCDC) C5ISR Center lab (formerly CERDEC) for testing.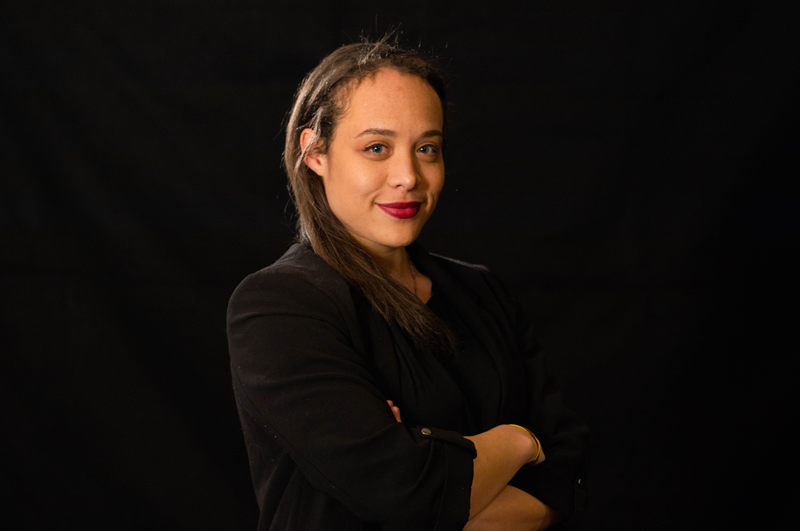 Alexander views being in the pilot stage as a "huge benefit" to companies interested in customizing SolePower's technology, particularly as she feels there are still a lot of unknowns surrounding the use cases for industrial IoT. "No one really knows the answer to this yet and anybody that says they do is a little overconfident. There are a lot of untested hypotheses. What we want to do is work with companies that don't have the capability to build this tech in-house, but that are excited about the technology and understand the benefits and see the value of customizing our software."
SolePower is seeking partners that recognize the potential gains in exploring IoT, but don't know how to implement it. "We want to come in, run a trial, run a task that's super customized to the problems that individual companies and sites think they have, and really test those and, from that, create case studies that we can use to grow and expand what we offer. Customized pilots and strategic investments are what we're looking for right now."
Tech, like energy – and the line between the two is blurring more all the time – suffers from an underrepresentation of women and minorities. Alexander, who was named one of Glamour's Women in Tech Heroes (2014), Forbes's 30 Under 30 (2015) and Toyota's Mother of Invention (2017), says it's rare to find other women who have created companies in industrial work in general, but especially in technology. "I'm always happy to share war stories. The best connection I found early on for our business was the Pittsburgh chapter of the Women's Energy Network (WEN)because they got it. They understood it was going to be a little bit harder and they went out of their way to help. It's always great to develop a really strong network with people that understand the challenges that we [as women entrepreneurs] uniquely face."
Headline photo courtesy of Carnegie Mellon University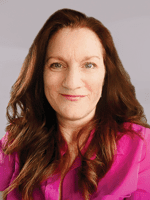 Rebecca Ponton has been a journalist for 25+ years and is also a petroleum landman. Her book, Breaking the GAS Ceiling: Women in the Offshore Oil and Gas Industry (Modern History Press), was released in May 2019. For more info, go to www.breakingthegasceiling.com.
3 Ways Technology is Going to Shape the Oil and Gas Industry
Free to Download Today
Oil and gas operations are commonly found in remote locations far from company headquarters. Now, it's possible to monitor pump operations, collate and analyze seismic data, and track employees around the world from almost anywhere. Whether employees are in the office or in the field, the internet and related applications enable a greater multidirectional flow of information – and control – than ever before.