We are presented with a once-in-a-generation opportunity to transform our energy systems. Keeping the rise of global temperature below 2°C requires extensive technological and societal change. To meet this goal, renewable energy and other enabling technologies such as hydrogen and energy storage are being deployed at an unprecedented scale and pace. As these technologies rapidly grow, whole new professions are emerging to support them with a need for talent across their entire value chains in manufacturing, design, finance, construction, operation and maintenance. This change is driving a reinvented energy workforce and is an opportunity to increase the representation of women in science, technology, engineering and math (STEM).
As an engineer from Mexico who has spent the last decade working to accelerate renewable energy deployment and its integration into energy systems around the world, the transformation of energy systems is very close to my heart and the focus of my work.
I feel so fortunate to have entered the workforce at a time when renewable energy sources were scaling up. For my graduate degree, I studied the physics of renewable energy technologies such as solar photovoltaics, solar thermal, bioenergy and wind energy. My STEM credentials in these emerging technologies opened up the opportunity to work on some of the first utility-scale solar photovoltaic projects in Europe as well as rural electrification projects in Africa. For example, during my master's thesis, I conducted a techno-economic analysis of solar PV and batteries charging stations to electrify rural households in Mozambique. It was very rewarding to see how solar PV and batteries installed in remote locations could power lights, cell phone chargers, radios, fridges and many more appliances where traditional power lines did not reach.
This experience fueled my passion to use my work to contribute to improving people's lives, especially those most vulnerable, by providing them with sustainable, reliable and affordable energy. As a Mexican, I feel so fortunate to have worked helping other developing countries harness the benefits of the energy transition and leapfrog into a low-carbon future.
As I advanced in my career, I expanded my credentials to the policy regulation and finance aspects of renewable energy to better address the energy transformation in a more holistic manner. This enabled me to work in international organizations, engineering consulting, think tanks and development banks providing technical assistance to developing countries in Latin America, Africa and Asia.
As I moved to a mid-career level, I noticed that more knowledge did not directly translate into more opportunities. I started seeing less representation of women and less opportunities for me when compared with my male colleagues. Despite the renewable energy sector having more representation of women than the energy sector as a whole (32 percent compared to 22 percent), the underrepresentation of women was accentuated as I advanced in my career. I believe that bringing in the talent of more women at all levels, and particularly at decision-making levels, can truly accelerate the transformation of the energy sector.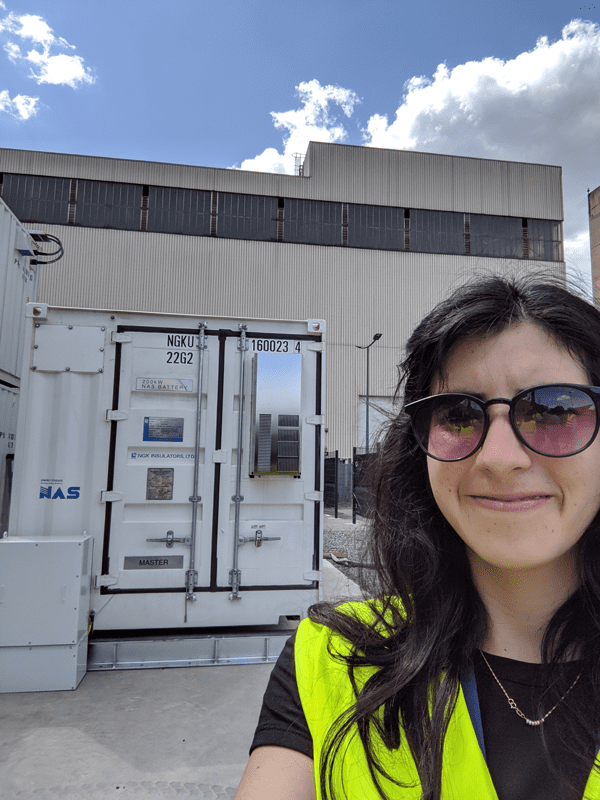 Thanks to many generous mentors that provided advice, support and networks, I've continued to access growth opportunities in my career. It has been very empowering to learn that I am not alone facing roadblocks to career advancement, such as delegation of less technical work, limited traveling opportunities, being underpaid or being excluded from informal networking opportunities. These are all common situations that many other women have to deal with in a traditionally male-dominated industry. As a result, I became passionate about helping women with STEM backgrounds advance in their careers and flourish in technical disciplines. Particularly for the new and rapidly growing sectors, such as energy storage, hydrogen and others, there is a window of opportunity to incorporate more women in technical and leadership roles and establish inclusive industry culture from the get-go.
Putting inspiration into action, I spearheaded a global mentoring program for women from developing countries working in energy storage. Developed by the World Bank in partnership with the Global Women's Network for the Energy Transition (GWNET), the program targets mid-career women from developing countries working in the energy storage space. Through mentoring, we equipped 25 outstanding and highly motivated women with personal and professional skills to take their careers to the next level. While I enjoy diving into the technical details of new energy technologies, I also aim to do my part driving the change in societal gender norms needed to create a more inclusive energy sector for women.
Working with energy storage technologies opened my eyes to how quickly the energy system is being transformed and how much I love being at the forefront of technology innovation. The future energy system will require a wide range of solutions beyond wind and solar. Many of these technologies already exist but are still at an early stage of development. Today, my focus has shifted to addressing decarbonization through scaling up transformative innovations in clean energy and mobility. I work at Powerhouse, an innovation firm and venture capital fund in Silicon Valley, advising corporations in their path to net zero and connecting them with cutting-edge startups.
Diversity also drives innovation and accelerates the transformation of our energy systems. I want to help bring more women and different voices to the startup and venture capital ecosystem. In the United States, only one percent of venture investors are Latinx. When connecting startups and corporations, I include and empower traditionally underrepresented groups in the clean energy innovation ecosystem.
This first decade in the renewable energy sector has been a fantastic journey. If you would have asked me when I was an engineering student about what I would do in the first 10 years of my career, I could not have envisioned this. My hope is that this energy transition will continue to bring opportunities for women that we can't even imagine now. I want to encourage other women in STEM to be inquisitive and adventurous and explore new career paths. By building on specialized technical knowledge and helping each other through mentoring, we can reimagine our energy systems to ones where more women have a leading role to play.
Sandra Chavez is a renewable energy engineer from Mexico. She has a decade of experience in clean energy, innovation and international development. Her focus includes renewable energy deployment, energy access and energy storage systems, among others. Currently, Chavez is the Director of Partnerships at Powerhouse. She has worked for development banks, international organizations, think tanks and industry associations in three continents. She holds a M.Sc. in Renewable Energy from the University of Oldenburg, and certifications in Power Sector Regulation and Climate Finance. Chavez is a passionate advocate for gender equality and was an Atlantic Council's Women Leaders in Energy Fellow in 2020. For more information on GWNET, go to globalwomennet.org. 
3 Ways Technology is Going to Shape the Oil and Gas Industry
Free to Download Today
Oil and gas operations are commonly found in remote locations far from company headquarters. Now, it's possible to monitor pump operations, collate and analyze seismic data, and track employees around the world from almost anywhere. Whether employees are in the office or in the field, the internet and related applications enable a greater multidirectional flow of information – and control – than ever before.