We enjoy such great social diversity, strength and potential in the oil and gas industry and wherever we embrace our differences and understand they make us stronger and more vibrant. In May, during Asian American Pacific Islander (AAPI) Month, we recognize the contributions of Asian Americans who work in the oil and gas industry who strive every day to make our nation better, for our children, their children and future generations.
Today, the Asian American and Pacific Islander women in leadership roles remind us of the proud chapters of our history, despite Asian-American women often being typecast as meek or unassertive, rather than leaders.
A game-changing energy leader who broke the bamboo ceiling is Anne Shen Smith, our Asians in Energy 2017 honoree, who served as chairman and CEO of Southern California Gas Company, a subsidiary of Sempra Energy, and retired after a 36-year career with that company. She led the nation's largest natural gas distribution utility, providing service to over 21 million consumers in more than 500 communities in Central and Southern California. Her leadership has paved the way for a younger generation of Asian American women and made a lasting difference for legions of women striving to reach the C-suite.
As the oil and gas industry prepares workers to become engaged 21st century citizens, we have an obligation to offer rich and varied programs focused on the nexus of energy, innovation and research, and environmental sustainability. That means training the pipeline of energy talent needed, while serving the needs of the oil and gas industry. We honor the invaluable roles Asian American women have played in our past, and we recommit to ensuring that opportunities exist for generations of Asian American women to come.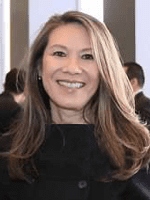 Susie Y. Wong is the president and CEO of Asians in Energy. She is also the managing principal consultant at Wong Public Affairs.
3 Ways Technology is Going to Shape the Oil and Gas Industry
Free to Download Today
Oil and gas operations are commonly found in remote locations far from company headquarters. Now, it's possible to monitor pump operations, collate and analyze seismic data, and track employees around the world from almost anywhere. Whether employees are in the office or in the field, the internet and related applications enable a greater multidirectional flow of information – and control – than ever before.