As humans on our planet, we urgently need energy supplies that are secure, affordable and lower carbon. It's a very difficult challenge to solve; however, if approached in the right way, it presents business opportunities as well. Finding the path forward requires strategic problem solving skills and an ability to forge unique ways forward that others may miss or that are less obvious at first. This is where disabled talent can unlock value for companies and communities.
My journey to work each day requires navigating the streets of London as a disabled woman. I have Marfan Syndrome, a genetic connective tissue disorder (interestingly, it is thought that others who may have had Marfan Syndrome include Joey Ramone and Abraham Lincoln, but I digress…). The nature of my disability is that navigating cities can be tricky – uneven pathways, stairs without handrails, people in what feels like a terrible rush, bikes and scooters mounting the pavement, cars jumping red lights… I could go on. I am used to people overtaking me in the street – sometimes it really feels like the whole world just moves faster! Sometimes it tires me out and this is especially true if I need to carry anything, so the Uber app on my phone is a go-to app for me.
Like many disabled people, I find my own way to manage. That doesn't mean we shouldn't design our cities and workplaces to be more livable and accessible (we absolutely should – and must!) but, in the meantime, I've developed my own little life hacks that enable me to get through each day. I have mastered the art of calculating and recalculating in response to the litany of surprise obstacles that appear thrown my way in day-to-day life. I have adopted new technologies that make life activities that little bit easier or faster, giving me back precious, valuable time. I have experienced the restorative power of nature and our beautiful planet. I have learned how to prioritize the activities that really matter, and how to identify and play to my strengths. I have learned what I need to delegate, and the capability gaps I need to build around me to be successful.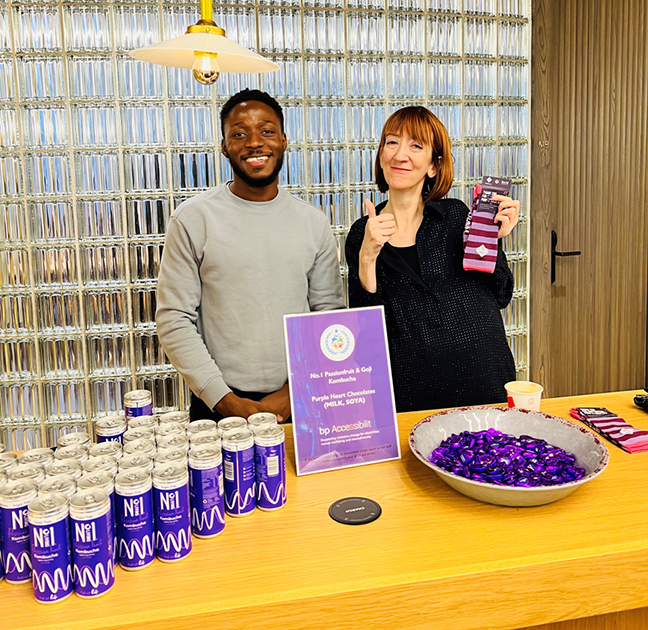 Disabilities cover a broad spectrum of physical and cognitive experiences, and disabled people are of course a very diverse group of individuals; however, we do share in common the need to rise to the challenges as described above. As a result, many of us have really honed that skill of finding a different path when the one presented just isn't going to cut it, of proving people wrong when they have underestimated our ability to get to the end point, of being early adopters of new technologies – many of which have proved to enhance the world for people in general and not only those of us who are disabled! – of learning to advocate for ourselves and others such that we have become skilled communicators, even (and perhaps especially) if we communicate in ways that differ from established norms.
In addition to all of this, there are a lot of us around: Approximately one in seven people on the planet is disabled. That therefore includes your workforce, your customers, your loved ones… perhaps even you yourself, reading this. We know from the data, though, that disabled people have remained underemployed and underrepresented when it comes to opportunities in the workplace. We also know that the data on disabled hires in companies is unreliable, as many of us do not disclose our disability status on equal opportunity monitoring forms included as part of recruitment practices. This can sometimes be because of perceived negative connotations around being disabled and a concern that such a disclosure may limit someone's access to opportunities or progression.
Attracting and Unlocking Disabled Talent at bp
We need to deploy the best talent if we are going to solve the energy trilemma (providing energy to the world in a way that is affordable, reliable and lower carbon). As outlined above, disabled people can bring a much needed skill set and entrepreneurial spirit to this endeavor. What's more, we have the technologies these days to completely redesign our working locations, making for more accessible offices that can meet the needs of a diverse workforce, but also enable remote work and other methods of working as well.
At bp, we realized that this talent pool is just too valuable to ignore! So, in December 2022, I created a new Disability Network for our employees. We already had a truly wonderful Accessibility Business Resource Group (BRG), which is the home for networks, including our Neurodiversity Network and our Mental Wellbeing Network as well. It was great to add Disability as a theme alongside these networks – partly to combat any stigma that still exists around the word "disability," and partly to focus on what's needed for disabled employees, customers and future hires.
To get started, then, I put out a notice on our internal employee social media (Yammer) to alert all that this network would be starting up. Delightfully, hundreds of employees joined the social online site, and many reached out to me directly offering to help or offering up stories of their own experiences (both at work and in life in general). I formed a core team – a deliberately tight knit group to start with – comprised of five of us based in the U.K. and we held an ice breaker session to get to know each other followed by a "visioning" session to explore what we could achieve with the network in 2023 – and beyond!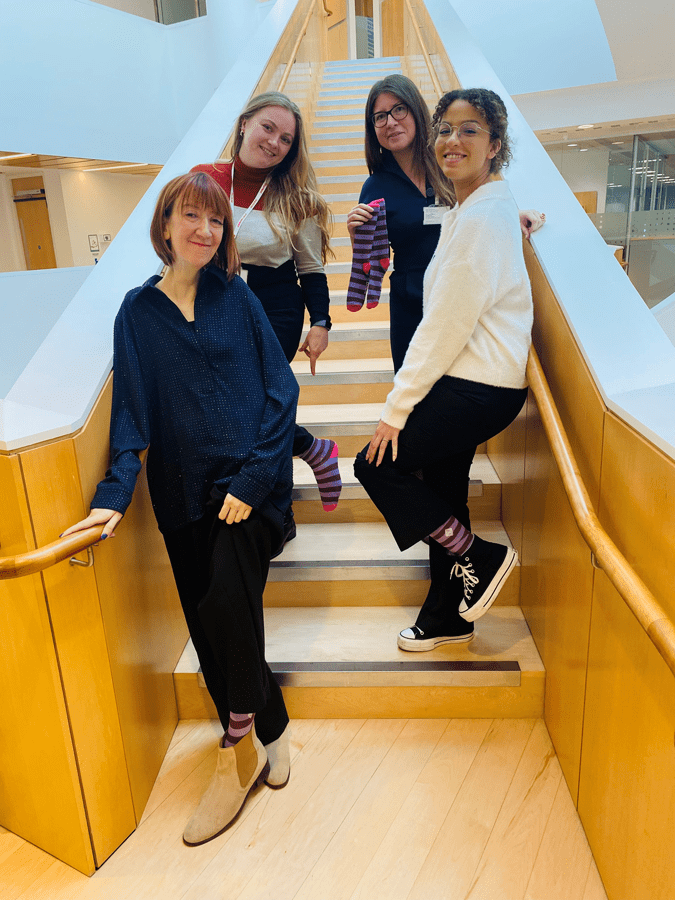 As luck would have it, we were forming as a network just in time for the UN's International Day of Persons with Disabilities (IDPWD), on December 3rd. IDPWD has been running each year since it began in the 1990s, but this year, for the second year running, it was also known as Purple Sock Day, which is an initiative run by Parallel Lifestyle and aims to raise support for disabled entrepreneurs. Socks were six pounds a pop – a bargain for dressing one's feet in blissful bamboo, and even more so when you consider that half of those proceeds go directly into supporting disabled entrepreneurs. As well as attracting disabled talent to our organizations, as we progress in the energy transition, we should look to spark innovation and empower disabled founders. If you navigate the world with a disability, you likely have the passion, determination and grit to see a startup through to success, and I'm excited to see what's possible if the entrepreneurial community focuses some effort there.
I stated at the beginning of this article that I navigate the streets of London as a disabled woman; however, I do so as a disabled executive as well. That's not a term we hear nearly often enough: disabled executive. I Googled it and the first hit is, "CEOs that you never knew had a disability." I can understand a reticence to disclose; health related information is by its nature private, and none of us wants to be reduced to one aspect of ourselves either. However, I think disclosing and talking about this some of the time is important if we are going to switch the narrative on disabled talent entering the workforce.
Valuing the differences our people bring helps create the space for also valuing different perspectives and points of view when considering strategic business decisions. Avoiding groupthink is a must for making the best decisions and creating an environment where the respectful dissenting voice is both welcome and expected. Clearing the path to bring disabled talent into the mix is one of the ways to do that and also one of the ways we'll find opportunity in the changing global energy mix. This decade is one of the most exciting times to be part of the energy industry and I hope that as our global energy mix changes, so too does the diverse mix of talent, perspectives and skills in our workforces and executive teams, with disability no longer a barrier to success.
Angela McKane can be found on LinkedIn.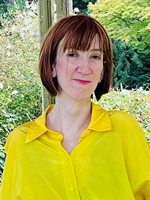 Angela McKane has recently joined Colbridge Ventures as a venture partner, and was formerly VP Technology Insights at bp. Colbridge Ventures is a growth advisory and venture studio for environmental impact startups and partners with early stage firms seeking to scale. Prior to this, McKane grew and led a global team at bp, with a powerful digitally-enabled insights capability for the organization, and with a complementary analyst offer conducting deep dives and in-depth research into emerging technologies and innovations that could provide attractive investment opportunities for our changing global energy landscape.
Earlier in her career, McKane worked at Transport for London ("TfL"), and prior to that at her alma mater, the University of Glasgow. She has spent the bulk of her professional career in London; however, she recently relocated to Northern Ireland, which she sees as the perfect base to partner with global businesses seeking to enter and expand into both the U.K. and E.U. markets. Find McKane on LinkedIn.
3 Ways Technology is Going to Shape the Oil and Gas Industry
Free to Download Today
Oil and gas operations are commonly found in remote locations far from company headquarters. Now, it's possible to monitor pump operations, collate and analyze seismic data, and track employees around the world from almost anywhere. Whether employees are in the office or in the field, the internet and related applications enable a greater multidirectional flow of information – and control – than ever before.