Determined to Lead: The Disruptive Woman's Guide to Stop Playing Small and Transform Your Career through Agile Leadership is a remarkable book by Nada Ahmed that offers female professionals and leaders a powerful guide to overcoming the challenges and harsh realities of being the only woman in the room. Nada Ahmed, an award-winning leader in the offshore oil and gas and maritime industry, draws on her extensive experience to provide actionable advice on how women can become successful leaders in today's digital age.
Through her own journey, and stories of other powerful women, she reminds us that women can become unstoppable game-changers and true pioneers when they believe in themselves. She shares her insights on navigating male-dominated environments including handling microaggressions, building resilience, letting go of self-doubt, and showing up more authentically.
Nada began working in the energy industry in Houston, Texas, from where her work took her to Norway. Norway is one of the most gender-progressive countries in the world. And yet, the number of women working in the oil and gas industry was comparable to anywhere else in the world. The gender gap persists through all levels of leadership, even in Norway.
As she rose to leadership and began to have more prominent and visible roles, she was exposed to challenges that many other women have faced. In this book, Nada talks honestly about the challenges she faced, and what lessons she has learned from them, generously sharing her reflections so we can all learn and grow with her.
The book is structured in a way that exposes readers to both the data and theoretical concepts while weaving in thoughtful stories and practical personal experiences, making it a very captivating read. Nada's leadership philosophy focuses on embracing femininity and cultivating a strong inner compass to guide us on our journeys.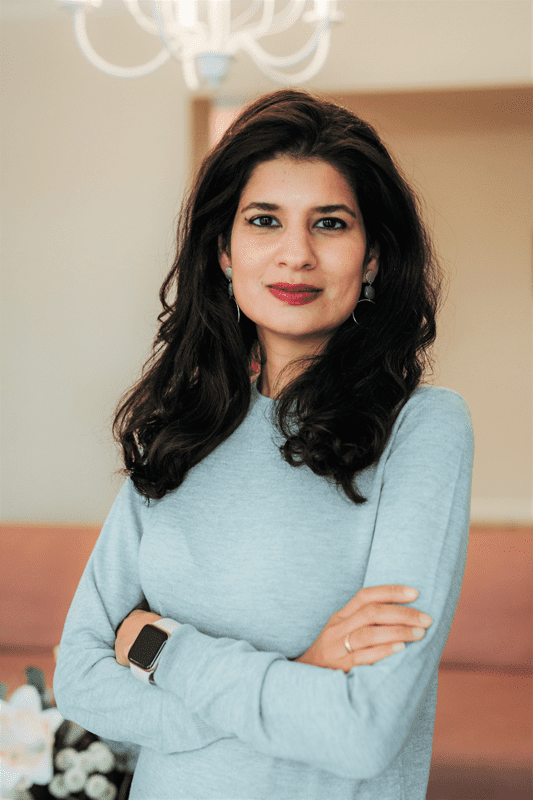 This book is particularly relevant for women who are new to a leadership role or who want to hone their skills. Nada argues that women are not failing to advance because they lack the drive or skills. They are failing because they are navigating a system that was not designed for them. She shows us examples of how the workplace has been built on male-dominated values, schedules and performance systems that often exclude or disadvantage women.
She states that if we want to create a workplace that truly values and includes women, we need to acknowledge and embrace the differences between men and women. Our brains, physiology, energy levels and moods are different and, instead of trying to fit everyone into the same mold, we need to design a workplace that accommodates these differences. We need to value traits like compassion, empathy, vulnerability and collaboration – traits that are often labeled as "feminine" but are crucial to success in any workplace. If we want to create a workplace that works for everyone, we need to systematically work to change the workplace culture, value systems and leadership styles. We need to keep the door open for other women and create space for them to succeed.
Determined to Lead is an inspiring and empowering book that reminds us of the power of believing in ourselves and shows us how we can become successful leaders in our own right. It is a well-written and thought-provoking book that undoubtedly will help women break down barriers and achieve their dreams.
If you are a woman with leadership ambitions or if you are already a leader who wants to hone your skills, then this book is for you.
Excerpted with permission from Determined to Lead by Nada Ahmed (Agile Leadership; (February 2023). Click on the link to purchase.
Nada Ahmed is a corporate leader turned entrepreneur, innovative strategist, leadership coach and angel investor with expertise in innovation and digital transformation of the offshore industry. As the founder of Agile Leadership, she guides businesses toward the forefront of change through customer-centric design thinking, agile methodologies and leadership training. She also serves as leadership and career coach for female corporate leaders and entrepreneurs. Ahmed has 15 years of corporate leadership experience in the energy and maritime industries, and has spent most of her career in Houston and Norway. She serves on the board of directors for Greig Maritime Group and Climatepoint. Ahmed has been recognized on the 2020 list of the top 50 women in technology in Norway and was on the 2021 list of high-achieving leaders under 40 awarded by the Foreign Minister of Pakistan. She is the host of the Braving Innovation podcast, where she shares her wealth of knowledge and experience to inspire and empower entrepreneurs worldwide. Ahmed runs leadership mastermind programs specifically designed for women. To find out more, visit her website.
3 Ways Technology is Going to Shape the Oil and Gas Industry
Free to Download Today
Oil and gas operations are commonly found in remote locations far from company headquarters. Now, it's possible to monitor pump operations, collate and analyze seismic data, and track employees around the world from almost anywhere. Whether employees are in the office or in the field, the internet and related applications enable a greater multidirectional flow of information – and control – than ever before.