Mainstream elected officials can often be out of touch with the lives of everyday people but, when a constituent approaches Charlaine Tso, they know they will find a compassionate leader who can empathize with their concerns and not just offer platitudes, particularly where access to energy is concerned. Tso, who grew up on the Navajo Reservation in Arizona, lived without electricity for the first 22 years of her life, and without running water, which had to be hauled from the nearest windmill, for 17 years.
As a young girl whose formative years were spent herding sheep and taking care of livestock with her grandparents, Tso says her upbringing definitely has had an influence in the way that she has directed her leadership. "That background does teach you the value and the sacredness of all of earth's elements and how you wouldn't want to take anything for granted."
When Tso, then 28, won her seat in 2018 as Council Delegate for her Navajo Tribe, representing a district of five chapters that covers Northern Arizona and Southern Utah – the Aneth, Mexican Water, Red Mesa, Teec Nos Pos and Tólikan – she became the youngest elected official on the current board. She was also part of a historic vote, joining two other women on the 24-member council, which has long been dominated by men. Prior to being elected as a legislator, Tso worked as a youth ambassador for former presidential candidate Hillary Clinton; now Secretary of the Interior Deb Haaland, Pueblo of Laguna, the first Native American to serve as a cabinet secretary; Navajo Nation President Joe Shirley, and also advocated for Navajo Nation presidential candidates.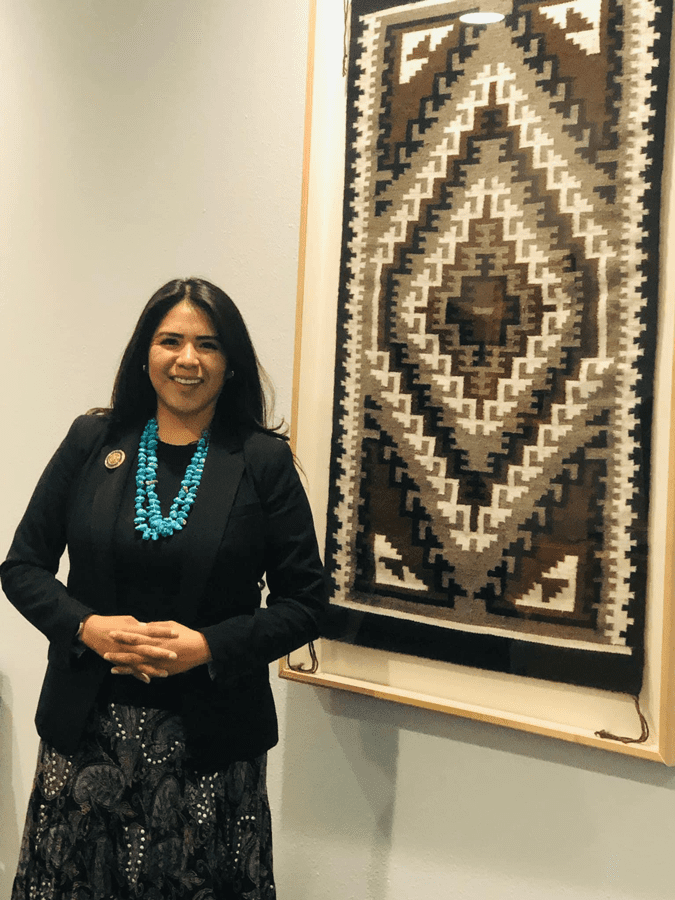 But it was the stories she heard about her people, especially the elders, living in energy poverty that were the catalyst for running for Council Delegate. There is one in particular that has stayed with her. The woman did not have enough wood to burn to keep warm and had run out of food and eventually passed away. "The elder did not have a [peaceful] exit," says Tso. "That truly broke my heart and continues to drive my ambition today."
Currently, Tso is concerned about an 88 year old elder, who lives five miles from the nearest electricity grid. With winter approaching, she has made it her goal to get solar power to the elder before the end of the year.
In fact, the Navajo Nation completed the Kayenta Solar Facility, its first utility-scale solar project, in 2017. Situated on the Arizona-Utah border of the Navajo Nation, it generated enough electricity to power about 13,000 homes. A second phase was completed in 2019, bringing the total production to 56 megawatts, enabling approximately 23,000 additional homes to have power. However, an estimated 15,000 homes in the Navajo Nation were still without electricity in 2019. According to the Navajo Water Project, 30 percent of homes are still without running water.
Solar energy is appealing to many Native Americans because it is a renewable source, but particularly to the Navajo, who revere Tsohanoai, their sun god, who carries the sun across the sky on his back each day, providing light and warmth. "A lot of my Navajo constituents are in favor of solar because it comes from the sun and [has] ties with our religion and tradition. It's somewhat of a deity and a positive source [of energy]."
Having said that, Tso acknowledges, "Overall, the Navajo Nation just wants electricity –especially with this pandemic." According to the Navajo Department of Health, 70 percent of the population age 12 and older is fully vaccinated; however, as of early November, 1,494 deaths in the Navajo Nation have been attributed to COVID-19.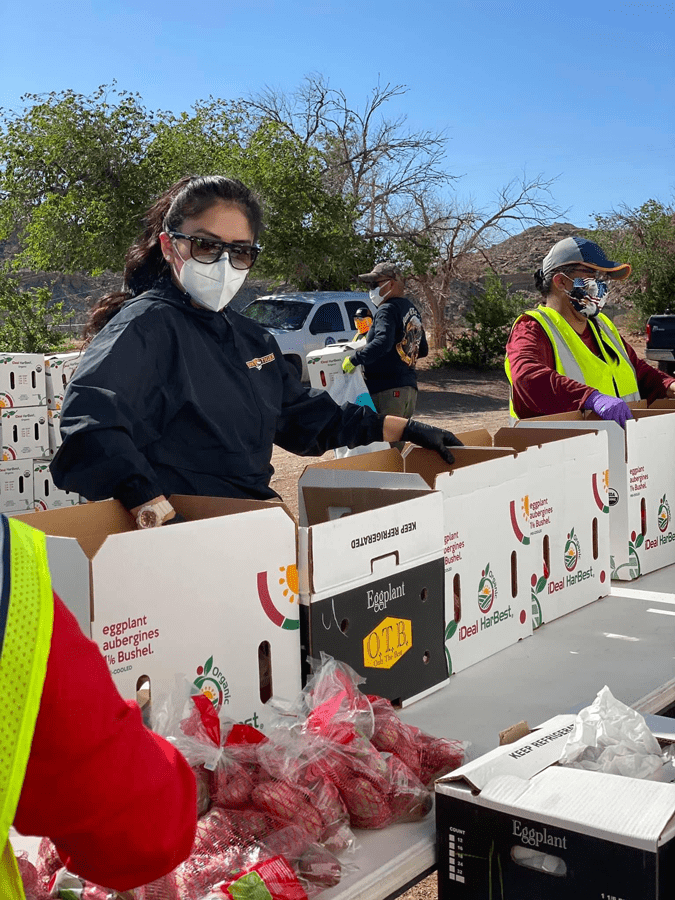 It is plagued by other health concerns, as well, some that can be traced to environmental concerns associated with other forms of energy that have been used in the past, such as wood burning, uranium, coal and other fossil fuels. But, as Tso explains, "A lot of the homes, a great percentage, were without electricity and proper heating sources, so we [took] the responsibility to [obtain energy] by all means necessary and, at the time, we [didn't] really consider the health hazards."
After the "grueling process" of holding community forums and hearing "heartbreaking" testimony from their constituents, Tso, who is a shareholder in the Navajo Nation Oil and Gas Company (NNOGC), says the legislators are being forced not only to think of ways to mitigate the health hazards of future sources of energy, but of alternative means to replace lost revenue that has long come from coal and other fossil fuels.
A bright spot on the horizon is the discovery that Navajo Nations land has some of the highest concentrations of helium in the world, ranging between three-tenths of a percent to over eight percent, with five-plus percent being common. NNOGC and the Navajo Nation Minerals Department are currently working together to bring the Tohachee Wash Navajo Tribe Z-1 well (drilled in 1967 by Texaco) online as a helium producer.
While Navajo Nations land is abundant in natural resources and well positioned to produce renewable sources of energy, Tso is focused on the here and now. Earlier in the year, when the Council voted in favor of purchasing a nearly $5 million property in Washington, DC, in order for the Tribal government to be closer to Congress, Tso was unwavering in her commitment. "I would rather put this money toward people who need electricity at this moment," she stated in voting against the purchase.
Nearly three years into her four-year term on the Council, Tso says, "My main focus is looking at all energy sources and how we can have them benefit the Navajo nation, but we do tie this into our traditions and the sacredness of the earth's elements. There are traditional expectations and directions that we have to take before we use the earth's resources," Tso says, stressing the Council does not take these decisions lightly. "We pay very close attention and we make sure that the respect is there for the constituents, the community, the earth, the elements and for our people."
Rebecca Ponton has been a journalist for 25+ years and is also a petroleum landman. Her book, Breaking the GAS Ceiling: Women in the Offshore Oil and Gas Industry (Modern History Press), was released in May 2019. For more info, go to www.breakingthegasceiling.com.
3 Ways Technology is Going to Shape the Oil and Gas Industry
Free to Download Today
Oil and gas operations are commonly found in remote locations far from company headquarters. Now, it's possible to monitor pump operations, collate and analyze seismic data, and track employees around the world from almost anywhere. Whether employees are in the office or in the field, the internet and related applications enable a greater multidirectional flow of information – and control – than ever before.