Attracting a diverse workforce requires addressing the unique needs of our employees. Coveralls are essential personal protective equipment (PPE) on the job, but they're not one size fits all. Workwear traditionally designed for men is often ill-fitting for women and interferes with their ability to work comfortably and safely. Baker Hughes' OFSE procurement team in Mexico addressed this need by reaching out to the Women's Network Employee Resource Group to learn more about the unique needs of female employees, and then worked with a vendor to find more inclusive, gender-specific PPE that provides protection without sacrificing fit and comfort.
"Having coveralls designed for women is a positive step in keeping our people safe, meeting the needs of the modern workplace, and ensuring that all employees feel confident, proud and productive when they're wearing the Baker Hughes brand," says Michelle Contreras, Baker Hughes procurement specialist.
Equal Safety and Protection
Workwear and other PPE should be designed for women equally, not sized down, like a long-standing theory that recommends buying one size smaller than a woman would typically wear to accommodate for men's sizing. This recommendation isn't ideal given that differences in body size and shape (physiology) may be small, but the proportions can be meaningful.
Women's Network members explained that when coveralls are too big in the waist, neck and arms, it can interfere with the use of tools and operation of equipment. Excess fabric in the sleeves can get caught in machinery, presenting a serious hazard for arm and hand safety. And a collar that's too wide around the neck won't effectively keep out debris and splatter.
The new coveralls for women are better proportioned with a tailored fit in the chest and hip areas. The torso is shorter and flares near the waist, which is also cut higher. The coveralls are designed for ease of movement and have utility pockets for gauges and gear. New overalls designed, sized and styled specifically for women became available for all Baker Hughes teams beginning January 2023 and are available in a range of sizes.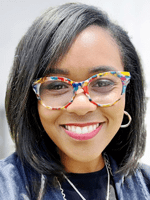 Natalie Hall, MA, MBA, is an expert employee communications strategist and champion for diversity, equity and inclusion (DEI). Currently, she is the global internal communications lead –  oil field services and equipment – at Baker Hughes. In addition, she serves on the leadership team for the Black Employee Network.
3 Ways Technology is Going to Shape the Oil and Gas Industry
Free to Download Today
Oil and gas operations are commonly found in remote locations far from company headquarters. Now, it's possible to monitor pump operations, collate and analyze seismic data, and track employees around the world from almost anywhere. Whether employees are in the office or in the field, the internet and related applications enable a greater multidirectional flow of information – and control – than ever before.