Anomaly
anom·a·ly | \ ə-ˈnä-mə-lē \
plural anomalies
Definition: A departure from the expected or normal; a geologic feature that is different from the general surrounding and is often of potential economic value.
The First Woman to Become Geology Manager: Dollie Radler Hall (1897-1995)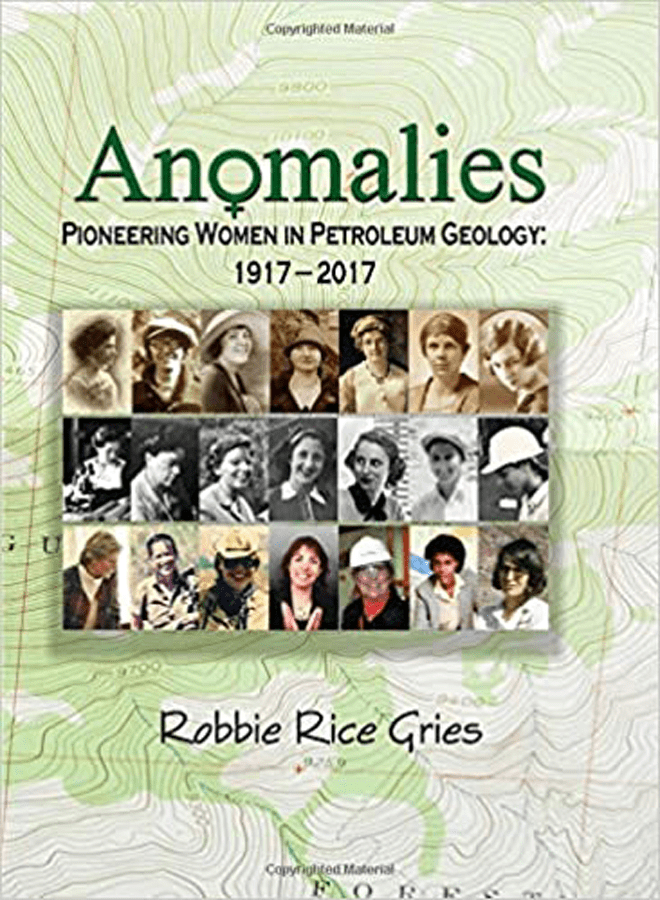 Dollie was not only the first female geologist manager in the oil business, she was also the first to hit the "glass ceiling." After [Powers' death in 1932 she was promoted to] "Acting Chief Geologist" for five years, but Amerada still refused to make the position permanent and, instead, brought her protégé and close friend, Rodger Denison, to Tulsa over her head as "Chief Geologist." Their roles were now reversed with him as her boss. She had always been supportive of Rodger, as can be judged from remarks made in one of her letters to him in 1928 while she was his boss: "You have received your check before now and I am sure you have survived the shock [he received a raise]. No, the 'Powers that Be' did not see fit to increase my check, but that is just another of the penalties I pay for being a woman in a man's profession. That, however, does not lessen my pride and joy in your achievements. I always have the satisfaction of knowing that I have already accomplished more than my wildest dreams when I started on my geologic career, and that I have also accomplished as much as any woman in the same kind of work. So, this isn't such a bad world after all."
Roxana Hires Women in Petroleum Geology: Helen Jeanne Skewes (1891-1951)
Dick Conkling was part of the group of 50 geologists who met in Tulsa in February 1917 and founded the Southwest Association of Geologists (soon to be renamed the American Association of Petroleum Geologists). Two months after this meeting in April 1917, Dick hired Helen Jeanne Skewes to be an assistant to him [at Roxana Petroleum Company, the creation of the Royal Dutch/Shell Group] as an "office" geologist in the subsurface department. Thus, Helen Skewes would make history as the first female geologist hired as an employee (not consultant) geologist in the petroleum industry. [Author's note: Dick was ultimately responsible for hiring or getting about 20 women hired in Oklahoma and the Rockies].
In February 1918, Dick hired Roxana's second female geologist, Margaret Campbell from the University of Chicago. In May, two more women, Esther Franz and Mary Emily Wright, were hired from the University of Chicago. The following month, Dick branched out of the Chicago system and hired Fredrica Probst (the sister of Karl Probst, a Roxana engineer) from the University of Wisconsin.
Dick's wife, Winnie Conklin, unemployable because, like most companies at the time, Roxana did not employ married women, possibly was frustrated by her sideline role. However, she was present on most business trips in geology field trips discussed in Roxoleum [the company news magazine]… She was reported to be learning drafting skills in the drafting department, and she spent time in the Texas division office doing quadrangle mapping, where she was pronounced "quite a draftsman" (Roxoleum, April 1919, p. 16), but she was never on the payroll.
The First Oil and Gas Biostratigrapher and a War Heroine: Julia Anna Gardner (1882-1960)
Julia Anna Gardner was a remarkable woman, not only for being an avid scientist, doing geologic field work on her own along the U.S. Atlantic Coast, Gulf Coast, Texas interior, and in Mexico, but also for actively participating in WWI and WWII. Her AAPG memorial by U.S. Geological Survey (U.S.G.S.) colleague, A. Nelson Sayre, describes her contributions to be of "inestimable value to all geologists interested in the development of the mineral and human resources of the Atlantic and Gulf Coastal Plains; a host of friends and admirers from all walks of life; and an example of perseverance and courage, tempered by kindliness, that is rarely equaled (Sayre, 1961)."
Sayre (p. 1420) continues discussing Julia's geologic career history: "Miss Gardner, after her return to the States [in 1919 after being injured in the line of duty], joined the U.S. Geological Survey and resumed her studies of the Coastal Plain … all of her work concerned with the Tertiary beds …[mapping from the east coast, around Florida, throughout the coast of the Gulf of Mexico and into Mexico.]…"In the field, she usually traveled alone. If there were no hotel accommodations she stayed at the nearest farmhouse and, more than once, when she was out in the boondocks at nightfall, she slept in her car which she drove with more daring than skill, although she always seemed to get through. She seemed to be almost without the sense of fear."
Excerpted by permission from the author. Anomalies: Pioneering Women in Petroleum Geology 1917 – 2017 (JeWel Publishing, LLC) by Robbie Rice Gries. Editor's note (my review on Amazon): There is a fascinating backstory to this book. The author, Robbie Gries, discovered the American Association of Petroleum Geologists' (AAPG) old membership cards had been stored in the organization's basement and, miraculously, no one had ever thrown them away. In going through them, she realized that women had been members of AAPG dating back to 1919 and a part of the industry even longer than that. It was a revelation not only to Gries, who was AAPG's first female president in 2001, but to other members as well. This book is the result of her meticulous and painstaking research (although she is quick to credit the help she received from other AAPG members) and personal interviews (when possible), and is a treasure trove of historical information that should be part of the curriculum in every high school and college geology class. It's also of interest to anyone who enjoys reading stories of women who have broken the glass ceiling and succeeded in male-dominated industries. Thanks to Gries for preserving this piece of history!
obbie Gries was the first woman to graduate from Colorado State University with a degree in geology and later became the AAPG's first female president in 2001. In 2012, she was the first woman to be awarded the Michel Halbouty Award for Outstanding Leadership. Gries is the author of Anomalies: Pioneering Women in Petroleum Geology 1917 – 2017. With a career spanning almost 50 years in the oil and gas industry as a petroleum geologist, she worked for large and small companies, before forming her own company, and is president of Priority Oil & Gas, LLC. Originally from Texas, Gries now resides in Colorado. 
3 Ways Technology is Going to Shape the Oil and Gas Industry
Free to Download Today
Oil and gas operations are commonly found in remote locations far from company headquarters. Now, it's possible to monitor pump operations, collate and analyze seismic data, and track employees around the world from almost anywhere. Whether employees are in the office or in the field, the internet and related applications enable a greater multidirectional flow of information – and control – than ever before.