When Ann Fox, president and CEO of Nine Energy Service (Nine), says, "There's a lot of blood, sweat and tears that goes into some of the things you accomplish," it would be natural to assume she is referring to her pre-energy career as a captain in the Marine Corps where she served two tours of duty in Iraq under General David Petraeus. However, she is actually talking about the tightrope that many women, who are career professionals, have to walk when they become mothers.
There are women, particularly in male-dominated fields like energy, who prefer not to focus on the fact that they were the first to achieve something or break a specific barrier, something Fox recognizes, although her thinking has progressed in tandem with her career.
"Earlier in my career, I was not as focused on championing for women, per se, and was fearful it would be interpreted as 'I am woman, hear me roar,' but the further you get in your career – especially at the leadership level – the more you realize how important it is that there is a diverse group of people and opinions at the table."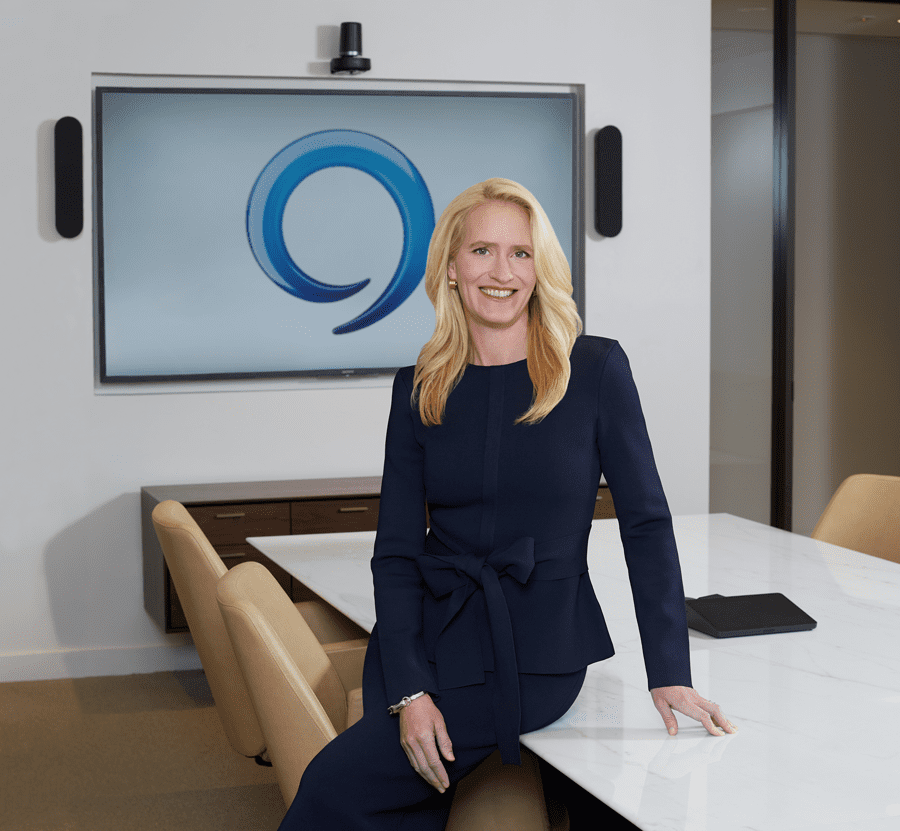 Upward Progression as a Reality
Considering the barriers she has broken in both the military and the energy industry, she is the perfect example of this. However, she likes to reference her colleague and trusted business partner David Crombie, chief operating officer of Nine, when discussing the importance of carving new paths and breaking stereotypes.
"I mention this because a lot of the Nine employees see upward progression as a reality, not simply a possibility, because of David, who has a high school diploma and is COO of a publicly-traded company. A college degree does not equate to success. David is incredibly intelligent and hardworking, and his passion for excellence has gotten him to where he is today – a well-respected leader in energy."
Fox believes that seeing similar faces, genders or backgrounds can inspire others that anything is possible with determination and hard work. "It's critical that younger women see other women in leadership roles but, more importantly, that these younger women know how they got to those positions. It's not because we check a box; it is what you bring to the table," says Fox.
Like Father, Like Daughter
Fox's own role model happens to be her father, C.L. Gildroy, who served as a member of the U.S. Army Special Forces operations unit, known as Green Berets, during the Vietnam War. He was passionate about art and photography and Fox recalls, as a small child, watching slideshows of the photos that he took while he was living in the Central Highlands, a plateau bordering the lower part of Laos and northeastern Cambodia.
"It really captured my attention and I think I took an interest in service early on just because of my father's service," says Fox.
While she was intrigued by the idea, she didn't immediately think of enlisting. Instead, she attended Edmund A. Walsh School of Foreign Service at Georgetown University in Washington, DC, where she studied international diplomacy and security in world affairs, learning the art of conflict resolution – "very different than what I'm doing now," she says, although some might debate that point. Fox says that experience, along with her father's service, ultimately led her to join the Marines, but she took a detour first. After graduating in 1998, she enrolled in an investment banking program geared toward new graduates entering the workforce.
The Few. The Proud. The (Female) Marines.
With the service never far from her mind, Fox eventually joined the Marines in 2001. Notably, the Marines are the branch of service with the lowest number of women, who make up only about nine percent of its members "with an even lower percentage in the officer corps," Fox points out.
Having grown up in what she refers to as a "rugged environment" in rural Massachusetts – "sleighs in the winter, wagons in the summer" – where her grandfather was a dairy farmer and raised Standardbred horses, Fox was one of the few girls to play ice hockey. "Being in an all-male environment wasn't foreign to me and, at the time, the Marine Corps was the only branch of service that put women officers through the same training as male officers. If I was going into the military, I really wanted a military experience. I wasn't going into it as a stepping stone for something else. I wanted to see how I would fare, and that's actually why I chose the Marine Corps."
Calling basic school, the six-month training course for officers, "extremely tough and very competitive," given that the Marines try to the best of their ability to simulate real-life scenarios, Fox graduated in the top 10 percent of her class; however, the U.S. government did not lift the ban on women serving in combat until 2015. Fox says it was probably her first encounter where she found her gender to be "a real disadvantage."
Foreign Service – The Iraq War
In March 2003, two years into her military career, the U.S. went to war with Iraq. The following year, a request came down to Fox's command asking for a major to serve as an Iraqi Army liaison officer. Fox, a lieutenant at the time, didn't qualify. The Marines asked for volunteers from her unit, but there were none at the major level. They then asked for a captain and, again, there wasn't one.
"I told my commander I really wanted to go," Fox says. "So, it finally filtered down my way and I ended up getting deployed on my first tour of duty as the Iraqi security force liaison officer and attached to a unit that was going overseas."
After U.S. troops reached Baghdad, there was a period of relative calm in Iraq, when Marines and other soldiers, unarmed and without flak jackets, could sit in cafes and have tea. "Then, all of a sudden, in April of 2004, the insurgents started executing their plan, which they had been planning all along, and that's when people started getting ambushed and killed. That changed everything."
Fox, whose job was to help train the Iraqi Army, discovered early in the conflict that the necessary resources were not available. "It was a position that ended up being whatever I could make of it," she says, "because the fighting at the time was so severe and fierce and so it gave me a lot of autonomy."
That is where she first met General Petraeus, then a three-star general, and commander of the committee that was responsible for the Iraqi forces. When her Marine unit went home, Fox ended up reporting directly to Petraeus, providing atmospherics and ground information, while living in the central southern Iraq region across five different provinces.
After multiple tours, Fox finally went home in 2005 and attended graduate school, earning an MBA at Harvard Business School. "I thought I was back in civilian life full-time," she says. "I actually interned for Goldman Sachs in the middle of my first and second year."
When General Petraeus was nominated for a fourth star, Fox went to see him just before his Senate confirmation hearing. She agreed to go back overseas if he ended up being confirmed, as he wanted her team to return to Iraq.
Rejoining the Marines in 2007, Fox went back to work in the same region and in the same provinces, along with two Marines who were on her team previously. "We had had a lot of experience in that area, as we knew many of the key leaders in that region. And, at that time, major American combatant forces had left that area, so it was even more important for the U.S. to have a touchpoint there on the ground, and also for those Iraqi leaders to have a way to effectively communicate the situation on the ground."
A Houston Homecoming
Saying she wouldn't give up the experience – the good and the bad – Fox returned to the U.S. in 2008. "I ended up coming to Houston for no other reason than to be close to my parents, who had retired and moved here from Massachusetts. I wish it was a fancy story about how I always wanted to go into the energy industry, but it was really just the fact that I'd been at war for so long and wanted to be close to home."
Fox says she is "grateful" to her parents for bringing her to Texas, where she "fell into" the energy industry by accident – as so many women say they do – which led to a personal transition of her own, as she transferred the skills and expertise from her military background to the energy industry.
The Leadership Battle
"When you get out of the Marine Corps, you realize it's a learning institute focused around leadership. I found those lessons – and the mental toughness you get from going into combat situations and serving overseas – invaluable in this industry, too, because there are a lot of very sharp ups and downs. The more senior leadership roles you get, the more heavily critiqued you are, and, in a volatile and cyclical industry, you really do need a strong stomach. The Marine Corps definitely prepared me for that!"
Having spent her career in the male-dominated sectors of the military and the energy industry, Fox observes, "The more you rise, the tougher the ceilings are and the harder it is to penetrate them. Nothing was ever handed to me. You really needed to outperform significantly to try to get to where you wanted to be." When it comes to promotions, Fox points out that women still have to prove into their roles; whereas, "I often see male counterparts that are given the title and then allowed to prove into it."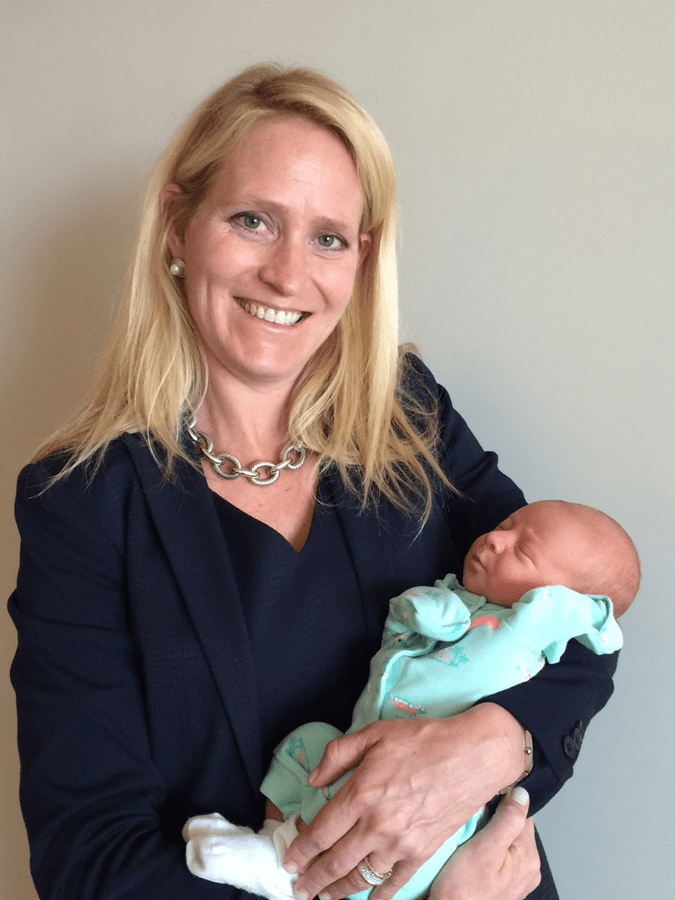 Motherhood and the C-suite
Fox has gone above and beyond to prove herself at Nine, taking on the role of CFO in 2013, just six months after having her first child. Prior to that, she had been working at a firm called SCF Partners, which founded Nine, working on integrating the investments and merging the two companies. Assuming the role of CFO was "critically important to me because I had spent so much time with the individual entrepreneurs and," like so many other women mid-career, "I didn't want to get left behind because I had a new baby."
Based on her own experience, Fox believes that operational roles come at great sacrifice in terms of not being able to spend as much time at home with your children. "That's the reality I faced – and that's what a lot of these roles require," Fox says, stressing the importance of discussing your priorities with your family. Having the right partner is critical. "Of course, the same thing goes for business – your partners are going to make you or break you – and it's the same thing at home, as well."
Fox found the early days of child-rearing "very challenging" because she was simultaneously taking on incremental leadership roles. In fact, she had her second daughter on a Thursday in July 2015 and went back to the office that Monday.
Realistic Expectations
"I already knew I had been appointed CEO, but we hadn't announced it yet. The company was barely going to meet its debt covenants, so we needed to act very quickly to cut salaries and bonuses, which was extremely challenging. I do think the real truth of all of this is that, again, there's a price to be paid and there's a lot of blood, sweat and tears that goes into some of what you accomplish."
"If you really want to be a selfless leader, there's a lot of sacrifices that go into it," Fox says. "I tell my children they are two of my kids, but I'm responsible for 1,000 families now at Nine, so they don't always get front and center, and they know and understand that. They are proud of me."
Fox believes, as many women do, that when a woman is happy and fulfilled in their career, they make a better mother. "There is a very real aspect of that. In the long term, my daughter will see that I had a career and roles in leadership, and surely that will impact her as far as what she thinks she's capable of doing, so all of that is important."
The perceived dichotomy between motherhood and being a highly aspirational professional working woman sometimes creates an emotionally charged conversation, but Fox says the reason she shares her experiences is "because I don't want people to have unrealistic expectations about the pros and cons" of reaching the top role in the C-suite.
Game-Changing Opportunities
As CEO of Nine, Fox is up against the major energy service providers and, in order to be successful, has to find a way to differentiate her company. "If you're selling a product or a service, it has to be of the same quality and the same caliber; that's a given," but she believes a smaller company can be more nimble and responsive. "You can get through the organization faster because it isn't nearly as large. Approvals and authorizations can come down the pike very quickly. That speed and flexibility, which are focused on the customer, are extremely helpful to us."
"No matter what your position is or what industry you're in, it's really the team," Fox says resolutely. "I've just been so grateful for the team I have with me because that's ultimately what makes or breaks any leader. Fortunately, I've had a phenomenal one."
Fox intends to lead that team into the energy transition, where she believes the service industry will play an important role. "I think we'll compete very well against other sources of energy as we endeavor to provide clean energy. This is an innovative industry that is familiar with piloting a lot of new technology, so I'd be surprised if we don't do the same here. My message to my company is always, 'If it's greener, cleaner and more profitable, let's do it!'" Fox cites the company's use of electric wireline trucks as an example of driving innovation for climate solutions, along with offering customers the option of dissolvable frac plugs.
"A six well pad that uses our dissolvable frac plugs can take 84 cars off the road at just one pad site – or a little over 400 metric tons of carbon equivalent – so there are real game-changing opportunities out there for the service sector."
Fox believes there's a lot of misunderstanding around energy transition and says, "It's really just a matter of helping people become energy proficient, so they can make informed decisions. As a completion-based company, we are always looking to incorporate new technologies that can protect the environment, but we will be firmly rooted in fossil fuels."
"The challenge is when movements get away from data-based conversations and become emotional," says Fox. "That's dangerous for everybody. As long as you keep them factually based and look at the real problems and have constructive conversations, there's a lot of room for opportunity."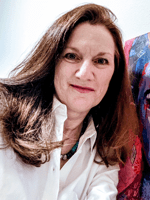 Rebecca Ponton has been a journalist for 25+ years and is also a petroleum landman. Her book, Breaking the GAS Ceiling: Women in the Offshore Oil and Gas Industry (Modern History Press), was released in May 2019. For more info, go to www.breakingthegasceiling.com.
3 Ways Technology is Going to Shape the Oil and Gas Industry
Free to Download Today
Oil and gas operations are commonly found in remote locations far from company headquarters. Now, it's possible to monitor pump operations, collate and analyze seismic data, and track employees around the world from almost anywhere. Whether employees are in the office or in the field, the internet and related applications enable a greater multidirectional flow of information – and control – than ever before.