In 2007 I chaired four energy events for the centennial celebration of Oklahoma's statehood. The events were a salute to the past, present, future, and women in energy. In the early days, it was known as a men's energy industry. Over the years, especially in most recent years, women have played an important role in the success of a vital energy industry. At the Salute to Women in Energy in 2007, which was held in Tulsa, Oklahoma, we had a room full of women who had made a major impact on our American energy industry. Those honored at the 2007 event included June Brooks, Christine Hansen, Liz Fagen, and Denise Bode. At the event, Christine Hansen, Executive Director of the IOGCC (Interstate Oil and Gas Compact Commission), served as the luncheon keynote speaker. Prior to becoming Executive Director of the IOGCC, Hansen was in private law practice and had been a senior executive officer with two large utility companies. The salute honored many other women in the fields of landmen, geologists, engineers, geophysicists, oil and gas attorneys, accountants, and other areas.
In this column, I highlight three women, for example, out of so many that are currently involved in the energy industry:
Linda Nichols currently serves as the Genave King Rogers Dean of the Collins College of Business at the University of Tulsa. Prior to becoming Dean, Nichols served as Director of the School of Energy Economics, Policy and Commerce as well as the A.
Charles Funai Chaired Professor in Business. Nichols is recognized as a worldwide expert in the field of financial accounting and reporting for the oil and gas industry. Nichols continues to be heavily involved with the oil industry through consulting and providing training for oil companies across the globe as well as serving as an expert witness in some energy-related disputes.
Jennifer M. Grigsby joined Ascent in 2015 as Executive Vice President – Chief Financial Officer. She previously worked at Chesapeake Energy Corporation for 19 years in management roles including her most recent positions as Senior Vice President, Corporate and Strategic Planning and Senior Vice President, Treasurer and Corporate Secretary. She earned a Bachelor of Science in Accounting from Oklahoma State University and a Masters of Business Administration with an emphasis in finance from Oklahoma City University. Grigsby is a Certified Public Accountant and Chartered Global Management Accountant.
Patrice Douglas counsels banks, energy companies and utilities on legal, regulatory and compliance matters. Douglas has extensive experience in both community banking and energy industry. As a former Oklahoma corporation commissioner, she gained expertise in the industries of energy, public utilities and telecommunications because the Oklahoma Corporation Commission is the chief regulatory body for these industries. She has served on both public and private corporate boards. Douglas was presented the 2013 Energy Visionary Award in Tulsa for her outstanding service to the energy industry.
Women continue to play such an important role in the energy industry. We salute all the contributions of those past and present who have made an impact on the energy industry.
America needs America's energy, and America needs women in energy!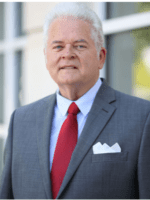 Mark A. Stansberry, Chairman of The GTD Group, is an award-winning author, columnist, film and music producer, radio talk show host and 2009 Western Oklahoma Hall of Fame inductee. Stansberry has written five energy-related books. He has been active in the oil and gas industry for over 44 years, having served as CEO/President of Moore-Stansberry, Inc., and The Oklahoma Royalty Company. He has served as Chairman of the Board of Regents of the Regional University System of Oklahoma, Chairman 2016-2017 of the Gaylord-Pickens Museum/Oklahoma Hall of Fame Board of Directors, Lifetime Trustee of Oklahoma Christian University, and Board Emeritus of the Oklahoma Governor's International Team. He has served on several public and private boards. 
3 Ways Technology is Going to Shape the Oil and Gas Industry
Free to Download Today
Oil and gas operations are commonly found in remote locations far from company headquarters. Now, it's possible to monitor pump operations, collate and analyze seismic data, and track employees around the world from almost anywhere. Whether employees are in the office or in the field, the internet and related applications enable a greater multidirectional flow of information – and control – than ever before.