Without a doubt, LinkedIn is a space for a job search. It is the largest professional network in the world: People describe their resumes, skills, and can strengthen their professional relationships. This network is the perfect ally to achieve your goal of finding a job.
This is the case of the group, Empleos Petroleros (translated: energy industry jobs). As a [Colombian] petroleum engineer, after losing my job and going through the journey of looking for a job, I decided to create a group to help professionals in the oil and gas sector to find their dream-job opportunity.
Being a Bogotan engineer, I realized that after the cyclical falls in oil prices and during the pandemic, many petroleum engineers and professionals in the energy industry lost their jobs, raising the question: How [can I] help professionals in our sector?
What Is It?
It is a group that shares information about job offers, academic information, news and data of interest from the oil and gas sector. It was created in 2018 as a text messaging group that shared job vacancies related to engineering, geology and other related activities of the oil industry.
Since the number of members was growing every day, we decided to migrate to LinkedIn, through an attractive name – Empleos Petroleros – that would catch the attention of professionals, and later social networks such as Facebook and Telegram.
When Did the Name Positioning Occur?
The moment arose spontaneously, without any pretense, when as the creator, during my own job search, explored possibilities to improve my professional profile, connect with other people, and mainly look for those vacancies that fit with her skills. I began to share and collect all this information in a single space, with the idea that it could be useful to other professionals, thus becoming a daily task where she earned the affection and trust of people.
I get constant support, gratitude [from people] for having found a job, companies that want me to publish their job opportunities, and new links with other industry associations. The evolution of the group reached more and more people, and currently has more than 300,000 members and a forceful positioning in all social networks.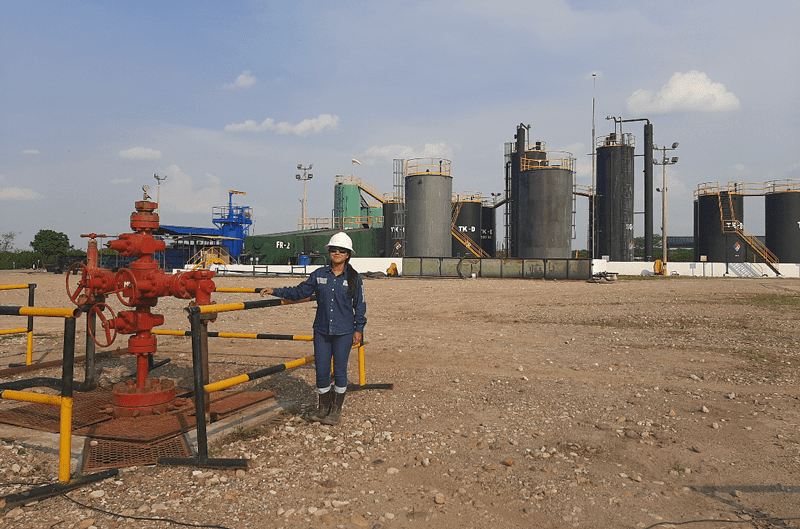 Long-Term Plans and Projection?
Instagram and TikTok have different types of audiences, but I believe the group can surely be well received, especially considering that I have searched new strategies to communicate with the members, through video tutorials, interviews, and both face-to-face and virtual events.
Empleos Petroleros will continue to share job offers in the oil and gas sector, will seek to strengthen networking through events, will build spaces where people can share efforts and innovation to the industry from individual and collective experiences, empowering professionals in the hydrocarbon sector, and allow them to show their knowledge and professional performance.
In the coming years, the group will continue to grow and support the energy industry, being recognized as a group specialized in recruitment, achieving the loyalty of companies and professionals in the industry.
Why Follow Empleos Petroleros?
Because it is an attractive group for companies and professionals in the energy sector that, in addition to sharing job offers, provides tools for professional growth, allows interaction through its events, networking with people in the industry, and it is one of the largest groups and best positioned in the country with a vision of significant growth.
Advice for Professionals Looking for a Job
You need to have a clear projection, define your professional and work objectives, then create an attractive resume, a differentiating profile, making use of digital tools to connect with people in your industry, attend relationship and networking events, and – finally – apply for that dream job.
LinkedIn (275,000 members)
Facebook (22,900 members)
Instagram (8,000 members)
Astrid Gómez is the founder of Empleos Petroleros. She is also a petroleum engineer, a specialist in finance with an MBA in Logistics and Operations Management, and has 12 years of experience in the hydrocarbons sector. Gómez has a bachelor's degree in petroleum engineering from the Universidad de América and an MBA from the Universidad Externado de Colombia. Follow her on LinkedIn.
3 Ways Technology is Going to Shape the Oil and Gas Industry
Free to Download Today
Oil and gas operations are commonly found in remote locations far from company headquarters. Now, it's possible to monitor pump operations, collate and analyze seismic data, and track employees around the world from almost anywhere. Whether employees are in the office or in the field, the internet and related applications enable a greater multidirectional flow of information – and control – than ever before.