6:30 am – I have been up for almost an hour. It's the middle of fall in Houston and the mornings are as dark as night. This morning my former mentor and ex-Mozambican Minister of Natural Resources, Esperanca Bias, calls to congratulate me on my recent Society of Women Engineers (SWE) patent recognition award. I have always felt lucky that I was able to start my career in a country that had women in high positions of government power even in male-dominated industries. Mrs. Bias was the Minister of Natural Resources and Energy at a time when the Minister of Finance was also a woman. Mozambique boasted a history of women soldiers during the independence war which included the president's wife at that time. In many ways, I took it all for granted. It would be years before I realized how far ahead of its time this little country was. I express my gratitude for the call. Before it ends, she requests that I visit Mozambique after COVID-19 to inspire the next generation of young women, which I agree to do.
7:30 am – I check my messages and social media. These days are surreal, with reporters and old friends calling to congratulate me on innovations.
8:00 am – I sit in my home office to start my workday. Even before COVID-19, my days were mundane compared to the early years in my career. I work in engineering software, an industry I did not know existed until I got a job offer after arriving in Houston from a four-year stay in Africa. I had taken several software classes in the hopes of transitioning careers, and I was happy that I could combine my oil and gas experience with software.
Prior to moving to Houston, I worked mostly between Mozambique and South Africa on a natural gas project that promised to be ground-breaking for both countries. Twenty years ago, the ambition was to reduce coal as input for the production of petroleum by about 20 percent in a process called coal-to-gas. This would be done by mixing Mozambican gas as in input to a South African coal-to-gas processing facility. Mozambican gas is "sweet," which means it is environmentally cleaner since it does not have any erosive chemicals like sulfur. Everything about this project was out of a chemical engineering textbook. It involved a very rare chemical process called Fischer-Tropsch and, at the time, South Africa was the only country leveraging this technology in large-scale facilities.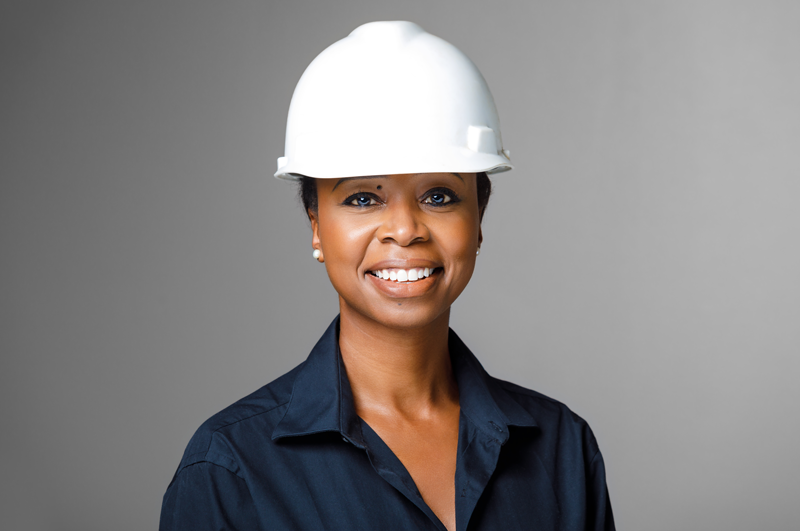 I had learned in my classes that this process was not commercially viable, but here I was driving past several "goose neck" towers heading on a tour of the refineries conducted by the plant manager and several executives. It did not escape me that only a few years before I would not have been allowed on this trip in South Africa because of my race. Now, here I was, bright-eyed and probably in way over my head. My only real accreditation, aside from a four-year engineering degree and an internship in the U.S., was that I was born in Mozambique, spoke fluent English, and was at the right place at the right time. I was lucky. This period of my life was tough, but it was also very exciting. Everything was new and I was mostly allowed to explore and learn, something I took full advantage of.
It wouldn't be long before I was shuttled to the middle of Mozambique to tour the region where the natural gas had first been discovered by locals. The gas just seeped from the Earth and caught fire. I can only imagine the superstition around this phenomenon. What did people think as the land burned for seemingly no reason? My tour was with several of my colleagues, all Mozambican geologists, who explained how, by observing the blackened land, you could tell that it had burned for days, if not weeks. It was a large area of land and what I would never have noticed suddenly became a fascinating story. There are no records of the experiences of those local people. The geologists explained that this phenomenon could have happened over and over throughout the area.
We walked until we arrived at a processing facility, which was small enough to fit into a back yard or a university lab. This was the first gas processing facility in the area, built with the help of the Russians. There were guards around the small plant and, unlike the refinery in Maputo I had visited a few weeks earlier, it still looked very clean. There was a local technician, who explained the plant to me. He showed me a clear liquid that poured out when you turned one of the valves. He said it was condensate. "Can I take some?" I asked. I was 22 years old and naïve; I was a silly little girl. This liquid was highly volatile and could explode with very little effort. Nonetheless, the combination of my naiveté and a friendly technician meant that I could fill up a one-liter Sprite bottle and drive 10 hours away with it to Maputo. This one-liter bottle was the basis of my condensate work in Mozambique and South Africa.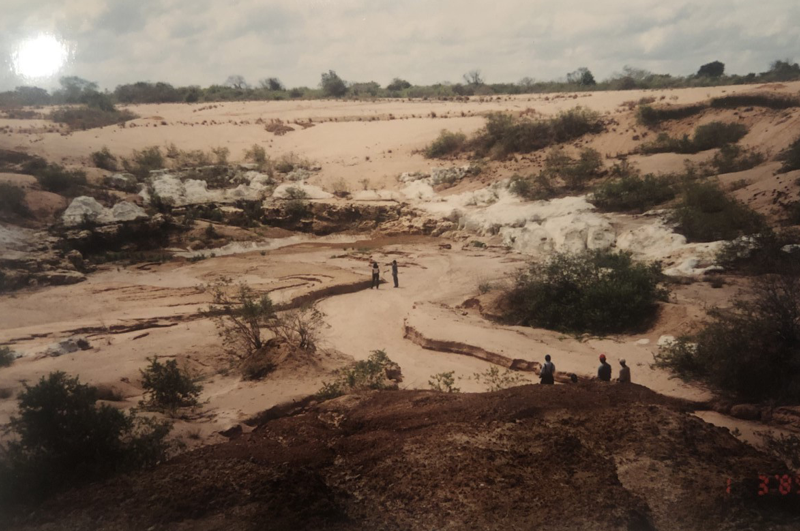 I was put on a newly-formed condensate task force created by the Minister of Natural Resources and Petroleum and her two directors. During this period, I found out that Mozambique did not only have extremely clean condensate, but that it could be blended as-is into the fuel supply. My projections estimated that Mozambique, one of the top 10 poorest countries of the world, could reduce its fuel import by 20 to 30 percent. Before this work, the only idea was to flare the condensate, or just burn it off at the plant. No one considered actually using it. It was such a relatively small supply of product that the cost of exporting it to South Africa to the nearest working refinery made the product commercially unviable. There was also no way to transport it in bulk over long distances through Mozambique. The country did not have the infrastructure to sustainably transport the fuel long distances. That means someone would need to build the mode of transportation to commercialize the product. Subsequently, no one had even bothered to study it. The gas project was a major ground-breaking initiative.
It would be years before I would publicly publish some of my work in the Society of Petroleum Engineers (SPE) technical paper submissions. In this small industry, it would also be years before I met a gentleman who was in charge of exporting the condensate to Tanzania and reimporting it to Mozambique. Come to find out, Mozambique did not have the financing to update the fuel tanks in the country's major ports to blend the fuel. Still today some people call me the "condensate lady." Aside from the name, the other thing that stuck was that I remained inquisitive and a "silly girl."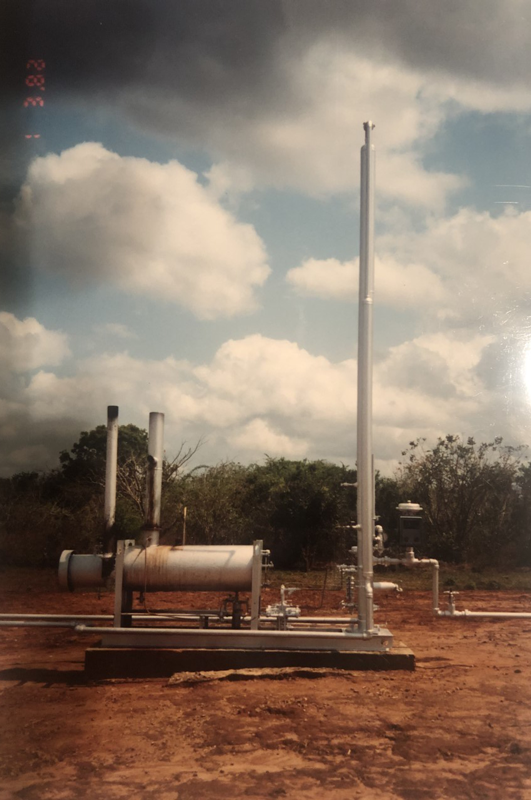 Years later, it was this same naiveté that caused me to sit in an elderly inventor's office at one of my employers and ask him what it took to write a patent. Jean-Jacques, an old Frenchman with 11 patents, was past the traditional age of retirement in the U.S. However, he had the energy and curiosity of a child. We would talk about new ideas and he would share bizarre stories about how he used to make his own wine or his own sausages in his garage. I had so many ideas that it was a matter of time before one of my patent's submissions came back. After the first one, it seemed like I was receiving a patent every six months. I didn't even bother unpacking them. Now my passion lies in helping oil and gas as it enters what is probably its largest ever digital transformation.
2:00 pm – I am meeting with a customer to align on a digital transformation plan. I fumble to set up my camera and turn on a desk light in my office. I keep a jacket hanging on my chair so that I am always camera ready. Each meeting is a small walk through a major change for my customers and the entire industry. Not only will oil and gas become more digital, engineering as a discipline is becoming more digital. What will that look like? How will we work? These small decisions will drive the future of this industry.
5:30 pm – Technically, my workday is done but today I have a board meeting where I sit as an advisor. Houston Community College is deciding on a new elective class on 3D CAD for 3D printing solutions that Siemens develops. I just wrote a position on this topic and submitted it to several Houston government officials. 3D printing is a fast-moving technology that I think soon will be as common as a microwave.
8:00 pm – I am taking more software classes and testing out my thoughts on a few old laptops in my house.
10:30 pm – One last check of messages, social media and Google Alerts. I try to read a few articles every day on innovation. Stem cells and cloning are captivating. In a way (in my mind) this technology is very similar to 3D printing, especially the way synthetic stem cells are being used. If 3D printing becomes as common as a microwave, where will we get the building blocks? Perhaps synthetic "bio-like" material is an option? I am fascinated with the possibilities. 
Photos courtesy of Amalya Shandelman – www.amalyaphoto.com
3 Ways Technology is Going to Shape the Oil and Gas Industry
Free to Download Today
Oil and gas operations are commonly found in remote locations far from company headquarters. Now, it's possible to monitor pump operations, collate and analyze seismic data, and track employees around the world from almost anywhere. Whether employees are in the office or in the field, the internet and related applications enable a greater multidirectional flow of information – and control – than ever before.